Padres ride Cabrera, five-run inning to halt slide
Speedy shortstop finishes triple shy of franchise's first cycle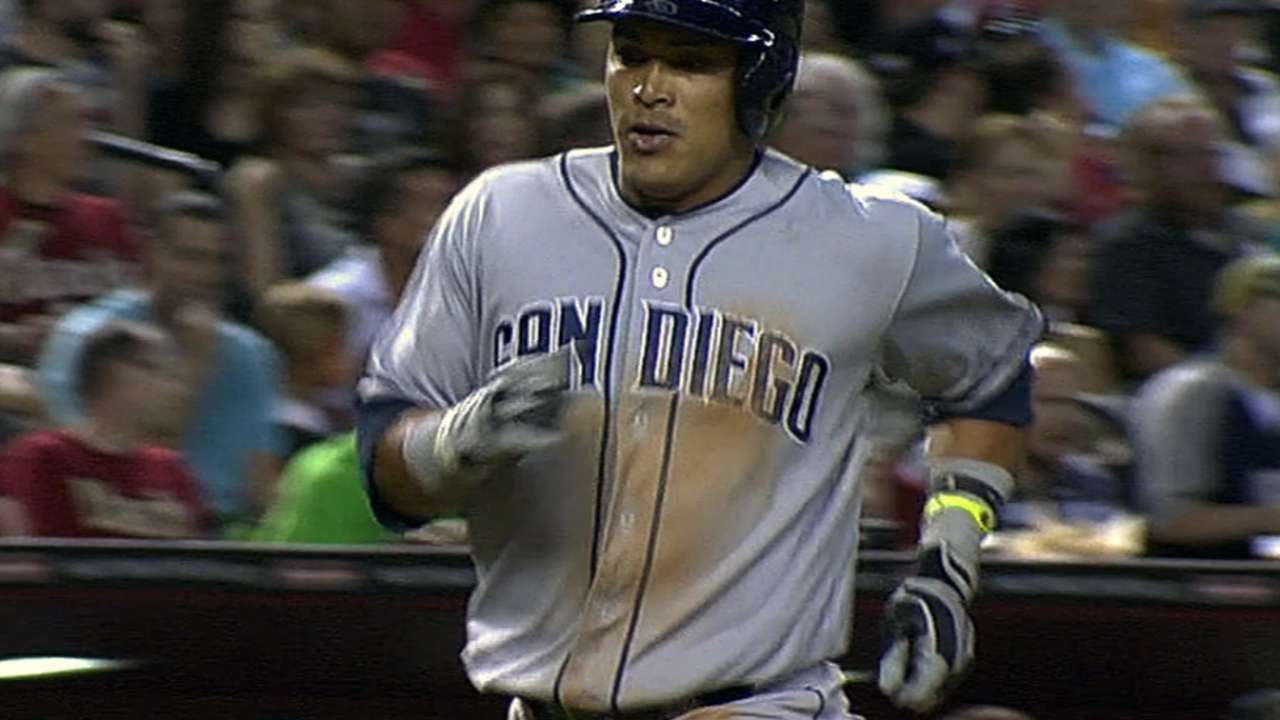 PHOENIX -- So this is what Everth Cabrera meant when he said he's starting to feel comfortable at the plate.
The shortstop was a triple shy of hitting for the cycle and racked up four RBIs to pace the Padres to a 10-4 victory against the D-backs and snap a three-game losing streak.
Padres starter Andrew Cashner was charged with four runs in six-plus innings for the victory. His bullpen mates shut out the D-backs over the final three innings to secure the win.
"I think my offensive game has improved dramatically, especially against left-handers," Cabrera said in Spanish. "I think last year, the manager didn't really have a lot of confidence in me in those situations and he batted me eighth but now I'm doing a lot better and that's a pretty big step for me. My job now is to do it for a complete season."
Cabrera is hitting .315 against left-handers this season. Last year, he hit .195.
"I'm a lot more relaxed, especially against left-handers," Cabrera said.
It shows.
"The thing that we are impressed with, his coaches and his teammates, is the calm focus," Padres manager Bud Black said. "He's locked in both offensively and defensively and you can see it. He's playing loose yet inspired. He's playing with a high degree of energy, yet there is a rhythm to his game. He's worked very hard to get to this point."
The D-backs jumped out to an early 2-0 lead in the first inning on a two-out, two-run home run by third baseman Eric Chavez. But Cabrera tied the game in the third with a two-run shot to left field off D-backs starter Wade Miley.
Cabrera was not done. In fact, he was just heating up.
The D-backs pulled ahead with two runs in the bottom half of the third, but the Nicaragua-born shortstop stung Arizona again, this time capping off a five-run fourth inning with a two-run double off reliever Tony Sipp to extend San Diego's lead to 7-4.
Cashner shut down the D-backs' offense in the bottom of the fourth on five pitches and it all but sealed Arizona's fate.
"I thought that was big momentum shift in the game right there," Cashner said. "That was the best inning that I had as far as making adjustments with my pitches, really bearing down right there and getting us back into the dugout."
Although it was Cabrera that provided many of the night's highlights, it was Jedd Gyorko's bat that arguably had the biggest impact of the night. Carlos Quentin led off the eventful fourth with a single and Gyorko followed with a sharp grounder that ricocheted off of the back of Miley's left knee. Miley threw Gyorko out at first base on the play but the left-hander never appeared to recover.
He threw four consecutive fastballs to the next hitter, Kyle Blanks, before finally retiring the right fielder on a fly ball to center field. Then it unraveled. Four consecutive two-out hits and three runs later, Miley was done for the night, setting the stage for more of Cabrera's heroics and putting him one hit from the cycle.
For his part, Miley refused to make excuses.
"It hurt a little bit but it goes away, I just didn't make pitches," he said. "It wasn't like I was throwing good then the comebacker happened and I threw bad. I was just very inconsistent."
The Padres tacked on two more runs on a single by Nick Hundley in the fifth.
"We were in the game early and then they shut us down," D-backs manager Kirk Gibson said. "Cashner got rolling pretty good. He had a 29-pitch inning then he got us pretty quick. He threw the ball well. He was sharper and we made earlier outs, couldn't sustain any pressure."
As for Cabrera, his first hit of the game was a single in the first inning. He went on to steal his Major League-leading 19th base of the season and the 100th of his career.
"It feels awesome," Cabrera said. "For the last two months, we've been playing great baseball and I'm doing everything for the team. I feel like I'm learning from this game and getting better every day."
Cabrera now has been one hit shy of the cycle three times this season. The Padres are the only Major League club to never have a player complete the cycle, coming within one hit of the feat 345 times.
"I put a good swing but I hit it on the ground and what could I do," Cabrera said of his final at-bat in the ninth inning, when he reached on an error charged to D-backs shortstop Josh Wilson. "I was thinking about it but it didn't happen."
Jesse Sanchez is a national reporter for MLB.com. Follow him on Twitter @JesseSanchezMLB. This story was not subject to the approval of Major League Baseball or its clubs.