Miley unable to clamp down on rough night
Lefty rattled by two-out hits, exits in Padres' pivotal fourth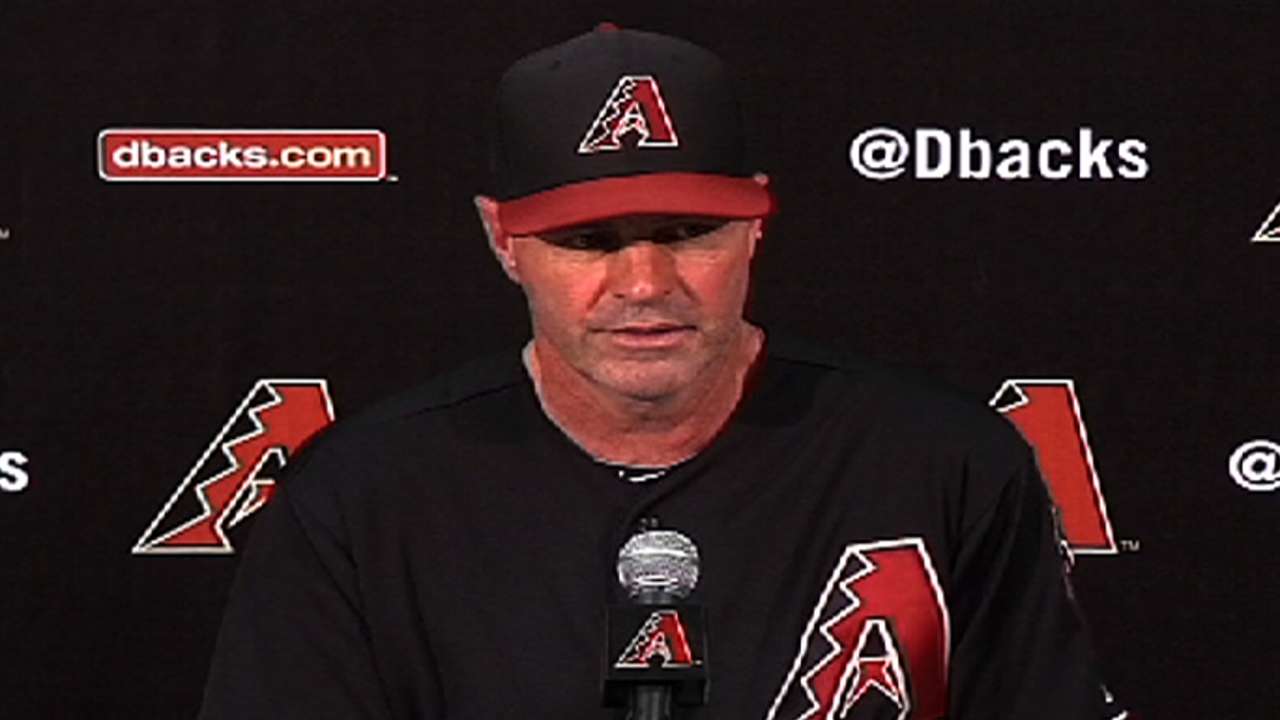 PHOENIX -- Standing at his locker visibly frustrated, it didn't long for Wade Miley to explain why he lost his third consecutive game Saturday. What escaped him though was why he couldn't fix the problem.
Unable to throw many strikes early in at-bats, the 26-year-old became one-dimensional and the Padres teed off.
Surrendering seven runs in a 3 2/3-inning outing in which 41 percent of his 70 pitches were balls, Miley and the D-backs fell, 10-4, to San Diego at Chase Field.
"Didn't get ahead of guys, was behind a lot so I had to throw more fastballs and they were all over it," said Miley, adding that his erratic command wasn't mechanics-related. "That's what happens. I have to get back after it tomorrow and figure things out."
Adding to Miley's displeasure was the fact that twice in his outing he came within an out of escaping a jam, but twice the Padres rallied against him for a combined six two-out hits, resulting in the seven runs charged to Miley.
"He didn't have very good command, he couldn't command his fastball," D-backs manager Kirk Gibson said. "These guys are a good-hitting team so if you leave it up over the plate, they'll get after it pretty good."
Even with the defeat, the D-backs remained in first place thanks to the Giants taking down the Rockies earlier in the day. All three clubs are tied atop the National League West with a 27-22 record.
Miley's brief outing Saturday night matched his shortest start of his career. He also went 3 2/3 innings on June 30 against Milwaukee. After finishing April with a 2.37 ERA, Miley has a 6.91 ERA through five starts in May.
"Sometimes the game speeds up on you rather than you slowing it down," he said. "I just have to overcome it and move on."
The majority of the damage came in the fourth inning when Miley, who held a 4-2 lead at the time, surrendered four consecutive two-out singles after retiring two of the first three batters of the frame. In the same sequence, a line drive off the bat off Jedd Gyorko struck the lefty in the back of his left knee, but he said it didn't affect him.
"It hurt a little bit but it goes away," Miley said. "It wasn't like I was throwing good then the comebacker happened and I threw bad. I was just very inconsistent."
After Gibson removed Miley from the game, Tony Sipp came in and served up one more two-out hit, this time a two-run double off of the bat of Everth Cabrera, who finished a triple shy of the cycle.
Offensively, Eric Chavez turned in most of the production Saturday, continuing his stellar month at the plate by driving in three runs including the first two of the game when he smacked an 86-mph changeup from Padres starter Andrew Cashner into the right-field bleachers for a towering home run. Two innings later, the 35-year-old came within a few inches of launching another homer, instead settling for a warning-track sacrifice fly.
"He swung the bat well," Gibson said.
In 52 May at-bats, Chavez is batting .434 with eight extra-base hits, 13 RBIs and 10 runs scored.
After Cabrera tied the game in the third with a two-run homer, the D-backs responded to give Miley another lead in their half of the inning, plating a pair of runs on four singles, including an RBI hit from Paul Goldschmidt.
That was all the D-backs would get, though, failing to score over the final six innings. Arizona matched San Diego with 12 hits in the game but didn't string the offensive production together as well.
"We were in the game early and then they shut us down," Gibson said. "Cashner got rolling pretty good. He had a 29-pitch inning then he got us pretty quick. He threw the ball well. He was sharper and we made earlier outs, couldn't sustain any pressure."
Following Miley's early departure, Josh Collmenter, Will Harris, Matt Reynolds and Brad Ziegler combined to work the final 5 1/3 frames, allowing three runs, only one of which was earned thanks to a pair of errors charged to the Arizona defense that entered the game leading the Majors in fielding percentage (.992).
"Just wasn't a very good game for us all around," Gibson said.
Tyler Emerick is an associate reporter for MLB.com. This story was not subject to the approval of Major League Baseball or its clubs.