With third-round pick, O's grab lefty Tarpley
With third-round pick, O's grab lefty Tarpley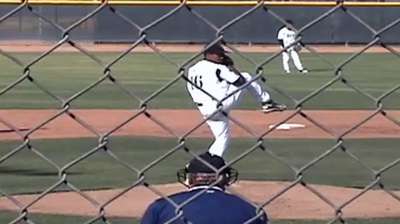 BALTIMORE -- After drafting a trio of high-school players on Day 1 of the First-Year Player Draft, the Orioles picked five college players and three high schoolers on Friday's Day 2.
Scouting director Gary Rajsich said the Orioles didn't enter the Draft with a plan of selecting so many high-school players Thursday and Friday, but that's just the way it worked out.
"No, it's just coincidence," Rajsich said. "In any Draft, you have players targeted where you're comfortable taking them and where you think they fit. And with 29 other teams picking, they're not always available. ... We try to get the best value for that pick that we can and it seems like early in the Draft, it was in the younger players and in the later rounds today it was in the older players."
Among those choices were three left-handed pitchers, three catchers, a first baseman and a third baseman. The Orioles drafted four catchers with their first 11 selections.
"It's all about acquiring assets for your organization," Orioles manager Buck Showalter said. "Whether they play for you or somebody covets them enough to give you the player that might be a difference-maker on your club. It's all about acquiring assets."
The Orioles began their day by using their third-round pick to select left-hander Stephen Tarpley out of Scottsdale Community College in Arizona.
Once an eighth-round pick of the Indians in 2011, Tarpley instead initially honored his commitment to Southern California to start his college career. After just one season at USC, the Arizona native transferred closer to home to Scottsdale Community College, thus making him eligible for this year's Draft, in which the Orioles selected him at No. 98 overall.
"We think he's a left-hander with tremendous upside," Rajsich said. "We like him as a future starter that can really hold down a spot in our rotation. He's got a live, quick arm and a pretty good delivery that needs a few minor adjustments. But he's got a live, hard fastball, he throws a curve and a slider and he's got good feel for a changeup."
In his sophomore season at Scottsdale Community College, Tarpley went 3-2 with 15 starts and a two-inning bullpen appearance. He struck out 108 batters in 92 innings and walked 40.
As a freshman at USC, Tarpley went 5-3 with 3.22 ERA in 14 appearances, including 13 starts. Notably, he didn't give up a home run in 78 1/3 innings. He struck out 67 batters and walked 29.
The strong and athletic lefty can crank his fastball up to 94 mph with easy effort. Both Tarpley's curve and slider can be at least average, if not better. His changeup is behind the breaking stuff, but should also be a Major League average pitch for him.
Tarpley can throw strikes and has terrific mound presence with his 6-foot-2, 190-pound frame. It's that combination, especially from the left side, that led to Tarpley's selection in this year's Draft. The southpaw has an upside as a future member of a big league rotation.
Tarpley was the first of eight selections the Orioles made on Day 2, which included rounds 3-10.
Baltimore also selected Amherst High School (N.Y.) catcher Jonah Heim, Crestwood (Canada) left-hander Travis Seabrooke, Calvert Hall (Md.) catcher Alex Murphy, Youngstown State (Ohio) third baseman Drew Dosch, Notre Dame (Ind.) first baseman Trey Mancini, Dartmouth (N.H.) left-hander Mitch Horacek and Fresno State (Calif.) catcher Austin Wynns.

"I think we're building. We're trying to get younger and at the same time we're trying to get better," Rajsich said. "We're trying to always add pitching, because pitching is very important. At the same time, we're addressing the short- and long-term needs of our organization as far as getting guys quickly who can help at the Major League level and also developing the young guys for the future."

Day 3 of the Draft continues with Rounds 11-40 streamed live on MLB.com on Saturday, starting at 1 p.m. ET.

MLB.com's coverage includes Draft Central, the Top 100 Draft Prospects list and Draft Tracker, a live interactive application that includes a searchable database of Draft-eligible players. You can also keep up to date by following @MLBDraft on Twitter. And get into the Draft conversation by tagging your tweets with #mlbdraft.

In the Pipeline
The Orioles have had their top picks rocket through the system in recent years, from Manny Machado to Dylan Bundy and, recently, Kevin Gausman.

With those players having contributed in the Majors at the age many prospects are still refining their game in the Minor Leagues, some analysts peg the Orioles' farm system as middle of the pack.
Derek Wetmore is an associate reporter for MLB.com. This story was not subject to the approval of Major League Baseball or its clubs.