Bucs lean toward experience, arms on Day 2
Bucs lean toward experience, arms on Day 2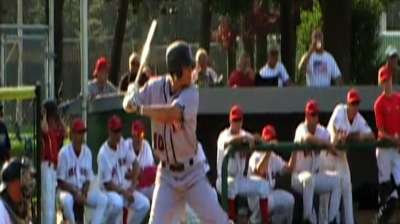 No, the Pirates didn't select a Baltimore Ravens receiver in the third round of the First-Year Player Draft. That's Jacoby Jones.
They drafted JaCoby Jones --- note the capital 'C' --- with their third-round pick and the 87th overall selection. The LSU second baseman clocked a 4.1-second time to first base and is praised for his speed and athleticism.
Jones was announced Friday as an outfielder during his selection, but he has played second base for LSU and has yet to find a true home on the diamond.
"We'll develop the player and the person in combination to find the best fit for him on the field," said Pirates director of amateur scouting Joe DelliCarri. "We'll play him in multiple positions here. Most important, develop the person, continue to develop the athlete, and he has a chance to be in the role of a good baseball player."
Jones has all the tools to get to the Majors, but he's yet to use them consistently enough the last few years.
He won the Cape Cod League home run derby and had 12 extra-base hits in 35 games last summer. But with his aggressive approach at the plate, he also had 55 strikeouts in 139 at-bats.
Jones' LSU Tigers faced Oklahoma Friday night in hopes of advancing to the College World Series. Entering Super Regional play, he hit .283 with 38 runs, five homers and 29 RBIs this season. He had also stolen 12 bases in 15 tries.
DelliCarri said Jones has the athleticism to play different positions, and that will help his development as he searches for a true home in the field in addition to the continued progress of his bat.
Including Jones, the Pirates went with a variety of players on Day 2. They selected six college players and two prep players, in addition to the three high schoolers they selected yesterday --- outfielder Austin Meadows, catcher Reese McGuire and lefty Blake Taylor.
Pirates general manager Neil Huntington said the club wasn't trying to balance the amount of high school and college players they selected.
"It was a situation where we looked at the players of similar values at our time of selection and picked the one we felt the best about in the room," Huntington said.
Following that strategy, the Pirates selected Cody Dickson, a tall, projectable lefty out of Sam Houston State in the fourth round. At 6-foot-3, 185 pounds, Dickson throws his fastball in the low 90s, but he could add velocity with gained weight.
He went 9-5 with a 4.26 ERA this season and ended 2013 with a 28-inning scoreless streak, picking up his play at the end of the year.
"We did have Cody Dickson on our radar before the season started," DelliCarri said. "And we continued to stay with conviction in our first looks that he had a chance to get better, and it just happened in front of the whole industry and especially us at the end."
The Pirates then followed with two shortstops --- first Trae Arbet from Great Oak High School (Calif.) and Adam Frazier out of Mississippi State.
After 10 picks, Pittsburgh had taken two infielders, two outfielders, five pitchers and one catcher. The Pirates closed out Day 2 by drafting four right-handed pitchers.
Buddy Borden, out of UNLV, the co-Mountain West Pitcher of the Year, improved his command last offseason and trusts his stuff. The Pirates' seventh-round selection, Borden has a low-90s fastball in addition to a changeup and curveball.
Pittsburgh followed up that pick with Neil Kozikowski, a tall, lean righty out of Avon Old Farms School (Conn.) and selected Delaware's Chad Kuhl after that with their ninth-round selection.
The club ended Day 2 by taking Shane Carle of Long Beach State, a 6-foot-4 righty whose fastball has good sinking movement that causes a lot of ground balls.
Day 3 of the Draft continues with Rounds 11-40 streamed live on MLB.com on Saturday, starting at 1 p.m. ET.
MLB.com's coverage includes Draft Central, the Top 100 Draft Prospects list and Draft Tracker, a live interactive application that includes a searchable database of Draft-eligible players. You can also keep up to date by following @MLBDraft on Twitter. And get into the Draft conversation by tagging your tweets with #mlbdraft.
"We're not looking to fill organizational needs," Huntington said. "Organizational needs can disappear in a hurry and surpluses can disappear in a hurry. The Draft is about adding another class of quality players. The draft is all about accumulating as much talent as you can."
Steve Petrella is an associate reporter for MLB.com. This story was not subject to the approval of Major League Baseball or its clubs.