Felix can't get Mariners untracked
Texas tallies season-high 11 hits off Seattle ace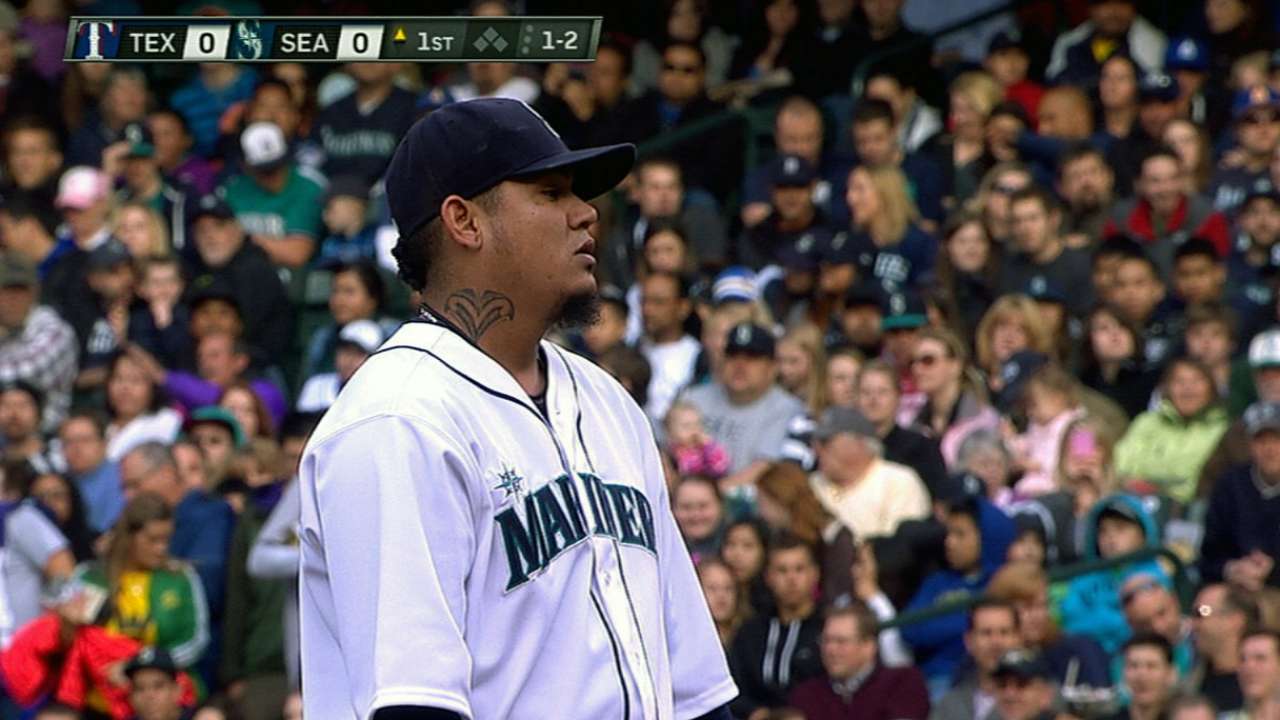 SEATTLE -- Not even having 20,000 Felix Hernandez bobbleheads in the stands nodding their support could help the ace or his sinking Mariners.
Pitching on a fan giveaway night commemorating Hernandez throwing Seattle's only perfect game two seasons ago, King Felix was mortal. Again.
Seattle's ace allowed five runs on a season-high 11 hits to the team with the best record in the Major Leagues. The Mariners managed just five hits and a pair of unearned runs while striking out 10 times against Rangers left-hander Derek Holland and lost their eighth consecutive game, 5-2, on Saturday night in front of 35,022, Safeco Field's largest crowd since the home opener.
"I wanted this one really bad," Hernandez said, after his second consecutive subpar start. "It was my bobblehead night. I wanted to win it for all the fans, for our team, in where we are right now.
"It was tough."
Adding to the dissappointment, manager Eric Wedge said afterward that first baseman and No.-5 hitter Justin Smoak strained his oblique and will need to be re-evaluated on Sunday. The injury occurred on a check swing in his first at-bat, though Smoak stayed in for two more before leaving in the eighth.
"When you go through streaks like this, it's sometimes tough to win a big league ballgame," Wedge said. "But you've got to keep coming to the park. You've got to keep pounding.
"This is where you've got to be tough. You've got to stay determined, stay persistent."
Starter Hisashi Iwakuma (5-1, 2.37 ERA) will try to end Seattle's longest skid in two years on Sunday afternoon in the series finale against Nick Tepesch (3-4, 3.98) and Texas (32-17).
Hernandez (5-4) struck out nine, his most while allowing double-digit hits since allowing 10 hits with nine K's on July 10, 2010, in a complete-game win over the Yankees.
But this time, he was leaving his changeup up and the free-swinging Rangers kept reaching down to golf his sinker. Hernandez allowed six hits and three runs before he had gotten six outs.
Jurickson Profar's two-strike chip shot over leaping second baseman Carlos Triunfel gave Texas a 1-0 lead in the second. Catcher Kelly Shoppach deftly blocked A.J. Pierzynski from sliding into home with his left leg while receiving Brandon Ryan's throw to save another run on Elvis Andrus' grounder to shortstop, but then Hernandez fell behind David Murphy, 3-1. Murphy ripped the next pitch, a 93-mph fastball, into the right-field corner, and the Mariners trailed, 3-0.
For the 11th time during the losing streak, a Mariners pitcher allowed at least three runs in an inning. Seattle's pitchers had allowed only 11 three-run innings over the season's first 41 games.
Hernandez threw 47 pitches in the first two laborious frames. At that point, he had allowed eight earned runs and 14 hits in his last seven innings, dating to Monday's 6-0 loss at Cleveland. During his start prior, he tweaked his back in a May 15 start at the New York Yankees.
It was just the second time since May 1 and 7, 2010, that Hernandez had failed to last at least six innings in consecutive starts.
Hernandez and Wedge insist the pitcher is fine physically, with no residual issues from that back stiffness.
"They came out swinging. They came out aggressive," said Hernandez, whose ERA has climbed from a league-leading 1.53 to 2.51 in a week.
"I mean, they put together great at-bats. They put the ball in play and they found holes. I threw good pitches but they hit them."
After two Texas errors set up Kendrys Morales' two-run double off the top of the right-field wall that got Seattle back within 3-2 in the third, Hernandez could not find any semblance of a groove.
He got former Mariner Adrian Beltre to ground into a double play in the fifth, and playfully chided his good friend over it in the middle of the infield. But a few pitches later Hernandez threw a fastball that Nelson Cruz put three rows into the bleachers beyond right field to make it 4-2 Texas.
After Leonys Martin's two-out triple in the sixth and Hernandez's only walk, to Andrus on his 114th pitch, Oliver Perez relieved the scuffling ace.
Hernandez looked up to acknowledge the largest King's Court crowd since the Mariners created the clever promotion (2,700-plus) and a rousing ovation. But his disappointment at not being able to stop the longest Mariners losing streak since the 17-game abyss in July 2011 was evident.
"Man, I try not to lose any games. But when you lose these kinds of games with the team struggling, it's tough for me, tough for the team," Hernandez said.
Murphy greeted Perez rudely with an RBI single, the fifth and final run charged to Hernandez.
"We worked him pretty good and made him throw pitches," Rangers manager Ron Washington said. "We didn't chase many pitches outside the strike zone, and when he threw the ball in the strike zone, we made enough contact to find some holes."
Gregg Bell is a contributor to MLB.com. This story was not subject to the approval of Major League Baseball or its clubs.