Rough fifth inning proves costly for Gee, Mets
Braves score five runs off righty after there are two outs, nobody on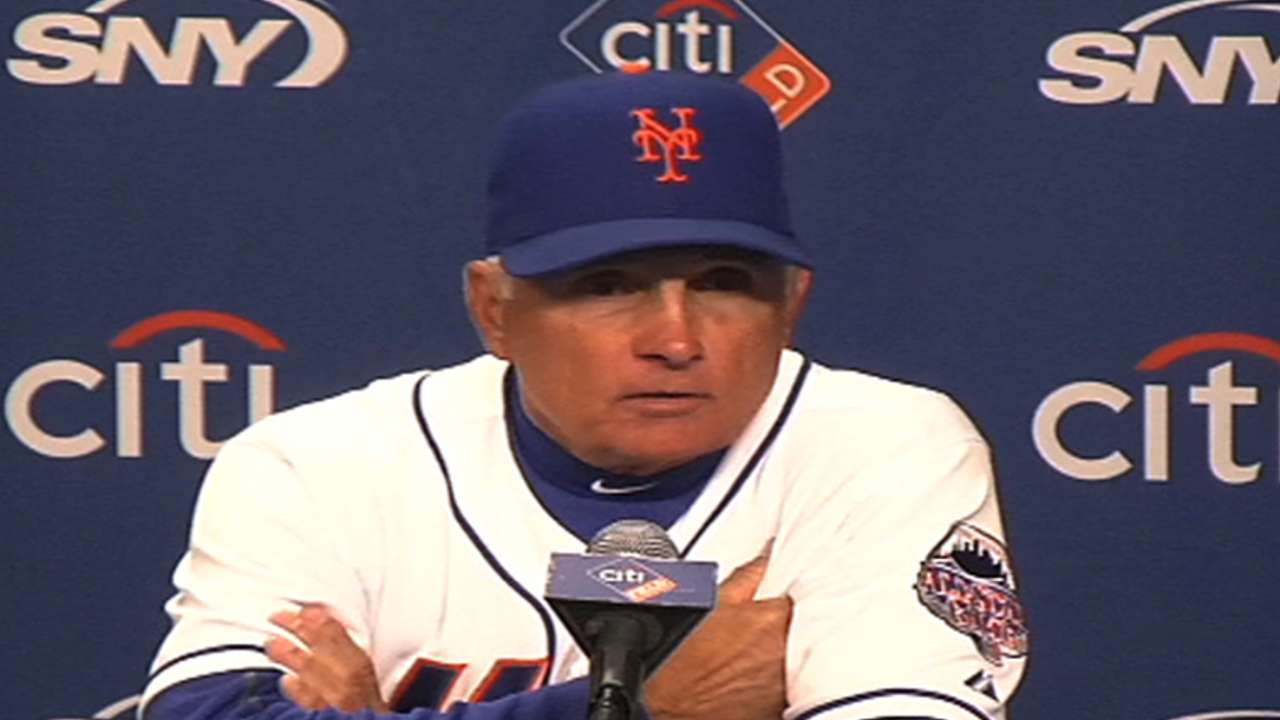 NEW YORK -- It's the baseball law of inertia: Get them before they get you.
Mets starter Dillon Gee mastered the first half of the equation for four innings Saturday, casually dominating the Braves. But then came the fifth. Gee, who had retired 14 of Atlanta's first 16 batters, suddenly lost command and the Braves recorded a five-run fifth inning en route to a 6-0 win.
"Everything was going well. I was locating the ball in and out, mixing in my offspeed pitches for strikes," said Gee. "Then all of a sudden, I got in the stretch that one inning and couldn't locate. Other than that, I just don't know really what to tell you. I just wasn't locating the ball very well."
The big shot of that inning -- and of the game -- came from the least likely source. Atlanta starter Mike Minor had matched Gee zero-for-zero in the first four innings, but he came up with two outs and a runner on base in the fifth and blasted a crucial two-run home run over the left-field fence.
Minor, who came into Saturday as an .074 career hitter with 54 strikeouts in 108 at-bats, had earlier served notice with a single. Minor, a left-handed pitcher and right-handed hitter, got the Braves' first hit in the fourth inning and was later stranded at second base, but his fifth-inning shot left no doubt.
"I guess it was a good behind-in-the-count fastball. Right down the middle," said Gee, who had also allowed a home run to the starting pitcher -- the Cubs' Travis Wood -- in his previous outing. "That's twice now that's happened to me. I got behind in the count there because I wasn't locating at all. You've got to throw him a strike. It's the pitcher, so you've got to take your chance. And he got it."
And if it changed the score, it also doomed Gee's evening. The right-hander gave up a double to the very next batter he faced -- shortstop Andrelton Simmons -- and a single to Jason Heyward. Justin Upton doubled to left field and Freddie Freeman singled him home before the rally ended.
Gee (2-6) has gone five straight starts without recording an out after the end of the fifth inning, the longest streak for a Mets pitcher since Johan Santana did it at the end of last season. Gee has gone fewer than six innings in eight of his 10 starts, and he's allowed at least four earned runs six times.
Gee, 27 years old, has held opposing hitters to a .225 average (18-for-80) the first time through the order this season. But after that, hitters have caught up and are batting .392 (51-for-130) against him, and the Mets (17-29) saw that exact statistic play itself out in the fifth inning on Saturday.
"He lost command," said manager Terry Collins. "Up until that inning, everything was down, knee-high. Changed his speeds [and] pitched inside. Fifth inning, after the pitcher hit the home run, he couldn't get the ball out of the middle of the plate."
Gee, whose ERA hasn't been below 5.00 since after his first start of the season, said Saturday that he's not worried about his spot in the rotation. Top pitching prospect Zack Wheeler looms in the background for the Mets, and Collins said that Gee and his fellow veterans have to worry about their own bottom line.
"I think every time you go out on the mound, you're fighting for your job," said Collins. "You've got to go out on a consistent basis and give your team what they expect -- that's quality innings, get us deep in the game, keep the production down from the other club. If the time comes that we're going to make changes, whoever is not pitching good will be out. That's just the nature of the beast."
The Mets, meanwhile, had trouble finding offense of their own. Minor (6-2) struck out the side in the first inning, and he wound up stranding two runners on base in the third. But as Gee weakened, Minor drew strength, and the left-hander retired 13 of the 16 batters he faced after the third inning.
Atlanta (30-18) earned two victories on Saturday by virtue of a suspended game. The two teams wound up deadlocked Friday night and unable to continue due to inclement weather, and the Braves scored twice in the 10th inning Saturday to seal a 7-5 victory over the Mets in the series opener.
Ike Davis, mired in a season-long slump, notched a single late in the continuation of the suspended game, and he later struck out with his team trailing by six runs in the nightcap. Davis is batting .148, and he said that he has to take the positives where he can.
"Every day, I go in there trying to do something," said Davis. "You have different plans. Sometimes they work and sometimes they don't. Sometimes you hit two balls at somebody and it looks like you're still in a slump. You just really have to find what works and keep working on it."
Spencer Fordin is a reporter for MLB.com. This story was not subject to the approval of Major League Baseball or its clubs.