Minor's arm, bat lead Braves to eighth straight win
Lefty hurls 7 1/3 shutout innings while starting rally with first career HR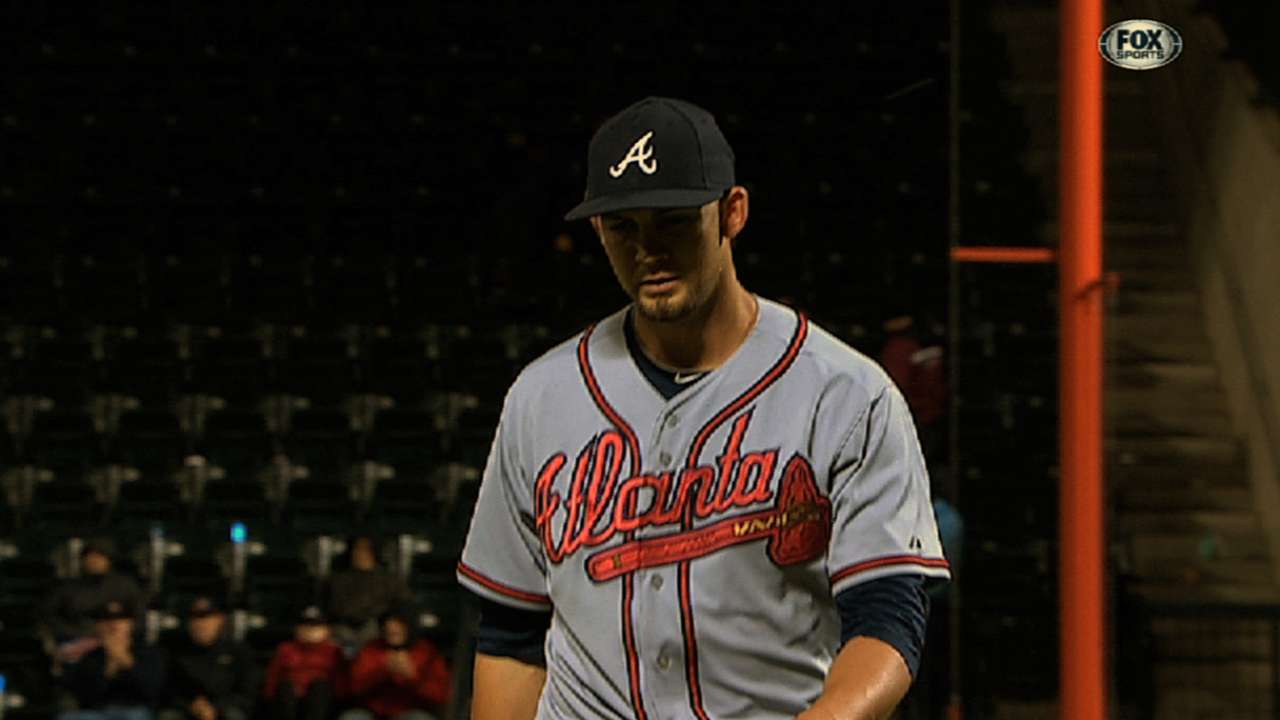 NEW YORK -- Before transforming into one of baseball's best left-handed pitchers last year, Mike Minor had at least provided an occasional sign of encouragement. But it is safe to say his unexpected recent offensive surge came without warning.
Minor provided the element of surprise when he crushed the first home run of his career during a five-run fifth inning that provided him more than enough support and enabled the Braves to extend their winning ways with Saturday night's 6-0 victory over the Mets at Citi Field.
"I knew it was gone," Minor said. "But I just wanted it to stay fair. That was the first ball of the year I barreled up. It was kind of like a blur really."
Minor's two-run homer and latest strong mound performance highlighted the end of a whirlwind day for the Braves, who will take an eight-game winning streak into Sunday's series finale. Approximately two hours before producing their two-out, fifth-inning flurry, the Braves had completed Friday night's suspended game with a 7-5, 10-inning win.
With Mets starting pitcher Dillon Gee one out away from blanking the Braves through the first five innings of Saturday's already-scheduled game, Minor strolled to the plate simply attempting to turn the lineup over. Four pitches later, he took a powerful cut at a 2-1 fastball and then watched the baseball soar toward the second-level façade before falling into the left-field seats.
"I got behind in the count there because I wasn't locating at all," Gee said. "You've got to throw him a strike. It's the pitcher, so you've got to take your chance. And he got it."
When Minor returned to the dugout after hitting his impressive two-run home run, he received an expected hug from Freddie Freeman and many of the Braves players who were likely still in a state of shock. The Braves pitcher had recorded just three extra-base hits in the previous 109 at-bats of his career.
"It just amazes me," Freeman said. "He swings so hard. He's going to run into it one time."
The Braves have come to expect these kinds of pitching efforts from Minor, who limited the Mets to three hits and recorded 10 strikeouts over 7 1/3 scoreless innings. His only other double-digit strikeout total came when he recorded 12 against the Cubs on Aug. 22, 2010.
Through his first 15 starts last year, Minor had a 6.20 ERA and was staring at the possibility of being sent to the Minors. In the 25 starts that have followed, he has compiled a 2.32 ERA and established himself as the most reliable pitcher in Atlanta's rotation.
"He's a tough lefty," Freeman said. "He goes out there, throws strikes, pounds the zone and he's not afraid to pitch to contact. We've got a great defense behind him. He's going to get his strikeouts, but he also knows we're going to make plays for him, too."
Along with getting the Mets to swing through a number of pitches, Minor took advantage of the windy conditions that led Braves manager Fredi Gonzalez to remove inexperienced outfielder Evan Gattis after he had recorded his third at-bat in the fifth inning.
"I'm a fly-ball pitcher," Minor said. "When I went 2-0 or [fell behind], I would throw it right down the middle basically. They barreled up a lot of balls. But as you could see, the outfielder would take one or two steps back and then sprint forward because of the wind. I noticed that early on. So I just decided to attack them, because if they're going to try to get it out, they've got to have power like me."
The light-hearted conclusion to this explanation stands as an example of the mood the Braves have gained while winning each of the eight games they have played since losing five of the last six games on a 10-game road trip that concluded on May 15.
Minor's home run stood as one of the six consecutive hits the Braves recorded after Gee retired the first two batters he faced in the fifth inning. Andrelton Simmons and Justin Upton contributed doubles to fuel the uprising that ended with Freeman's RBI single.
Freeman, who homered and scored the decisive run in Friday's suspended game, added a seventh-inning RBI single to increase his team-leading RBI total to 30. The 23-year-old first baseman is hitting .486 (17-for-35) with runners in scoring position.
"I don't know what the deal is when there is a guy in scoring position, I don't know if I concentrate harder or what the deal is," Freeman said. "But I want to get those guys in."
Minor began the first two-hit game of his career with a two-out single in the third inning. His home run provided him a hit in three consecutive at-bats. He had compiled an .067 (7-for-107) career batting average before recording these three hits.
"I'm a streaky kind of guy," Minor said while appropriately flashing a smile.
Mark Bowman is a reporter for MLB.com. This story was not subject to the approval of Major League Baseball or its clubs.