Inside-the-park homer sinks Rockies in 10th
Tulowitzki's go-ahead shot negated by Pagan's two-run circuit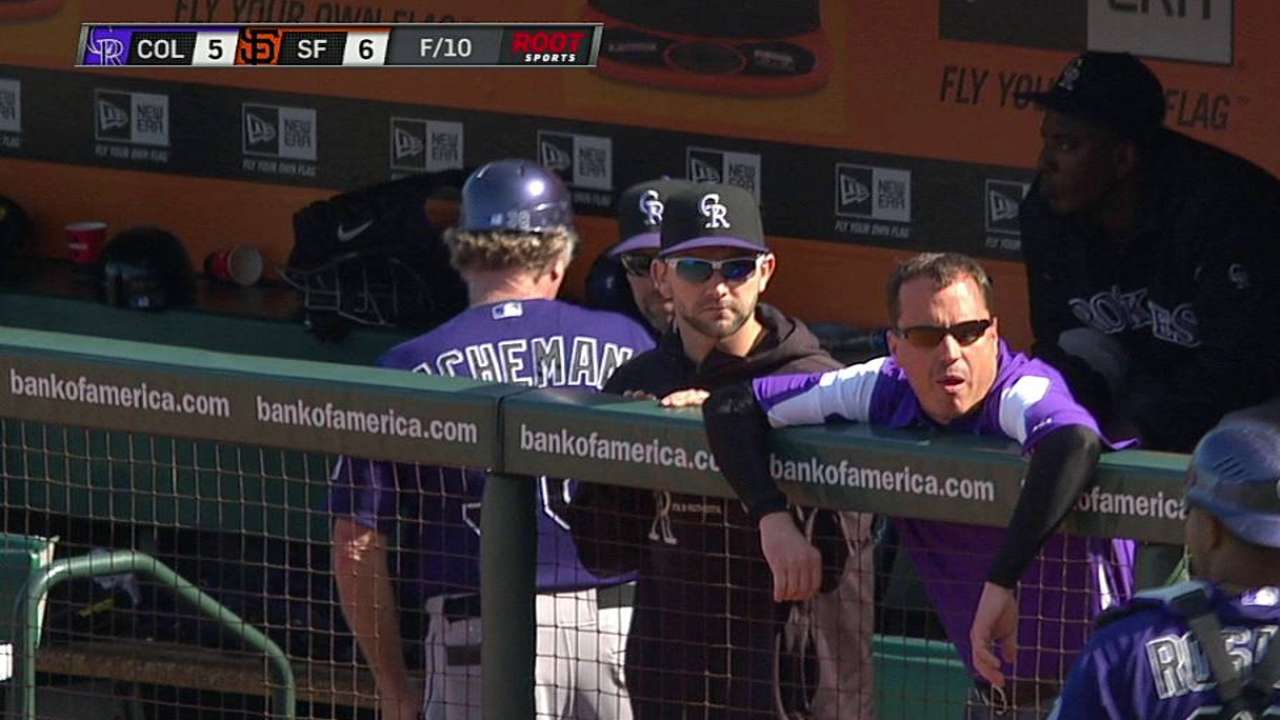 SAN FRANCISCO -- Game-ending inside-the-park home runs, like Angel Pagan's two-run job to give the Giants a 6-5, 10-inning victory over the Rockies on Saturday afternoon at AT&T Park, don't happen often.
But Rockies first baseman Todd Helton is in the unique position to say he was on the wrong end of two.
Before Saturday, the last walk-off, inside-the-park homer in a Major League game was by Tampa Bay's Rey Sanchez on June 11, 2004 -- against the Rockies, with Helton on the field watching in bewilderment.
"It's definitely a head-shaker," said Helton, who at least wasn't around long enough to see the Giants' last walk-off, inside-the-park homer, by Hall of Famer Bill Terry for the New York Giants against the Cubs on Aug. 24, 1931. "But we can do one of two things: Sit there and dwell on it, let it affect us, or come back and win a game and it'll never be thought of again."
In the grand scheme, the Rockies enter Sunday with a chance to win a second straight series over the Giants, something that hasn't happened often in recent seasons. But part of the process will be putting behind them an unforgettable ending to Saturday's game.
"It would be a lot worse if we had lost yesterday and have this on top of it," Rockies shortstop Troy Tulowitzki said. "Yesterday was big for us. This is a tough place to play. Tomorrow, we have a chance to win a series, which hasn't happened for this organization for a while."
The Rockies had taken a one-run lead in the top of the 10th on Tulowitzki's leadoff home run off Giants closer Sergio Romo (3-2). It was the 10th homer of the season for Tulowitzki, who earlier in the contest extended his hit streak to 10 games.
The Rockies turned the game over to closer Rafael Betancourt (1-2), who had converted all 10 previous save chances but was pitching for the first time since being pulled from a game Tuesday with right groin inflammation.
Betancourt walked Brandon Crawford on five pitches to open the inning, then watched in vain as Pagan's deep fly to right-center kicked away from right fielder Michael Cuddyer. Pagan puffed around the bases for his third homer of the season.
"I'll be honest with you, I was running out of gas a little bit," Pagan said.
Rockies center fielder Dexter Fowler, who ended up with the ball, threw to second baseman DJ LeMahieu, whose throw to the plate was too late.
"It just took an awkward bounce," Fowler said. "At the end of the day, we'll be fine."
Betancourt declined interview requests.
"He's got great command, but nobody's going to be perfect in this league," Rockies manager Walt Weiss said.
The Giants came back from a 4-0 deficit in the late innings, but two calls by plate umpire Alfonso Marquez -- one that involved a possible run, the other at third base -- went the Rockies' way even though TV replays said otherwise.
Carlos Gonzalez began his three-hit day with a two-run homer off Giants starter Barry Zito in the top of the first. The Rockies pushed the lead to 4-0 in the fourth on Cuddyer's RBI single and Jordan Pacheco's RBI single.
Rockies starter Juan Nicasio, who was in danger of losing his spot in the rotation a couple of weeks ago, turned in his second straight competitive start. He held the Giants scoreless until the sixth and wound up yielding two runs and seven hits in five-plus innings.
"I felt great, had command of my fastball and threw it down in the zone, and my breaking ball went for strikes, too," Nicasio said.
Doubles by Buster Posey and Hunter Pence to open the sixth chased Nicasio. Josh Outman, pitching on consecutive days for the first time this season, gave up Brandon Belt's single -- a bloop that bounced off the edge of Tulowitzki's glove -- and walked pinch-hitter Andres Torres before Crawford's sacrifice fly.
Posey singled to open the Giants' seventh and scored when Torres' jam shot against Rockies left-hander Rex Brothers squirted down the third-base line for a double that put runners at second and third. But LeMahieu fielded Crawford's grounder and threw to Yorvit Torrealba at the plate to cut down Belt, who was trying to score the go-ahead run. TV replays showed Belt made it in time, but Marquez ruled otherwise.
In the eighth, Marco Scutaro tried to advance to third on Pablo Sandoval's one-out single. Gonzalez threw to third, where Arenado's tag missed but Marquez, covering third because the umpires were rotating with the play, ruled an out. Arenado thought it was possible he grazed Scutaro but replays showed daylight between glove and runner.
Thomas Harding is a reporter for MLB.com. Read his blog, Hardball in the Rockies, and follow him on Twitter @harding_at_mlb. This story was not subject to the approval of Major League Baseball or its clubs.