Rays drop first Moore start after 'pen falters late
Rodney blows fifth save of year in ninth; Lueke allows winner in 11th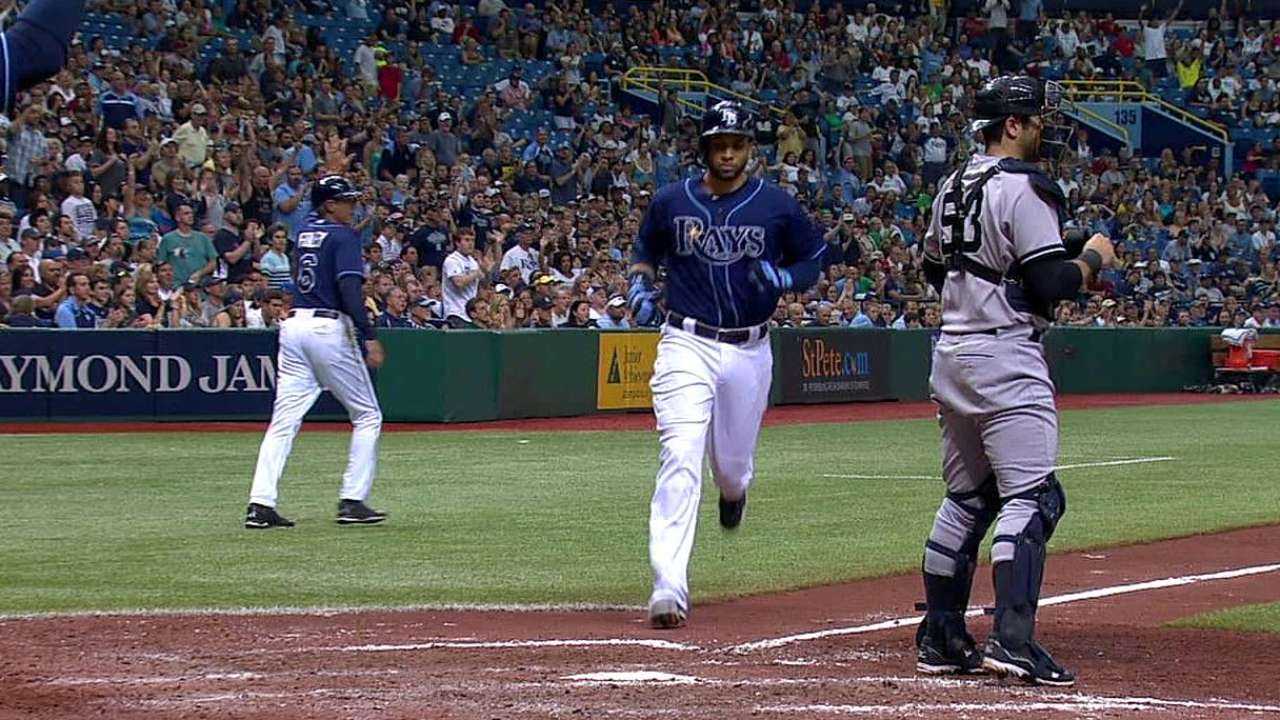 ST. PETERSBURG -- Fernando Rodney didn't hang around to face the music following Saturday afternoon's 4-3 Rays loss at Tropicana Field. Evidently he'd heard the same old song one too many times.
The Rays handed Rodney a 3-1 lead to protect in the ninth inning, and once again, the closer didn't get the job done. Residue of the blown save carried over into extra innings, where the Yankees finished the job when Lyle Overbay homered on a 1-0 pitch from Josh Lueke with two outs in the 11th.
The Rays took their third consecutive loss while falling to 24-24 on the season. Tampa Bay also took its first defeat of the season in a game started by Matt Moore, snapping a streak of 11 straight Rays victories in games started by Moore, dating back to Sept. 16.
Rodney, who blew his fifth save in 14 opportunities this season, departed the Rays' clubhouse without facing reporters. Rays manager Joe Maddon stuck up for his beleaguered closer.
"This has been really awkward to watch," Maddon said. "He's been within one pitch of being almost perfect this season. ... Three of the blown saves, I think, he's come down to the last pitch. I have not lost any patience with that. Honestly, I have not."
Lost in the defeat was the work done by the Rays' offense in a two-run seventh, when Maddon turned to his bench to break a 1-1 tie.
James Loney singled to open the inning, and pinch-hitter Matt Joyce followed with a double to right to put runners at second and third with no outs for pinch-hitter Kelly Johnson.
Left-hander Boone Logan was brought into the game to pitch to the left-handed-hitting Johnson, who singled through the right side to score Loney.
Joyce then scored when Yunel Escobar hit into a fielder's choice that saw Yankees shortstop Jayson Nix throw home on the play. The throw appeared to beat Joyce, but home-plate umpire Jim Reynolds ruled that catcher Austin Romine's tag had been high, thereby allowing Joyce to slide home safely to give the Rays a 3-1 lead.
Jake McGee pitched a scoreless seventh and Joel Peralta a scoreless eighth, leading up to Rodney's entrance.
Rodney compiled the best season by a closer last season when he blew just two saves in 50 chances, and his 96 percent save rate led the Major Leagues. Nobody expected him to repeat what amounted to his immaculate 2012 season. However, believing that he could have some semblance of being that pitcher was reasonable. To date, he has not been.
Command issues have really hurt the hard-throwing right-hander all season, so it seemed appropriate that a two-out walk issued to Overbay opened the door for Saturday's Yankees comeback.
Rodney then fell behind 2-0 to pinch-hitter Brennan Boesch, who laced a double down the left-field line to score Overbay, who had moved to second on a balk. Brett Gardner followed with a single to center to tie the score at 3.
"It's just giving the next guy a chance," Overbay said. "I knew Boesch was coming up, and he could tie it up. It's little things like that. Gardy had a great two-out hit to tie the game. Those are the little things that make us a good team."
The Rays squandered scoring opportunities in the bottom of the ninth, when they had the winning run at second with one out; and in the 10th, when they loaded the bases with one out. They had no such opportunities after Lueke gave up the lead in the 11th, as Mariano Rivera entered the game and nailed down his 18th save in 18 opportunities this season.
"The walk to Overbay is the most important moment in that game, and then furthermore, we're all sad right now because we had bases loaded, one out in the 10th and we got a strikeout and then the last out was made," Maddon said.
Moore remained undefeated at 8-0, but the Rays hurler was unable to become the first left-handed pitcher (since records are available in 1916) to go 9-0 or better in his first 10 starts while being used exclusively as a starter. Moore wasn't about to throw the bullpen under the bus.
"It's something that every pitcher [has gone] through," Moore said. "It goes without saying that that's a tough lineup. ... It's one of those things where we're going to find adjustments to make sure it doesn't happen again."
Despite the five blown ninth-inning leads, Maddon says there will be no adjustments to the bullpen pecking order.
"We're set up to win in a certain way, and you have to continue to utilize people in their appropriate moments and roles," Maddon said. "As long as [Rodney] does not lose confidence in himself, I will not lose confidence in him. It's just one of those moments."
Bill Chastain is a reporter for MLB.com. This story was not subject to the approval of Major League Baseball or its clubs.