Tigers fall behind early against familiar foe
Mauer's homer off Fister helps Minnesota end Detroit's win streak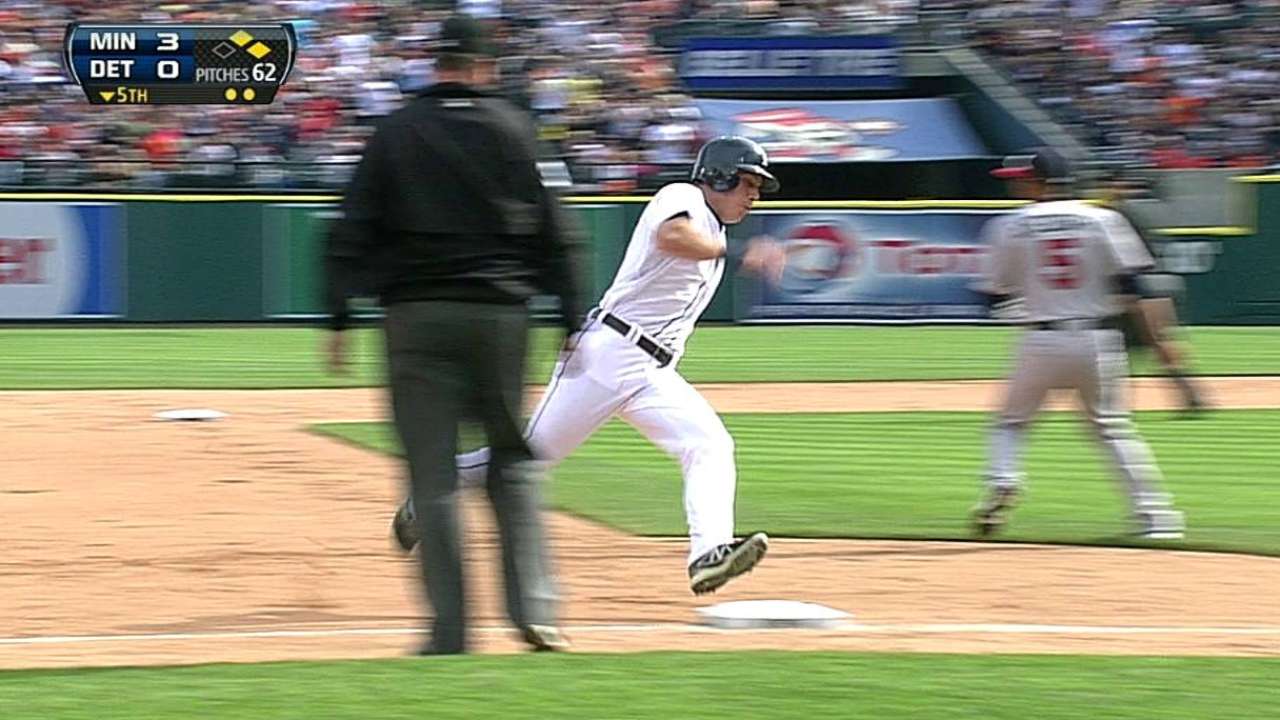 DETROIT -- On the day the Tigers honored the 45th anniversary of their 1968 World Series championship team, the Twins turned back the clock several years to the days when Joe Mauer and Justin Morneau were baseball's most dangerous duo and relatively unknown Minnesota pitchers kept flummoxing Detroit hitters. If Brad Radke were still pitching, they could have turned the clock back to 2006.
"That was Radke's last year," former Twin and current Tiger Torii Hunter said.
The way he pitches against the Tigers, P.J. Walters sufficed.
By the midway point of the Tigers' 3-2 loss Saturday, Mauer and Morneau had accounted for three runs, and much of the sellout crowd at Comerica Park was booing Mauer like he was the perennial All-Star of old. For one swing, at least, he was pulling a home run to right field.
It's not that long ago, actually. The Twins' struggles just make it feel that way.
The end of Detroit's four-game win streak also closed a 10-game losing streak for Minnesota, which has been sputtering offensively. One day after Mauer's ninth-inning single ended Anibal Sanchez's no-hit bid, however, his first-inning homer sparked the early outburst that would keep Minnesota ahead the rest of the afternoon.
"He's not a three-time batting champion for nothing," Tigers manager Jim Leyland said. "He was hitting them all over the place. He's a great hitter."
The crowd was already on Mauer before he took a swing, having remembered his hit off Sanchez from Friday night. Once Tigers starter Doug Fister put him in an 0-2 count and started trying to bust him inside, he ignited Minnesota's offense early.
It's the approach the Tigers wanted to take against a guy who hits opposite-field line drives well more often than he pulls one. With a steady diet of fastballs, though, Mauer timed Fister and jumped it.
"That's what my thinking was," Fister said. "I pounded him away a lot. I'm going to try to get [a pitch] in there, see if I could get a ball in. I felt like I put it where I wanted it, but obviously he hit it well."
Mauer did not get it out by much, but it hit the top of the fence and bounced off the railing behind it rather than back onto the field. It counted all the same after it was reviewed and upheld.
Mauer has 10 career homers at Comerica Park, four more than he has hit in three-plus seasons and three times the games at Target Field. However, Saturday was the first home run Mauer has sent out to right in Detroit, where the shorter right-field fence usually proves friendly for left-handed hitters to pull the ball.
"Bottom line, he's a great hitter," Fister continued. "I felt like I made a good pitch on him, but he got in, stayed inside the ball and hit it well. Unfortunately, he hit it out of the park."
It was one of a handful of plays that punished Fister when he was ahead in the count. He had a 2-2 count on Josh Willingham and tried to use the change of speeds to get a swing and miss, but Willingham fouled off two changeups while taking two fastballs off the plate for a walk.
Fister threw three consecutive changeups to former American League MVP Morneau, the last of them probably the best. It was down around the outside corner at the knees, and Morneau dived out and centered it. The resulting line drive and RBI double to right-center fooled Don Kelly, who got a late break back on it, but it was hit hard enough that Kelly might not have had a play even with a clean route.
A two-out single back through the middle by Chris Parmelee plated Morneau for a 3-0 lead.
Fister (5-2) gave up five more singles over the next six innings, but he allowed only one runner in scoring position, keeping the game close enough for the Tigers' offense to rally. Walters was not nearly so forgiving.
"I felt like I threw the ball well, but tip your cap," Fister said. "The first inning, they hit the ball right where it needed to be. They put good swings on the ball. We just had to make an adjustment. I just didn't make it in time."
It did not matter much against Mauer, whose boos grew louder his next time up before he delivered a leadoff single in the third. Once he added a fifth-inning single, the crowd's reaction was approaching levels reserved for former White Sox catcher A.J. Pierzynski.
Then again, the three-hit game pushed Mauer to 170 career hits off Tigers pitching, more than he has off any other opponent.
"In my second at-bat, [catcher Brayan] Pena said, 'They shouldn't boo you. You got a homer after they booed you,'" Mauer said. "And then I got a hit there, and the next time I came up they're booing, and he says, 'No. Stop, stop, stop.' So it was pretty funny."
Walters posted three quality starts in four tries against the Tigers last year, and would've had the fourth with one more inning. So maybe it shouldn't have been a surprise when Minnesota brought up Walters for his first Major League start of the season.
He came back firing strikes.
"We've seen him before," Leyland said, "and we pretty much knew what he was going to do. Give him credit. He pitched aggressively."
Detroit loaded the bases with two outs in the second inning, but Walters needed just three pitches to strike out Andy Dirks. That started Walters on a run of nine straight outs before Dirks singled with one out in the fifth and scored on Hunter's double over center fielder Wilkin Ramirez's head.
Ramirez redeemed himself an inning later after Jhonny Peralta's opposite-field homer. With Pena on first base, Omar Infante hit a drive into left-center that Ramirez ran down before colliding with Willingham. Ramirez was shaken but kept hold of the ball.
Jason Beck is a reporter for MLB.com. Read Beck's Blog and follow him on Twitter @beckjason. This story was not subject to the approval of Major League Baseball or its clubs.