Cards fall to Dodgers after Gast leaves with injury
Carpenter's error allows Dodgers to break tie in sixth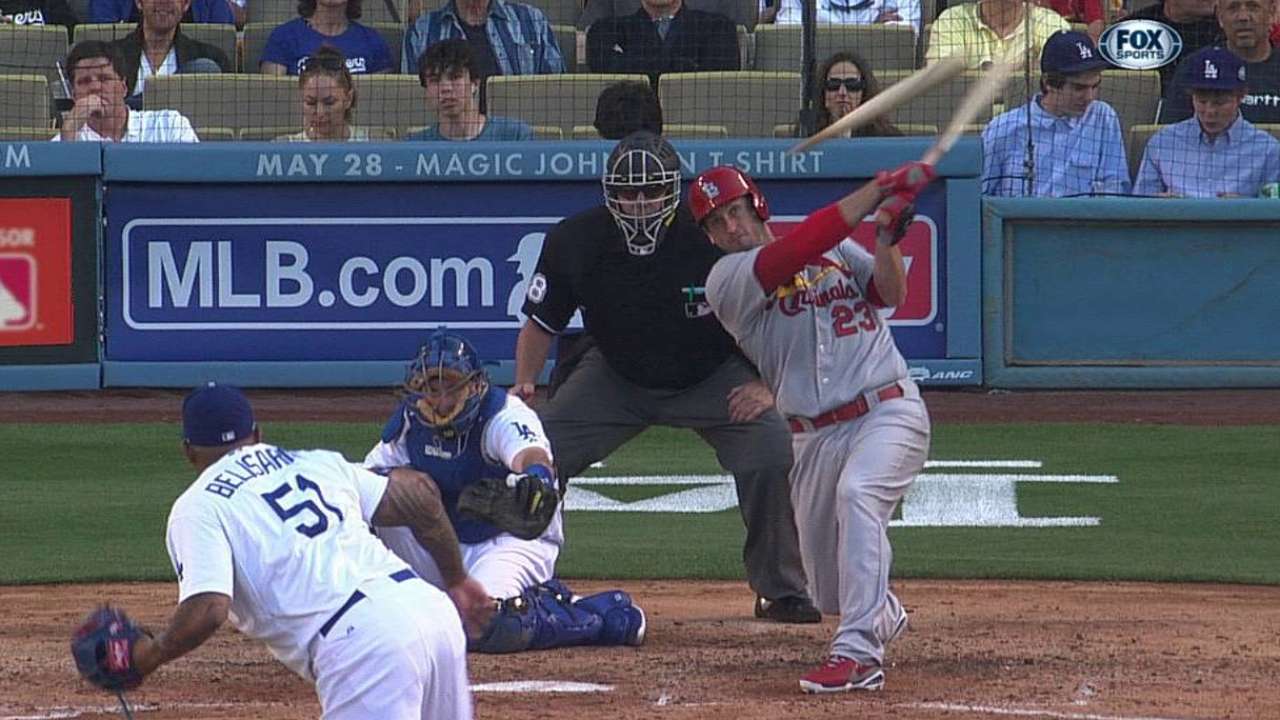 LOS ANGELES -- Matt Carpenter had taken to his new position with relative ease. He proved himself to be a capable second baseman during Spring Training and took the reins of the starting job as the season opened.
Carpenter was then flawless through his first 136 chances at second base this year. But a bobble on No. 137 provided the Dodgers with the opening they would need to steal a 5-3 win over the Cardinals on Saturday.
It was one of two losses the Cardinals endured in front of 49,368 at Dodger Stadium. Earlier in the game, the club watched John Gast leave the mound injured after facing only six batters. That would be of greater concern by the end of the night.
It was evident immediately that Gast wasn't right. His fastball velocity was down, and the left-hander struggled to find the strike zone. Though he got through the first while allowing just one run, he informed manager Mike Matheny during the top half of the second that his shoulder felt tight and weak.
"It just wasn't getting real loose in the bullpen" Gast said. "And then it got worse out there on the mound."
The Cardinals immediately called down to the bullpen to get Joe Kelly up and throwing. Gast faced one batter in the second before Kelly was summoned.
"You could see that he didn't have any velocity," Matheny said. "Something was wrong. In between starts, I even watched him throw his 'pen; he looked pretty good in San Diego. Sometimes these guys don't feel good, they start pitching and figure it out or it loosens it up. He just had trouble getting it going."
Gast said the tightness was localized in the back of his shoulder, the first time he has ever felt discomfort in that spot. Last season, he skipped one start due to tightness in the front part of his shoulder.
The Cardinals, who have already needed to patchwork their rotation to compensate for injuries, were not immediately certain how serious an issue this could be for the rookie left-hander.
"Hopefully," Gast said, "they can get it worked out and I can be back soon."
Plans were already being made after the game to have another pitcher in Los Angeles by Sunday to help fortify a bullpen that had to cover seven innings after Gast's early exit. How the Cardinals will fill Gast's rotation spot is the next issue at hand. The organization's pitching depth has already been tested several times this month.
Gast was plugged into the rotation when Jake Westbrook went down with an elbow injury. He was soon joined by fellow rookie lefty Tyler Lyons, who was called up to step in for Jaime Garcia. Garcia has since had season-ending surgery. Westbrook is out indefinitely. Chris Carpenter isn't close to being ready to help.
The string of injuries is reminiscent of the period the Cardinals trudged through last May, when five key players landed on the disabled list during a nine-game span.
"That's just part of it," Matt Carpenter said. "We're used to it. It seems like it's something that happens all the time. We have to deal with it. You can't sit around and [say], 'Woe is me.'"
Kelly provided three-plus innings of relief after a six-day layoff. A 1-1 game morphed into a two-run deficit under Kelly's watch.
Adrian Gonzalez, who had doubled home Nick Punto against Gast in the first inning, drove Punto home again with a third-inning single. In the fifth, Gonzalez smoked a 1-1 pitch for his fifth home run and a 3-1 lead.
Kelly covered those three innings with 62 pitches, the most he had thrown in an outing since he started at Dodger Stadium on Sept. 14, 2012. His previous high this season had been 27 pitches in a two-inning relief appearance on April 15.
"It was a lot different from throwing half that many pitches," Kelly said. "I wasn't out of breath. My body felt good, maybe just a little tired. My arm didn't feel tired."
Kelly would seemingly be a candidate to get back into the rotation, though Matheny suggested Kelly would need additional time to build up before taking on a starting role.
"He did a nice job today for us, but is he built up to go in five days, five innings? I don't know," Matheny said. "That's probably not real fair to ask.
"I'm athletic enough to build up pretty quick," Kelly countered. "I respond to stuff pretty fast. If they need me, I'm definitely available and ready."
Though the Cardinals received decent relief on Saturday, the offense and defense couldn't do enough to supplement it. A half-inning after the Cardinals had climbed back to tie the game at 3-3, Carpenter muffed a one-out grounder by Carl Crawford.
Crawford reached safely and one out later, Mark Ellis lined an RBI double to left off reliever Seth Maness to make it 4-3.
"When I looked at it [afterward], I had more time than I thought," Carpenter said. "But I just tried to get rid of it before I actually caught it."
The Cardinals' offense had little success against Dodgers lefty Ted Lilly, making his first start since a right rib cage strain landed him on the disabled list. After scoring in the first, St. Louis wouldn't get another hit off Lilly in his 5 1/3 innings.
Upon Lilly's exit in the sixth, the offense tied the game at 3-3. David Freese delivered an RBI single -- his ninth RBI in the past five games -- and Pete Kozma drove home a second run with a bases-loaded, infield single.
Kozma nearly had much more, but a diving stop by Punto kept the ball in the infield.
"I thought I did [have an extra-base hit]," Kozma said. "He made a real nice play."
Pinch-hitter Matt Adams ended the threat by popping out with the bases full. It was one of two times that the Cardinals left the bases loaded.
Jenifer Langosch is a reporter for MLB.com. Read her blog, By Gosh, It's Langosch, and follow her on Twitter @LangoschMLB. This story was not subject to the approval of Major League Baseball or its clubs.