Twins use fast start to get back on track
Walters solid in season debut, Mauer homers early to lift Minnesota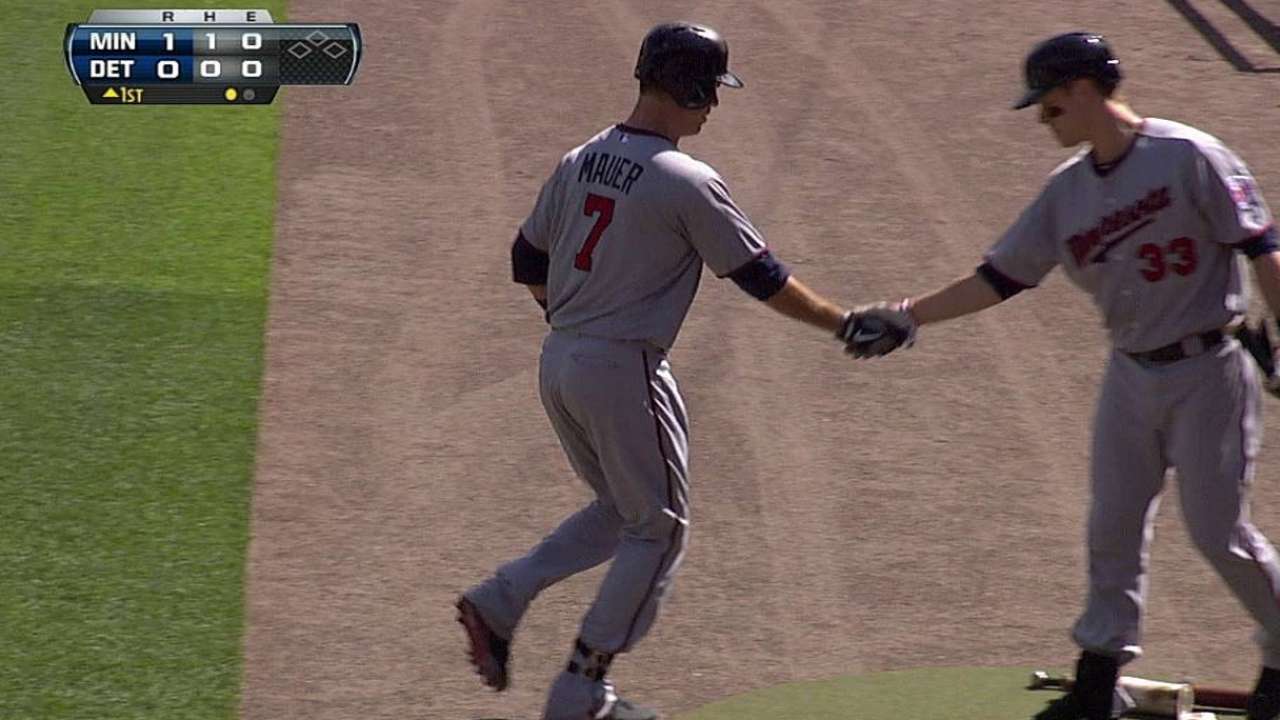 DETROIT -- At long last, the Twins' losing streak is over.
It spanned 10 games -- the club's longest such streak since dropping 11 in a row from Sept. 9-21, 2011 -- but finally came to an end Saturday afternoon at Comerica Park.
P.J. Walters turned in a quality start in his season debut and was backed by a three-hit effort from Joe Mauer to lead the Twins to a 3-2 win over the Tigers. The Twins scored three runs in the first, including a solo homer from Mauer, and were able to hang on from there for their first victory since May 13.
"It was a long time coming," Twins manager Ron Gardenhire said. "Walters was good. He started getting the ball up the last couple innings, but he gave us a great start, and the bullpen did a great job after that. Early in the game we put up a three-spot, and we were able to hold on. That's a very good team over there, so a huge win for a baseball team to get over that 10-gamer."
Walters, who was recalled from Triple-A Rochester before his start, became the first Twins pitcher to go at least six innings in more than a week, as Vance Worley was the last to do it May 17 against the Red Sox. Walter tossed six innings Saturday, surrendering two runs on eight hits and a walk.
Walters was able to pitch with a lead right from the start, with the Twins scoring their three first-inning runs against Tigers right-hander Doug Fister.
"It was huge," Mauer said. "I think to get a few runs there in the first was big. P.J. pitched great and was attacking the zone. We talked about strike one before the game, and he did that. That's a tough lineup to go up against, and he was able to pitch well today."
Mauer started it off with a solo shot to right field that was reviewed and upheld by the umpires. It was Mauer's third homer of the year and his first since April 15. Justin Morneau then brought home Josh Willingham with a double before scoring on a two-out single from Chris Parmelee.
"With the way things have been going, I thought I was heading back to second base," Mauer said with a laugh about the upheld homer. "I felt pretty good and hit it pretty good, but I kind of lost it."
The Twins had a chance to tack on a few runs in the third, when Mauer and Willingham led off the inning with back-to-back singles. But Morneau grounded into a double play with Willingham being charged with interference for trying to break it up, a call that forced Mauer to go back to second base. Gardenhire went out to argue with second-base umpire Joe West about the play and was ejected for the second time this season.
Walters, meanwhile, cruised through the first four innings -- getting out of a bases-loaded jam in the second with a strikeout of Andy Dirks -- before giving up a run in the fifth on a two-out RBI double from Torii Hunter to score Dirks. But he was able to strike out Miguel Cabrera to end the inning.
"We've seen him before, and we pretty much knew what he was going to do," Tigers manager Jim Leyland said. "Give him credit. He pitched aggressively. I thought he really pitched aggressively and very well."
Walters later gave up a solo shot to Jhonny Peralta in the sixth with one out before giving up a single to Brayan Pena. He was able to get out of the inning despite a scary play in left-center field as center fielder Wilkin Ramirez ran into Willingham while making a catch and ended up leaving the game. He was replaced in center by Aaron Hicks in the top of the seventh but was OK after being checked out by team doctors.
"I was able to keep the ball down and get ahead in the count," Walters said. "But I left the ball up to Hunter, and in that last inning I left one up to Peralta. So if I keep the ball down, maybe I go a little deeper next time."
Relievers Brian Duensing, Josh Roenicke, Jared Burton and Glen Perkins combined to close it out for the Twins, who earned a much-needed victory to end their skid that comprised losses to the White Sox, Red Sox, Braves and Tigers.
"We needed that one bad," Willingham said. "We lost a couple games in Atlanta we thought we could've won and then to lose the other night when we were up 6-3, those are tough ones to lose. We're playing tough teams, and you don't get a break with this pitching staff either."
Rhett Bollinger is a reporter for MLB.com. Read his blog, Bollinger Beat, and follow him on Twitter @RhettBollinger. This story was not subject to the approval of Major League Baseball or its clubs.