Wood uneven as Cubs drop sixth in a row
Lefty gives up five runs in 5 2/3; Rizzo breaks out with 3-for-3 day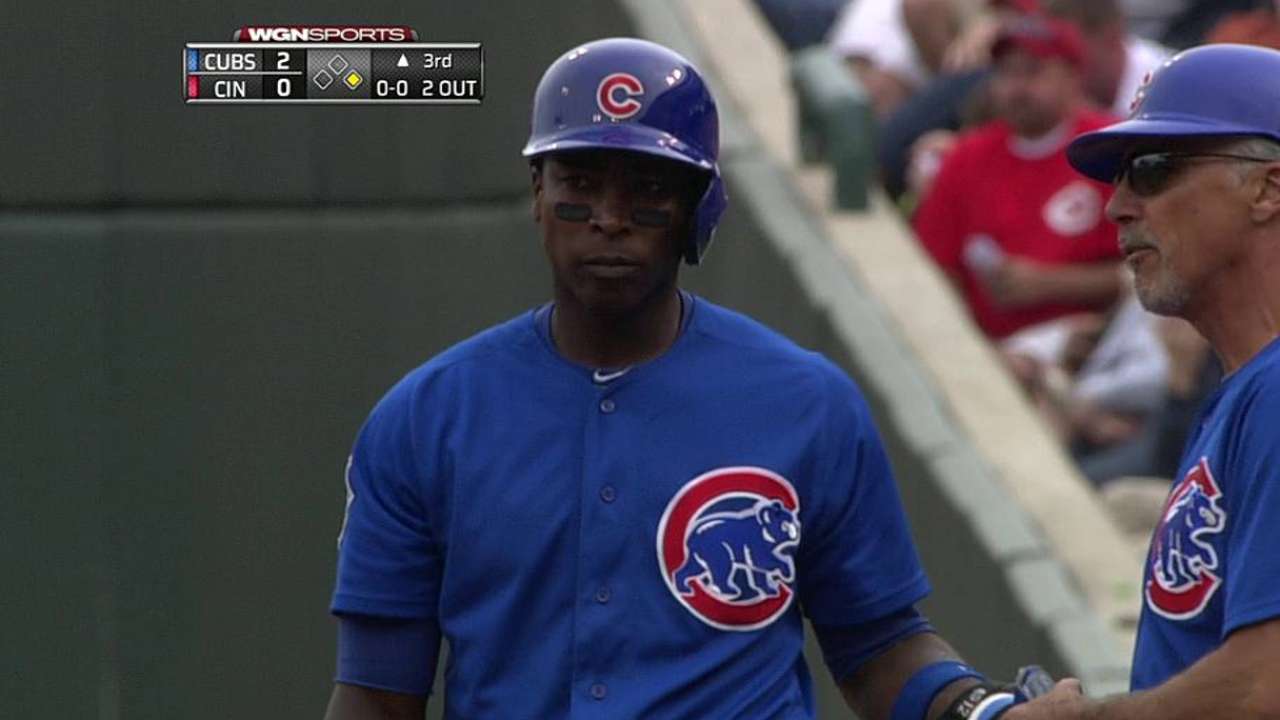 CINCINNATI -- The Cubs ended two streaks on Saturday but, unfortunately, they kept another going as they lost their sixth in a row.
Todd Frazier drove in two runs, including a game-tying RBI single in a four-run sixth, and Brandon Phillips scored the go-ahead run on a squeeze to spark the Reds to a 5-2 victory over the Cubs, who set a season high in consecutive losses. Chicago is now a season-low 12 games under .500.
Travis Wood took the loss, and his streak of quality starts ended at nine. He was vying to become the first Cubs pitcher to open the season with 10 straight quality starts since Mordecai Brown did so in 11 consecutive games at the beginning of the 1908 season.
"He still pitched a good game -- it just got away from him," Cubs manager Dale Sveum said of Wood. "Take nothing away from him. He's done a great job."
"That's baseball," Wood said. "I kind of lost it, throwing it up in the zone [in the sixth]. I wasn't executing. That's a great team over there, and they made me pay for my mistakes."
Wood was pulled after giving up five runs on seven hits over 5 2/3 innings and throwing a season-high 115 pitches. The lefty remains winless in four starts against his former team, including two games this season. He was traded to the Cubs in December 2011 in a four-player deal that sent reliever Sean Marshall to Cincinnati. Wood still has a lot of friends on the Reds' roster.
"It's not tougher to pitch against them -- it's tougher to take when they beat you like that," Wood said. "It's not tough to go out there and pitch, because it's just another game. You have to attack each hitter the same way. It's frustrating when it doesn't work out."
The good news for the Cubs is Anthony Rizzo's hitless streak is over. Rizzo, who was in an 0-for-23 funk, nearly did not play Saturday. Sveum admitted that he was thinking about giving the first baseman a day off. Rizzo went 3-for-3 and drew a walk.
"About the time you start thinking about it, the guy gets hot," Sveum said. "These are your core players who have to understand and deal with adversity. About the time you start thinking about [a day off], there goes two home runs."
The Cubs could've used two home runs. In the third inning, Rizzo ended his skid with a two-out, RBI double off Homer Bailey, driving in David DeJesus, who had walked. Alfonso Soriano followed with an RBI single to go ahead, 2-0.
"Those guys find it, that's why they're that good," Sveum said of Rizzo. "They find it and roll for a while and might hit another slump. That's hitting, anyway."
But that was all the offense for the Cubs.
"It's hard, but we can't put pressure on ourselves," Soriano said. "[We have to] play with the talent and the ability we've got and not try to do too much. One inning at a time, one pitch at a time. We've proven we can hit. I think it's in our minds to try to do too much. Sometimes we try to do too much and make this game more complicated."
Cincinnati did all the little things to take the lead in the sixth. Joey Votto led off with a walk and Phillips singled. One out later, Frazier, who hit a sacrifice fly in the fourth, delivered an RBI single to tie the game. Phillips then scored the go-ahead run on a squeeze by Derrick Robinson, and Ryan Hanigan followed with an RBI double. Pinch-hitter Cesar Izturis added an RBI single to chase Wood.
Reds manager Dusty Baker admitted that he's not a big fan of the squeeze play, but really wanted that run.
"We had a good bunter, we had a good base runner, and we had a guy that was throwing strikes [in Wood]," Baker said. "If [Wood] was throwing balls or breaking balls, it would be a little more difficult, but we wanted to get the run."
Sveum did everything possible to get Wood to finish the sixth.
"He got the ground ball from Frazier, but obviously, not at anybody," Sveum said of the RBI hit. "Then you try to get [Wood] through that inning with one more out, and he just couldn't do it. It was another pretty good outing. The bottom line was walking [the first batter]. That always bites you."
This was the Cubs' 42nd game out of 48 that has been decided by four runs or less. Chicago now is 5-16 against National League Central opponents, including a 1-7 mark against the Reds.
"This team obviously has big boys, veteran guys, really smart guys on the field. The lineup is really good throughout, and the pitching they have is some of the best in baseball," Sveum said of the Reds. "Same with the Pirates. Their lineup has gotten better with [Starling] Marte and the guys they mix and match. The bottom line, it comes down to pitching. It's tough to score. You're in all these games, but can't add on or score off their bullpens."
The Cubs have scored 12 runs in their last five games, and for the season, are averaging 2.8 runs per game on the road and batting .219 away from Wrigley Field.
"As a team, we're not getting blown out," Wood said. "We're right there every game, and we have to find a way to keep scratching out runs, instead of that one inning when we get a couple and then lay back and relax. We have to figure out a way to keep pressing and keep scoring runs."
Soriano's RBI was his 16th of the season. Last year, he had 17 RBIs in May alone.
"I'm very surprised because I'm feeling 100 percent," Soriano said. "Every game, I feel comfortable and feel good at home plate. There's a lot of games left, and I hope sooner or later I get hot and help the team win."
The Cubs can only hope it's sooner rather than later.
Carrie Muskat is a reporter for MLB.com. She writes a blog, Muskat Ramblings, and you can follow her on Twitter @CarrieMuskat. This story was not subject to the approval of Major League Baseball or its clubs.