Harrell struggles against hot-hitting A's
Castro, Dominguez belt two homers, but not enough against Oakland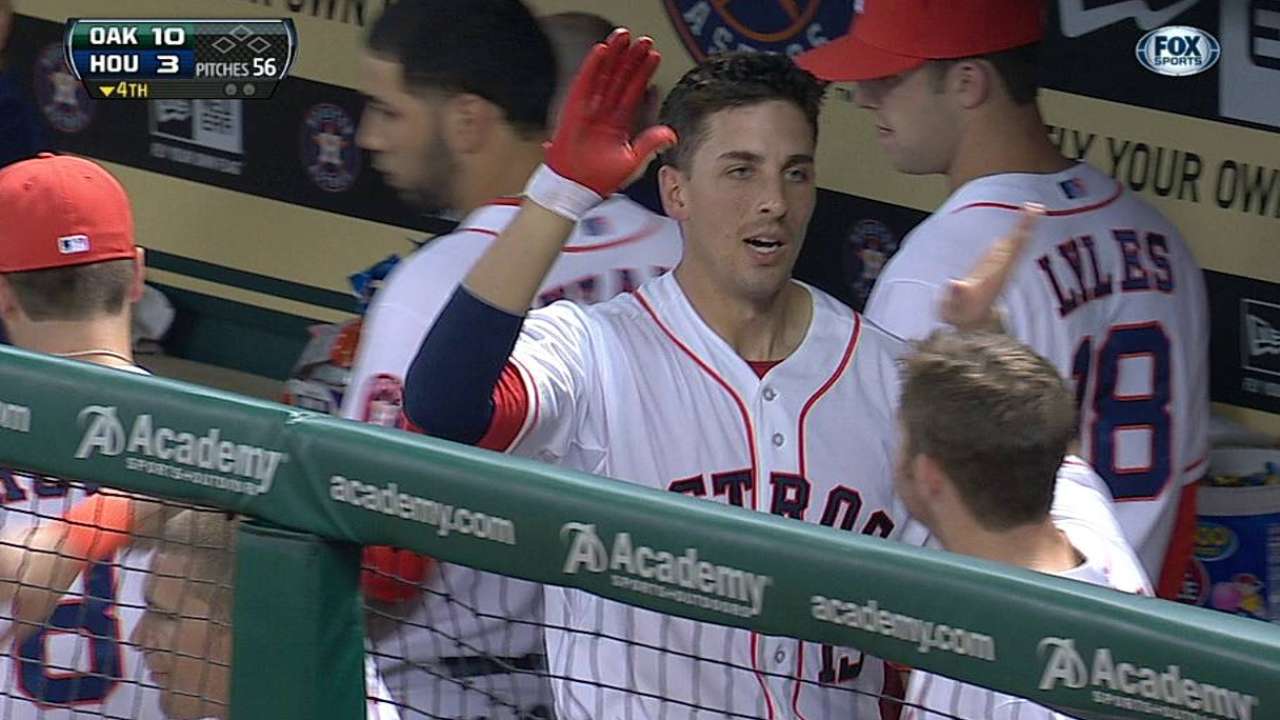 HOUSTON -- One night after Astros closer Jose Veras' hot streak came to an end, Houston's starting pitcher, Lucas Harrell, brought the quality-pitching streak by Astros starters to a screeching halt. The A's posted a six-run second inning, chasing Harrell from the game early, and overcame a pair of home runs by two separate Astros to cruise to an 11-5 win Saturday night at Minute Maid Park.
Matt Dominguez and Jason Castro each laced two solo home runs, becoming the first pair of Astros teammates to hit two home runs in the same game since Lance Berkman and Craig Biggio did it against the Philadelphia Phillies on July 25, 2005.
Houston is now 0-8 against the A's this season, losing by a combined score of 62-29. Astros starting pitchers had compiled a 2.26 ERA in the team's seven previous games and earned praise from manager Bo Porter for keeping the bullpen fresh.
One year to the day after out-dueling Clayton Kershaw in Los Angeles to get the Astros within a game of .500 and six days after lasting seven innings while allowing one run against Pittsburgh, Harrell didn't live up to any lofty standards.
Instead, his command resembled that of his last start against Oakland, when he surrendered eight runs to the A's on seven hits and walked five in 4 1/3 innings on April 7.
"The command was not there," said Harrell, who walked three batters. "There's pretty much only two things to say about the game. It was embarrassing, and it was frustration."
Oakland batted around in the second inning, as five straight A's hitters reached base before Harrell could record an out in the inning. It all started harmlessly enough, as Oakland left fielder Seth Smith led off with a bunt while the Astros put on a defensive shift. Harrell, who recently criticized Houston's defensive positioning, fielded the bunt halfway to third base and had no play at first, leaving him visibly frustrated.
"I really do think that Seth Smith's bunt was huge during the course of the game," said A's manager Bob Melvin. "[Harrell] has to go after it, goes to the ground, he looked a little frustrated afterward."
The floodgates opened after that, with the A's tallying five more hits in the frame to grab a 6-1 lead and counter Castro's first-inning solo blast.
"When you're a sinkerball pitcher and you're one pitch away from getting a ground ball double play and getting out of it, you have to really, really lock in to understanding exactly what your skill sets are," Porter said of Harrell's outing. "I think a lot of it is composure. Your mental ability to move on from the negative will have a huge impact on what happens following that."
Dominguez launched a solo shot in the third inning to draw Houston closer at 6-2, but the A's again responded quickly. Facing Astros reliever Edgar Gonzalez, Josh Donaldson and Brandon Moss pounded consecutive solo homers in the fourth inning on top of two more runs to go up, 10-2. Every A's starter had an RBI through four innings.
Castro's second homer went to deep right-center field in the fourth, and he earned another RBI with a sixth-inning base hit to score Jose Altuve.
"The first inning, I just got a hanging changeup that was left up," Castro said. "I picked up on how they were trying to pitch me last time. In the fourth, it's what I was planning for. They tried to go inside on me back in Oakland. Luckily, I got a pitch inside where I was looking for it and got a good swing in."
It was the second multi-homer game of Castro's career. The other came on Sept. 28, 2012 against the Brewers when he also belted two solo home runs.
Castro came up with a chance to complete a home-run hat trick with two runners on in the seventh, but struck out swinging to end the Astros' last legitimate threat. Dominguez added to an impressive two-week stretch in the seventh, sending another ball beyond the left-field wall for a solo home run.
"I've been working hard in the cage and taking batting practice with a purpose," Dominguez said. "When the game comes around, it's about trusting your good approach and going out there and seeing and hitting it. I'm going up there to drive the ball to left field, left-center."
Dominguez has now hit seven home runs in his last 12 games, even as he continues to nurse a sore left quadriceps muscle.
"He's really tapping into what it is we always knew that was in there," Porter said. "The pull power was there, but you only get to that pull power when you display you're not going to consistently let people get you out away, away, away. I think he has proven to the league he's going to use the whole field, and now they're trying to figure out where to go.
Oakland starter A.J. Griffin earned the win, pitching 5 2/3 innings of five-hit ball. Harrell lost his fourth consecutive decision as he allowed more runs (six) than outs he recorded (five). The A's pounded out 18 hits and actually stranded nine runners on base. Four Oakland players tallied at least three hits in the game.
Chris Abshire is an associate reporter for MLB.com. This story was not subject to the approval of Major League Baseball or its clubs.