Braves claim suspended game, win seventh straight
Uggla, Upton deliver in 10th as club finishes Friday's halted contest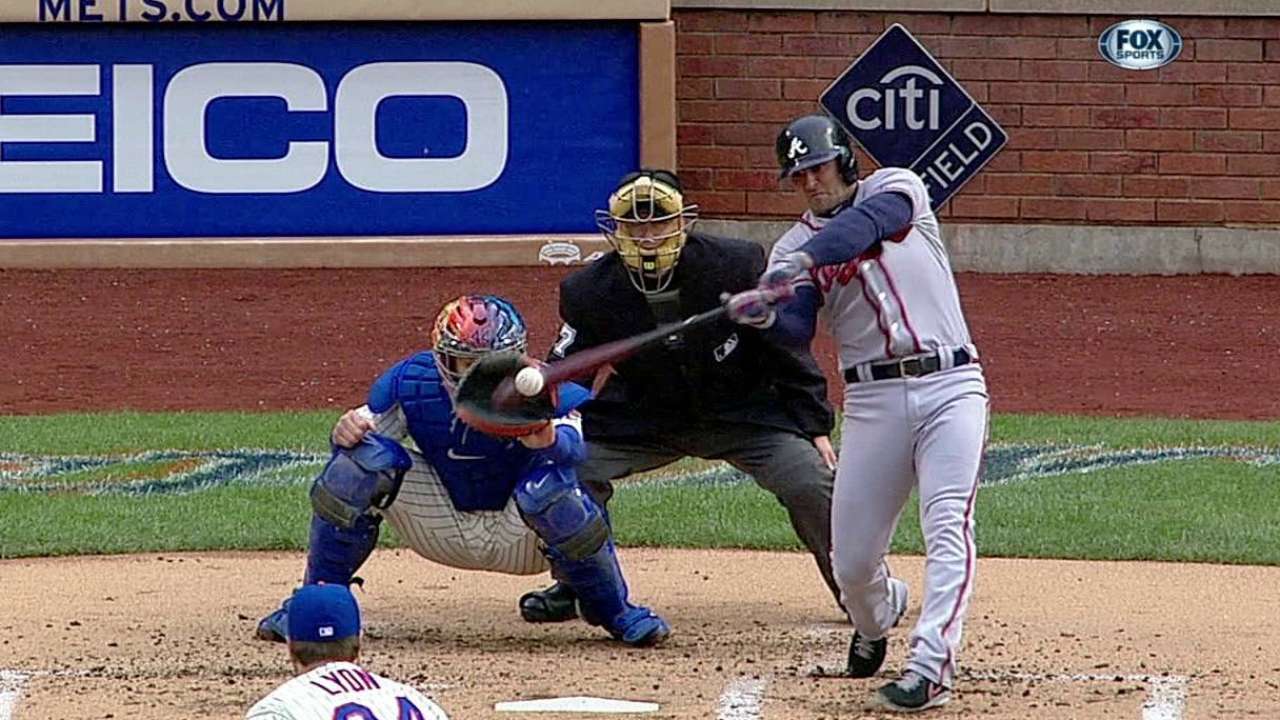 NEW YORK -- Many Braves players were not happy with the fact that they were forced to continue playing through the heavy rain that fell as the Mets tied Friday night's game with a two-run eighth inning against Anthony Varvaro.
But 16 hours after exiting Citi Field feeling frustrated with the events that transpired just before Friday's game was suspended because of rain, the Braves returned and quickly finished what they had started.
Brian McCann capped a three-hit game with a double that set the stage for Dan Uggla to deliver a decisive RBI single in the two-run 10th inning that gave the Braves a 7-5 win over the Mets.
"Uggla comes up big," Braves manager Fredi Gonzalez said of his veteran second baseman, who had also provided a key game-tying home run in the seventh inning on Friday night.
It is safe to say the Braves captured their seventh consecutive victory in a unique manner. This was their first suspended game since they beat the Cubs on April 5, 1997, in the second game ever played at Turner Field.
Umpiring crew chief Dale Scott signaled for the tarp to be placed on the field almost immediately after the Mets tied the game at 5 with their two-run eighth inning on Friday. The game was suspended after a rain delay that lasted a little more than an hour.
After Freddie Freeman walked to begin the decisive 10th inning against Brandon Lyon, McCann doubled down the right-field line. Uggla followed with his broken-bat, game-winning single to left field.
B.J. Upton's successful squeeze bunt scored pinch-runner Jordan Schafer with an insurance run for closer Craig Kimbrel, who tossed a scoreless 10th inning to notch his 15th save.
"The [squeeze] was not on," Gonzalez said. "It was B.J. trying to get another run, and he had the right guy on third base in [Schafer]. It was a good heads-up play and he was able to get us an extra run."
Varvaro struggled to grip the baseball as he issued a leadoff walk and uncorked a two-out wild pitch that tied the game as a blinding rain blanketed the field during Friday's eighth inning.
But when given a chance to complete his two-inning stint amid the much friendlier conditions on Saturday, Varvaro completed a perfect ninth inning.
"He did a nice job yesterday in tough conditions," Gonzalez said. "We ran him out there because we were kind of short in the bullpen. We thought if we could get just one inning out of him, it would be perfect, and we did."
Before Varvaro struggled in the rain, Evan Gattis had come off the bench to deliver a two-out, two-run single in the top of the eighth. Instead of serving as his third game-winning pinch-hit in a span of six games, the single simply provided the Braves enough cushion to force Friday's game to be suspended.
Before the two-run single from Gattis, who is now 5-for-7 as a pinch-hitter, the Braves' run production consisted of Freeman's first-inning two-run homer off Jeremy Hefner and Uggla's seventh-inning solo homer off LaTroy Hawkins.
Uggla's ninth home run of the season and fourth in a span of 44 at-bats erased the one-run lead the Mets claimed with Marlon Byrd's soft two-out single to center in the fifth inning off Kris Medlen, who allowed three runs and seven hits in six innings.
When Freeman hit his first-inning home run into the second level above the right-field wall, it appeared the Braves might extend the woes of Hefner, who had compiled a 4.70 ERA and gone winless in his previous eight starts. But the Mets right-hander surrendered just one hit after the first inning and retired 16 of the final 18 batters he faced during his six-inning effort.
Mark Bowman is a reporter for MLB.com. This story was not subject to the approval of Major League Baseball or its clubs.