Mets drop suspended game to Braves in 10 innings
Lyon allows two runs as clubs finish contest that was halted Friday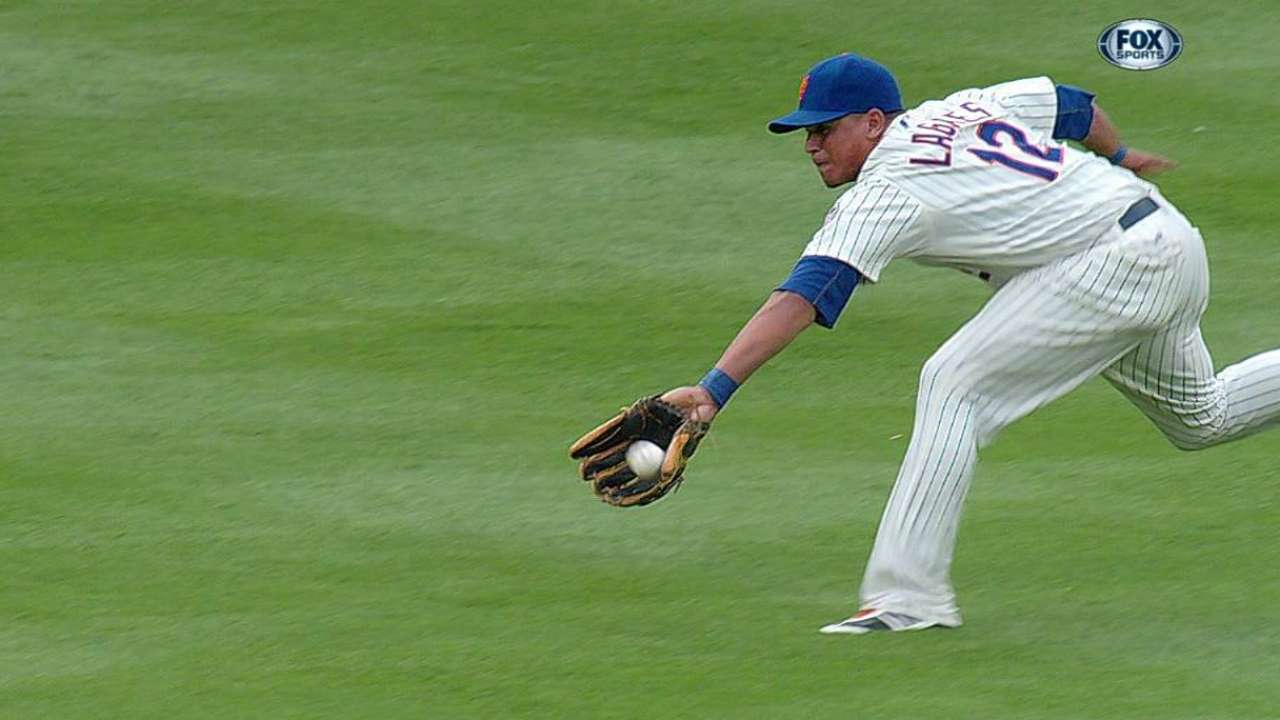 NEW YORK -- The delay was long and intricate, the resolution sudden and abrupt.
The Mets played to their first suspended result in more than 25 years Friday night, an impasse caused by inclement weather in a tie game. Eighteen hours passed before the game resumed, but Atlanta worked quickly Saturday and notched two crucial runs in the 10th inning to take a 7-5 win over New York.
"It's weird," said manager Terry Collins. "I think you even saw it on their side. It's a little different situation. They're out there and they're doing stuff during the game. They're stretching and doing different things. When you start right in the ninth inning, there's a different feeling to it."
Freddie Freeman started the decisive 10th inning by drawing a leadoff walk, and he moved all the way to third base on a double down the right-field line by catcher Brian McCann. Dan Uggla followed with an RBI single to plate Freeman, and Jordan Schafer, who pinch-ran for McCann, hustled home on a squeeze bunt by B.J. Upton.
The Braves, who had scored once in the seventh inning and twice more in the eighth on Friday, threatened in their first at-bat on Saturday. The first batter -- Ramiro Pena -- sprinted to second on a standup double through the middle, but Atlanta later hit into a threat-ending double play.
The Mets, meanwhile, went quietly in the ninth inning on a groundout, a fly ball and a strikeout. New York got two runners on in the 10th on a hit batsman and a clean single by Ike Davis, but Ruben Tejada popped up on a bunt attempt and Justin Turner hit into a game-ending double play.
"When you're playing bad baseball, you've got to play perfect baseball to win," said Collins. "We didn't execute some things, certainly. It came back to hurt us."
New York's last suspended game came all the way back in 1986, and that one was interrupted due to darkness at Chicago's Wrigley Field. Atlanta and New York both scored two runs in the eighth inning Friday night, and then they sat for 75 minutes before the game was deemed unplayable.
The Mets have now lost five of their last six and 11 of their last 14 games, and they'll have Dillon Gee matched against southpaw Mike Minor in Saturday's regularly scheduled game.
Spencer Fordin is a reporter for MLB.com. This story was not subject to the approval of Major League Baseball or its clubs.