Bats fall quiet behind Guthrie against surging Halos
Slide reaches four games as Royals seek more offensive production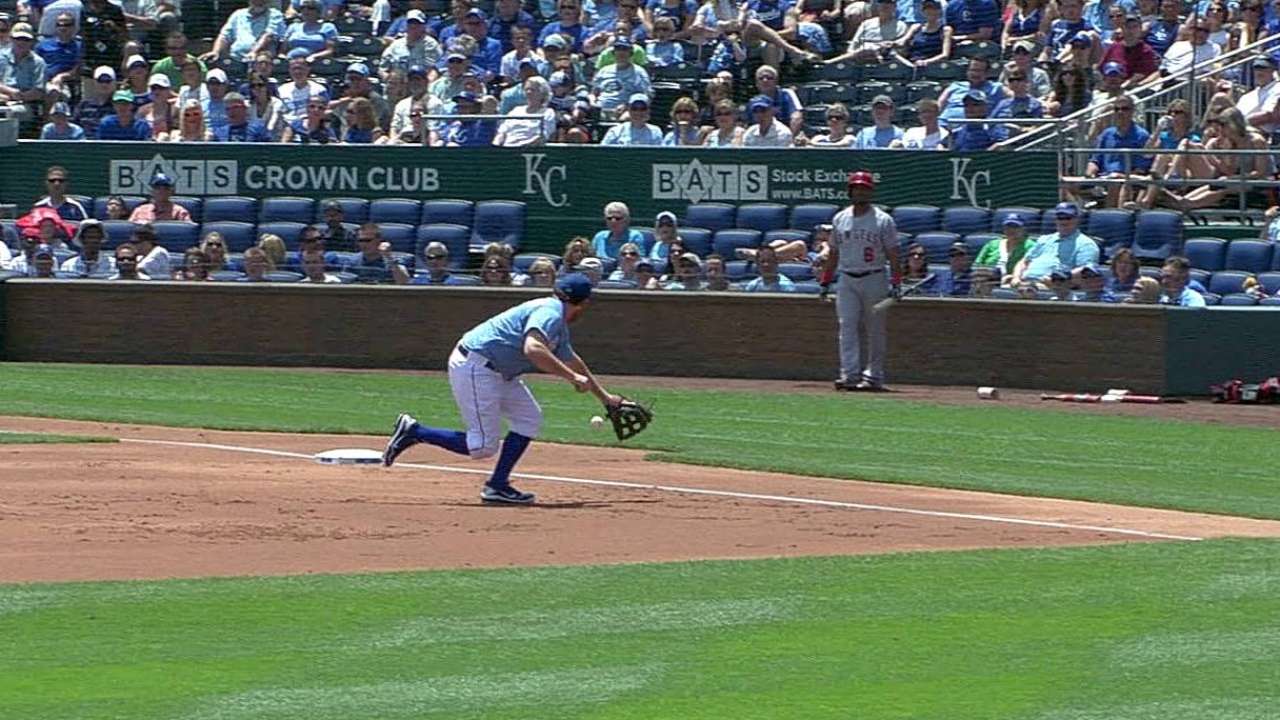 KANSAS CITY -- It's not getting any better for the Royals.
When Los Angeles administered a 7-0 thumping on Saturday afternoon -- the Angels' seventh consecutive victory -- the Kansas City countdown included four straight losses and 15 in the Royals' last 19 games. An unpleasant situation, to be sure.
At least it was pleasant weather for the 27,958 fans who turned out on Faith and Family Day at Kauffman Stadium.
Maybe that's what the Royals family needs right now -- a little faith. Their hitting has gone south, right to the South Pole in fact. They managed just four hits in the shutout.
Nine times in their last 15 losses, they've scored two or fewer runs.
"Pitching is doing a great job. Offensively we've been struggling big time, and we've just got to get it going. It's frustrating, really frustrating, but we've got to get it going," said center fielder Lorenzo Cain.
"Very talented lineup. I don't feel like we should be struggling this bad, but we are. So we've just got to continue doing what we've been doing, working hard and we've got to find a way to score runs."
An amen from Royals manager Ned Yost.
"We just need to break out of the funk we're in and get some hits. It's a combination of everything, but we've got to find a way to get it done for sure," Yost said.
For a while on Saturday, it looked as if Royals starter Jeremy Guthrie had no-hit stuff going for him. Oddly, he had given up one run but no hits in the first five innings. Even Guthrie felt no-hitter-ish.
"I felt strong. I felt like I could have gone out there and given up no hits for nine," Guthrie said. "But they did a good job on the two home runs and then the eighth-inning things just seemed to unravel. We couldn't make a play, they're getting balls off the end of the bat, the bunt play, so just nothing worked out in the eighth for us."
Yes, things were less messy before that game-settling four runs in the Angels' eighth.
Guthrie retired the first 10 batters he faced and then walked Mike Trout in the fourth. A troublesome presence in this series, Trout stole second and continued to third as catcher George Kottaras' throw bounced past second baseman Chris Getz and into center field.
"That's a play that I would have liked to have knocked out," Getz said. "It's obviously a do-or-die. You try to body it up and it gets by you."
Kottaras was charged with an error. So when Trout scored on Albert Pujols' grounder, the run was unearned.
Guthrie surrendered no-hit status when the first batter of the sixth inning, Hank Conger, hit a home run just over the edge of the left-field bullpen fence.
"When I first hit it, I thought it was going to get knocked down because this park plays pretty deep," Conger said. "When I rounded first and saw it go over the wall, I was kind of in shock."
The Angels' second hit, in the seventh, was also a home run, this one by Josh Hamilton to left field. So it was 3-0.
Meanwhile, the Royals got nowhere against one of their former prospects, right-hander Billy Buckner. Making his first big league start since May 2010, he breezed through five shutout innings and gave up two hits.
"I've come full circle, right back here where it all started," Buckner said. "Getting any win at this point feels good, but it is neat to come back to the park where I first started."
Buckner, KC's second-round Draft choice in 2004, made his debut with the Royals in 2007 but was subsequently traded to Arizona in exchange for current Angels teammate Alberto Callaspo.
The four Angels relievers that followed him each pitched a scoreless inning and gave up a total of two hits. The Royals' snooze continued.
The Angels finally got Guthrie out of the game in the eighth after they bunched three singles, including a bunt, and Pujols was hit by a pitch. Louis Coleman took over with the bases loaded and gave up a two-run single to Mark Trumbo and also an RBI hit to Howie Kendrick.
Afterward, Yost tried to rise above the oppressive losing atmosphere.
"You're always pushing to stay positive in your mind, 'Hey, come on, this is the inning, we're going to get something going,' but so far here the last 10 days it hasn't been the case," he said.
More than 10 days, actually. Shortstop Alcides Escobar knew exactly what the count was in the last 19 games -- 15 losses. And he had a solution.
"Just keep playing hard and win a game. Then take like five or 10 in a row," Escobar said. "I know this team can do that."
Dick Kaegel is a reporter for MLB.com. This story was not subject to the approval of Major League Baseball or its clubs.