Buckner's stellar debut gives Angels seven in a row
Conger, Hamilton knock solo homers to help keep Halos surging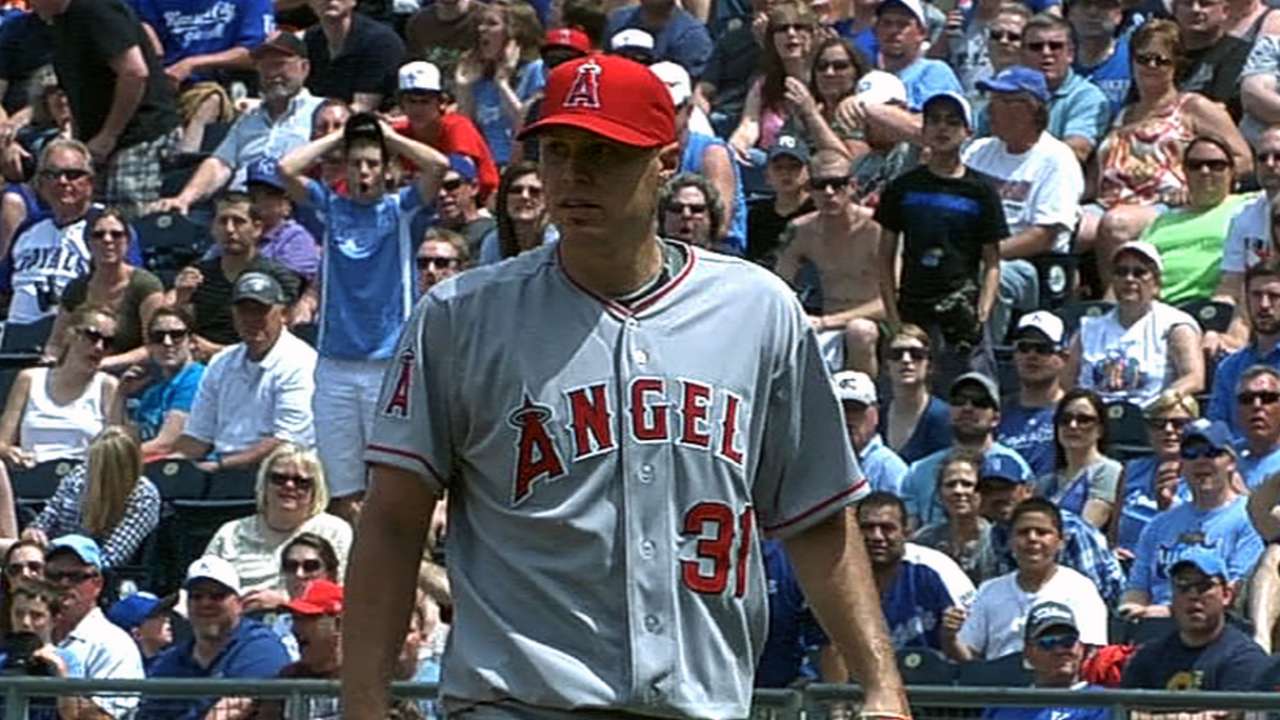 KANSAS CITY -- You know things are going well for the Angels when they can pluck a starting pitcher out of Triple-A and have him go five shutout innings in his first Major League appearance in nearly three years.
That was the scenario on Saturday as right-hander Billy Buckner turned in an auspicious Angels' debut in a 7-0 victory over the Royals. Buckner hadn't been seen in the Majors since May 29, 2010, when he worked for the D-backs. Furthermore, he hadn't pitched since May 11 for Triple-A Salt Lake. But Buckner's two-hit effort through five showed the Royals that he was relaxed and ready for this opportunity.
Buckner became just the third Angel to throw at least five shutout innings with two or fewer hits in his Angel debut. The only others to do it? Don Sutton and Mark Langston.
Making the afternoon all the more sweet was the fact that Buckner was a Kansas City Draft pick in 2004. He was traded to the D-backs for Alberto Callaspo in '07, and now the Angels have wound up with both players.
"I've come full circle, right back here where it all started," Buckner said. "Getting any win at this point feels good, but it is neat to come back to the park where I first started."
Buckner walked three and the Royals hit some balls hard early. But Buckner kept delivering zeros to keep up with Royals starter Jeremy Guthrie, who didn't allow a hit through five innings.
The defining moment for Buckner came in the fifth when the Royals had runners at first and third with one out. The Angels had a 1-0 lead courtesy of Mike Trout's speed that enabled the Angels to score a run without a hit in the fourth. Just when it seemed that Kansas City was primed to tie it or take the lead, Buckner induced a double-play grounder from Chris Getz.
Buckner left after throwing 74 pitches and watched the bullpen finish the job that he had started.
"That double play was huge," Buckner said "It was a good turn by the guys. I felt pretty calm out there. All I wanted to do was be aggressive in the bottom of the zone and let my defense play behind me."
The only real glitch for Buckner was crossing up catcher Hank Conger on a called pitchout. Buckner was focused on the pitch that he and Conger had just talked about and then delivered a breaking ball on the called pitchout.
No harm done. The Royals never scored.
"His fastball command was awesome and his curve was sharp," Conger said. "He managed to throw his changeup, too. Those three pitches kept the hitters off balance."
Once Buckner departed, he got to witness quite a show from the bench. Conger and Josh Hamilton delivered opposite-field homers to make it 3-0 and a bullpen quartet of Dane De La Rosa, Scott Downs, Robert Coello and Michael Kohn stepped in to finish the shutout. Mark Trumbo had a two-run single in the eighth to extend his hitting streak to a career-best 10 games.
The Angels have won seven in a row as they continue to climb out of a big early season hole. The Royals have dropped 15 of 19 and must figure they've caught the Angels at exactly the wrong time.
"We're not done yet," Conger said. "We've got things rolling, but you look at the big picture and we really need to continue this momentum in order to be where we want to be down the road."
Manager Mike Scioscia was quite pleased with Buckner's first performance and enthused overall about the pitching in general during the seven-game winning streak.
"Billy understands his game and how he has to change locations and change speeds," Scioscia said. "He showed a good breaking ball, a good changeup and spotted his fastball. I think that got him through some tough spots. They hit a couple of balls hard, but he got us through the five innings."
The Angels will be adding some pitching soon and the offense, with two more homers on Saturday, has begun to meet Spring Training expectations.
"The confidence of the team starts to build when you start to move in the right direction," Scioscia said. "These guys feel good because we're playing the type of baseball we had hoped to play in the first month. It's here now and guys are comfortable playing our game and having other teams try to stop us."
Robert Falkoff is a contributor to MLB.com. This story was not subject to the approval of Major League Baseball or its clubs.