Pedroia lifts Red Sox late for win vs. Indians
Second baseman hits go-ahead double after Carp's game-tying double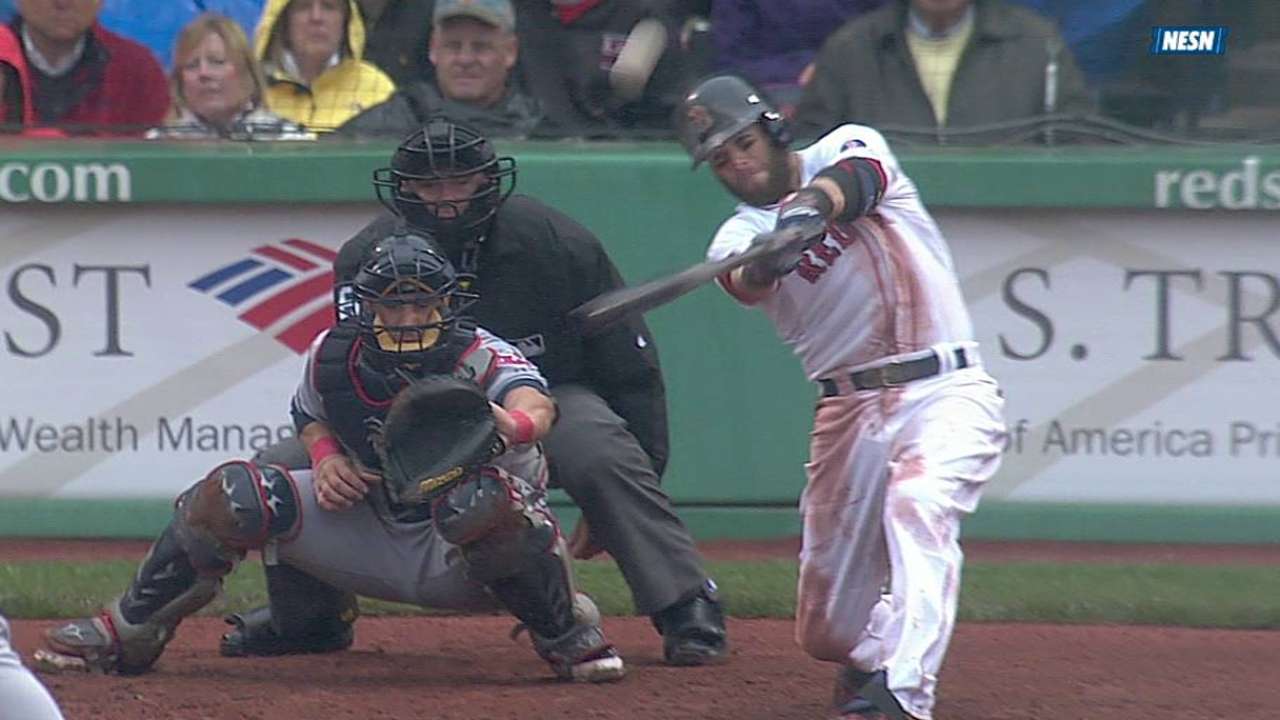 BOSTON -- Forget about the power, Dustin Pedroia is still playing like the guy who won the American League MVP Award in 2008.
After Jon Lester battled back from a rough third inning, setting a season-high with 124 pitches through seven innings, Pedroia stepped into the batter's box with two outs and the game tied in the eighth.
After falling behind 0-2 to Indians setup man Vinnie Pestano, who entered with a 2.45 ERA, Pedroia squared up a hanging slider and drove the ball high off the Green Monster for the go-ahead RBI double. Mike Carp, who had just smacked a pinch-hit RBI double, scored the eventual game-winner from second as the Red Sox finished a wild 7-4 win over the Indians on a wet Saturday afternoon at Fenway Park.
"I got in kind of a hole there, was trying to have a good at-bat and square a ball up," Pedroia said. "I got a pitch closer to me and it was up, just put a good swing on it."
With two doubles on Saturday, Pedroia has 14 on the year while hitting .337. He's only hit a couple of homers, but his .422 on-base percentage ranks in the top three in the AL.
Regardless of Pedroia's power numbers, Lester believes opposing pitchers fear him as much as they fear any other hitter in the game.
"He's not a home run hitter," Lester said. "He may run into 12 to maybe 20. That's on a good year. And what he does is what he showed tonight: battling, fouling off pitches, being a little gnat up there. And he's great. He's one of the best I've ever seen in being able to put the barrel on the ball in different locations. And it's impressive to watch him."
A game that finished on a happy note for the Red Sox once appeared to be destined for disappointment.
Following a frustrating two-run third inning, Lester walked off the mound shaking his head, screaming and smacking his glove. This has certainly been seen before. But what came next was a testament to Lester's progression: He settled in, retired 10 of the next 12, including four via strikeout, and was a pitch away from escaping the seventh inning in a tie game.
That one pitch escaped Lester on Saturday, bouncing in the grass several feet before home plate while allowing Mike Aviles to score the go-ahead run that put the Indians ahead, 4-3.
"We scratched and clawed to get four," said Indians manager Terry Francona. "We just couldn't make it stand up."
The bottom of the Red Sox lineup, led by Jose Iglesias and Pedro Ciriaco, finished a strong day at the plate by igniting the comeback in the eighth inning.
Ciriaco hit a one-out double off the left-field wall and Carp, pinch-hitting for Jonny Gomes, followed with his own double off the Monster to tie the game.
Iglesias and Ciriaco each finished 3-for-4, combining for six of the team's 11 hits.
While he hit just .202 (24-for-119) at Triple-A Pawtucket, Iglesias is hitting .481 (13-for-27) with the Red Sox this season. He's 4-for-7 since being recalled Friday to take the place of third baseman Will Middlebrooks, who is on the 15-day disabled list with a lower back strain.
"You got motivation here to win the game," Iglesias said, explaining the difference in his success at the two levels. "We have a reason to play 100 percent -- for the fans, for [the media], for the team, for the organization.
"Out there [in Pawtucket], it's kind of difficult. You still want to win. You still try to do your best, but you go to the field and you see three people in the stands, cold weather and all -- it's kind of tough. You have to push yourself a little harder."
Jason Mastrodonato is a reporter for MLB.com. Follow him on Twitter @jmastrodonato. This story was not subject to the approval of Major League Baseball or its clubs.