Indians 'pen off its game in loss to Red Sox
Setup man Pestano, with velocity down, allows four runs in eighth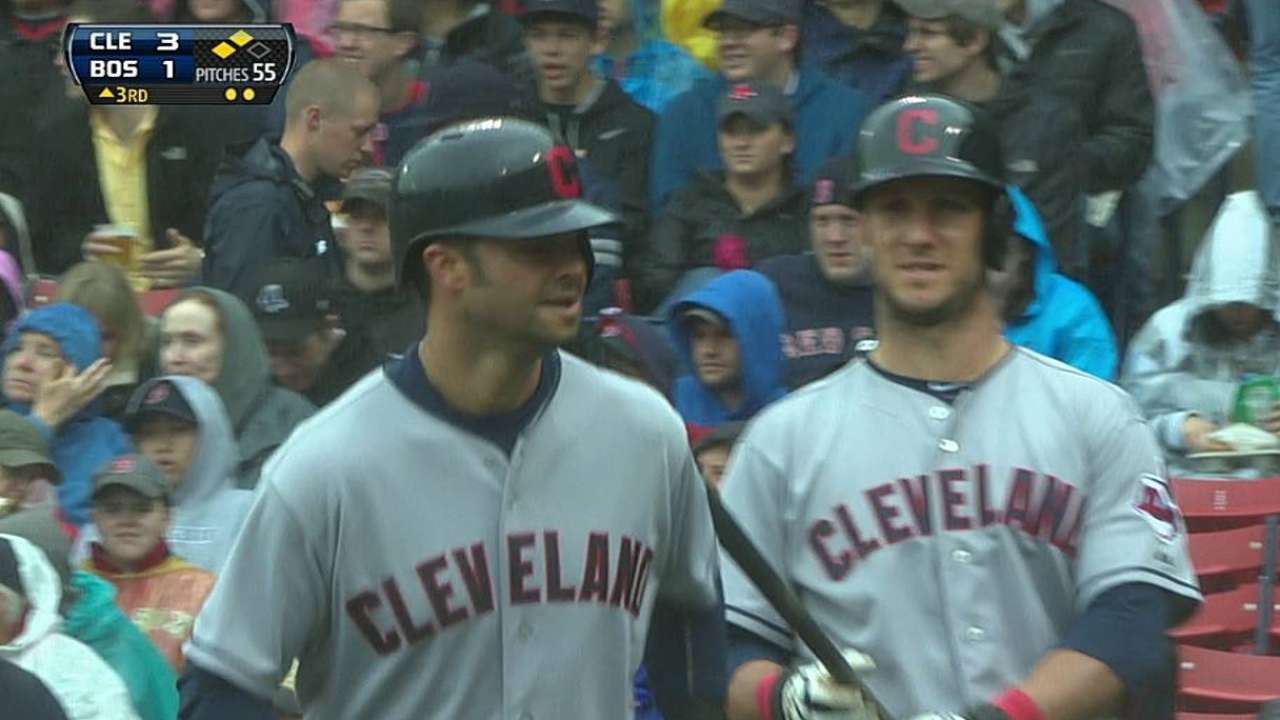 BOSTON -- Vinnie Pestano spent a portion of his Saturday morning seated at a table in the cramped visitors' clubhouse at Fenway Park, poring over video of his outings. The Indians' setup man will continue his search for answers after laboring through the worst outing of his career a few hours later.
Over the past few seasons, Pestano has developed not only into one of Cleveland's most reliable arms, but he has emerged as one of the American League's top late-inning relievers. In the Tribe's sloppy 7-4 loss to the Red Sox, Pestano was simply not himself in a disastrous eighth inning.
"I'm still trying to figure it out," Pestano said. "I'm throwing 87-mph fastballs right now. That's something we've got to address."
In the decisive eighth frame, Pestano surrendered a career-worst four runs on four hits, including a trio of doubles that caromed off the Green Monster in left field. The right-hander displayed diminished velocity and took the loss for an Indians team that had been on an incredible roll recently.
Cleveland made its share of mistakes in its latest loss, which marked the fourth defeat in a span of five games for the club. The Indians -- winners in 18 of 22 games prior to this latest slump -- had not lost four in a five-game stretch since dropping five straight from April 14-19.
Pestano felt responsible for what took place on Saturday.
"It's just disappointing," he said. "The guys battled all day. They kept answering the call. ... It's becoming a common theme for me lately, that I'm coming in and not getting the job done. That's something that really needs to be addressed.
This cold stretch falls right in with the frigid, windy conditions that toyed with Cleveland's fielders at Fenway Park, which is challenging enough on a normal day.
Indians right fielder Ryan Raburn mishandled a ball in the fourth inning to help the Red Sox to a run, and a wild throw to first from third baseman Mark Reynolds -- on a bunt from Pedro Ciriaco -- in the sixth paved the way for another. Cleveland (27-21) had gone a season-high nine games without making an error before Saturday.
"We just gave them extra opportunities," Indians manager Terry Francona said, "and they took advantage of every one of them."
Indians lefty Scott Kazmir, who was charged with two runs in his five innings, was not exempt from the string of gaffes, either. In the second inning, while facing Ciriaco, Kazmir flinched on the mound for a costly balk that allowed Jose Iglesias to advance to second. Ciriaco capitalized on the mistake with an RBI single to right field.
Things spiraled out of control for the Tribe in the eighth, but only after the club clawed its way to a short-lived 4-3 advantage
The Indians managed four runs in seven innings against Red Sox left-hander Jon Lester, who surrendered 10 hits, struck out eight and issued one walk in a 124-pitch effort. In the seventh inning, Cleveland grabbed a one-run lead when Mike Aviles scored from third base on a wild pitch from Lester.
"He's a good pitcher," Indians left fielder Michael Brantley said of Lester. "We were trying to get pitches out over the plate and make him work. I thought we did a great job putting up quality at-bats all day. We battled our tails off against him. Unfortunately, we didn't come out of it with a 'W.'"
Armed with a one-run lead, the Indians handed the ball to Pestano. Last season, Pestano established a single-season franchise record with 36 holds, and he piled up 160 strikeouts against 48 walks with a 2.45 ERA in 137 outings between the 2011-12 campaigns.
Right now, though, Pestano is trying to find that previous form.
Pestano landed on the 15-day disabled list with right elbow tendinitis on May 6 (retroactive to May 1) and was activated on May 17. The right-hander logged one shutout inning against the Red Sox (30-20) in Friday's 8-1 loss, noting that he actually felt less comfortable in that appearance than he did in Saturday's outing.
In terms of his health, Pestano insisted that he is fine.
"I don't feel any discomfort," Pestano said. "I don't feel my elbow at all."
Ciriaco got things started for Boston in the eighth with a one-out double off the wall, where Brantley was unable to make a play on the ball. Pinch-hitter Mike Carp followed with another double off the 37-foot-high wall in left, scoring Ciriaco to pull the game into a 4-4 tie. Dustin Pedroia then came through with a third two-base hit -- this one high off the Monster -- to push Boston in front, 5-4.
Later in the frame, Daniel Nava sliced a pitch over shallow left field, where Brantley and Asdrubal Cabrera convened on the ball. Both players thought they had a chance to make the catch, but the swirling wind at Fenway Park carried the ball away and it fell to the grass for an unlikely two-run single.
"The wind took it away -- blew it back," Brantley said. "We both had to make an adjustment. Off the bat, I thought it was mine all the way. I thought it was going to come right to me. The wind took it -- took it all the way back toward second base."
Francona said it was important to keep such plays in mind when evaluating Pestano's outing.
"He got a popup and there's a couple balls that are Fenway fly balls," Francona said. "So you have to keep it in perspective a little bit."
Still, there was no denying the fact that Pestano was hitting 87-90 with a fastball that typically sits around 92-93 mph. The pitcher believes the two-week layoff from throwing might explain the decreased velocity. With his showing, the right-hander's season ERA spiked from 2.45 to 5.25, which is the highest it has been at any point in his career.
"We need to figure it out," Pestano said, "because this team is playing a lot better than what I'm giving them right now."
Jordan Bastian is a reporter for MLB.com. Read his blog, Major League Bastian, and follow him on Twitter @MLBastian. This story was not subject to the approval of Major League Baseball or its clubs.