Fiers falters in spot start against Bucs
Right-hander allows three homers; Gomez goes deep twice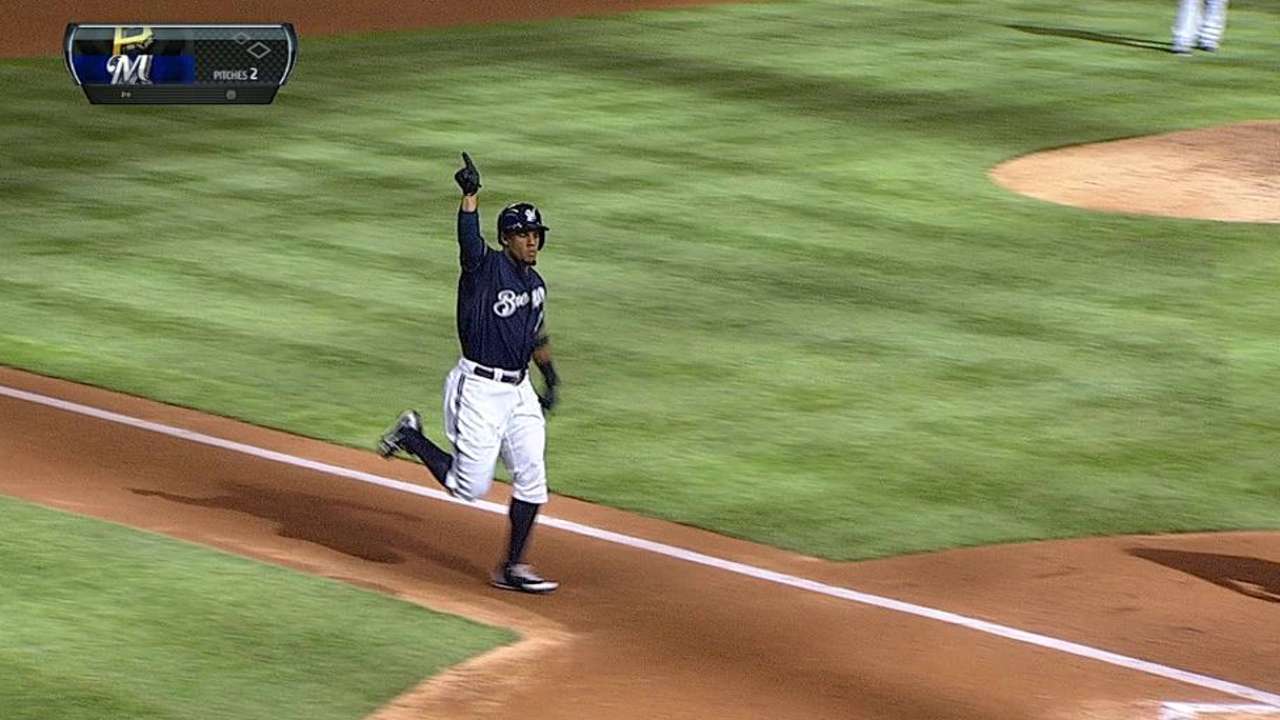 MILWAUKEE -- It's been one step forward and two steps back for the Brewers' pitching staff this season.
One day after a seven-inning, one-run performance from Marco Estrada, Mike Fiers lasted just four innings against the Pirates Saturday, serving up three of Pittsburgh's four home-run balls in a 5-2 loss at Miller Park.
Carlos Gomez hit two home runs for Milwaukee, but the Brewers played from behind from start to finish. Fiers' short outing continued a trend of brief appearances from Milwaukee starters, wearing out the bullpen and creating a swirl of questions and decisions in the wake of injuries to Kyle Lohse and closer Jim Henderson.
After Saturday's game. the team announced Henderson would be placed on the 15-day disabled list with a move to fill his roster spot coming Sunday.
"It's hard playing from behind. It beats on you," Brewers manager Ron Roenicke said. "And every day if you have to go through it, it's hard. Offense is, I've said it many times, is what builds energy on a team. It works in reverse when the other team's coming out scoring early."
Fiers made the spot start in place of Lohse, who skipped a turn with right elbow irritation, but three mistakes early yanked him out of the game after four innings and 67 pitches.
Three four-seam fastballs over the plate from Fiers resulted in home runs from Andrew McCutchen, Pedro Alvarez and Neil Walker.
McCutchen turned on a fastball for a solo shot in the first inning, his third consecutive at-bat against Fiers resulting in a home run. Alvarez put the Pirates up 3-0 with a two-run homer in the second and Walker launched an upper-deck solo shot in the fourth. Fiers' pitches came on a 1-0 count to McCutchen, 3-1 to Alvarez and 2-0 to Walker.
Alvarez added his second home run in the top of the ninth inning for good measure, a 459-foot bomb to the upper deck in right field. Alvarez turned on a changeup from reliever Alfredo Figaro.
"In games, I think that's the first one I've seen," Gomez said of Alvarez's moonshot to the upper reaches of the ballpark. "In 2010, Prince [Fielder] used to hit it real far. It's amazing. It's not fun to see one of your pitchers get hit like that, but after everybody cools off, you are reminded it's really awesome."
Fiers' day was finished after allowing five hits while striking out five and walking none.
"When I fell behind, they made me pay," Fiers said. "For the most part, I felt great today, but there were just three pitches."
McCutchen's solo homer in the first inning especially irked Fiers, because of his game plan to work around the Pirates' No. 3 hitter. McCutchen is now a career 6-for-11 against Fiers with four home runs.
"I wasn't going to give in to him," Fiers said. "He's beaten me in the past, so I wanted to just stay away from him, especially fastball in to him and make the other guys beat me. Right off the bat, it kind of aggravated me."
Pittsburgh's early cushion was more than enough for starter Jeff Locke, who scattered three hits in six innings, striking out a season-high seven and walking three. The lefty improved to 5-1, extending his scoreless innings streak to 14 and lowering his ERA to 2.45.
Despite hitting left-handed pitching well, Saturday's loss to Locke dropped the Brewers' record to 4-16 against southpaws.
"You've got to keep attacking, be efficient, use the defense -- that's what I did," Locke said. "I want to be as consistent as possible every time out. The attitude [against this lineup] is the same. You have to keep trusting your stuff, work both sides, keep them guessing."
While the cloud around Milwaukee's starting pitching has yet to settle, the offense has issues of its own. Friday was the fifth time in six games that the Brewers scored two or fewer runs.
"I know we're missing Corey Hart, but that's still a good offense we're putting out there," Roenicke said. "I look at the lineup, write it down every day and when you look at it, you look at some of the numbers that we're putting up, I expect us to score runs.
"It's puzzling, but I think we're certainly better than what we're showing offensively and hopefully we get this thing going."
Gomez completed his first career multi-home run game with a 432-foot solo home run off reliever Tony Watson in the ninth.
But Roenicke is still looking for answers.
"It's everything. We pitch well and maybe the offense isn't scoring, or just the opposite," Roenicke said. "These guys are still working hard and are still positive. I look before the game and I still see positive energy and I still think it's going to happen."
Kevin Massoth is an associate reporter for MLB.com. This story was not subject to the approval of Major League Baseball or its clubs.