Locke ties up Brewers to knot series
Left-hander throws six scoreless; Alvarez blasts two homers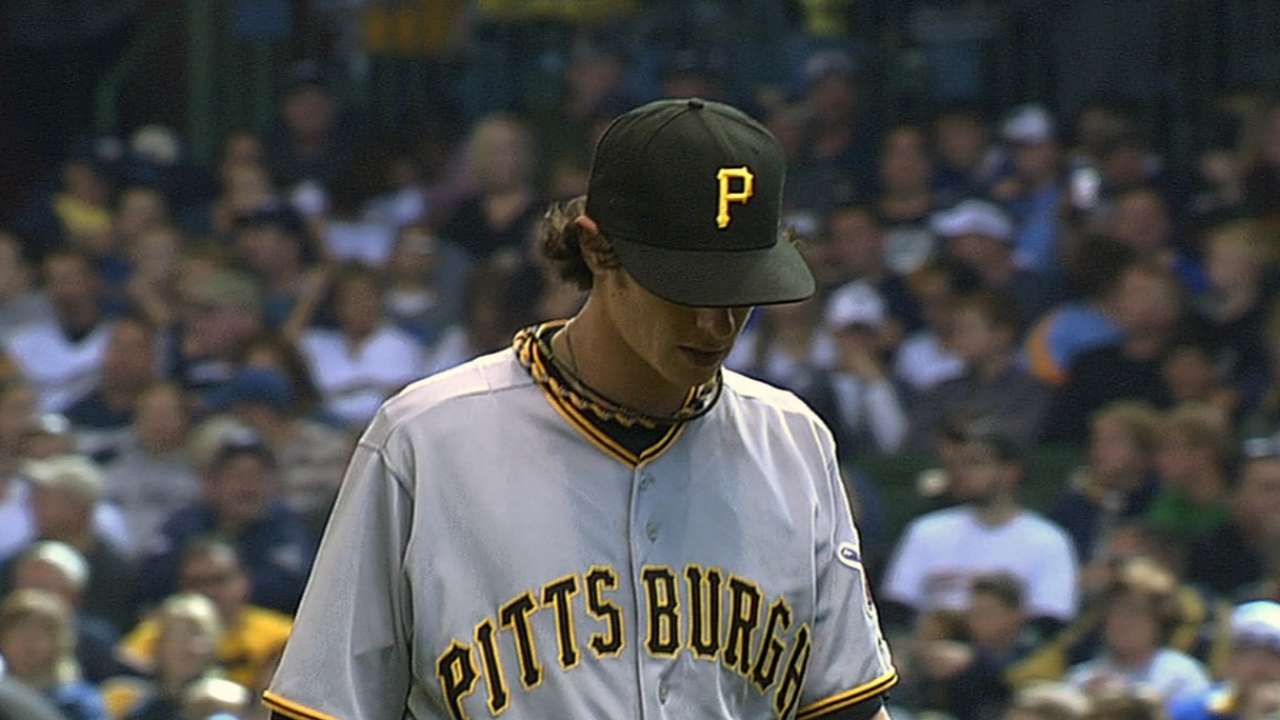 MILWAUKEE -- The Locke Ness Monster was at it again.
As with his mythical lake-dwelling namesake, people don't know whether Jeff Locke is for real or just a fascinating apparition. What they do know is that the left-hander's legend continued to grow on Saturday, when he threw six innings of three-hit shutout ball against the dreaded Brewers in the Pirates' 5-2 win.
The Bucs thus continued to swim with the big fish, getting their 30th win. Only two other National League teams have won as many, and both are also in the NL Central -- the Cardinals and Reds.
The Pirates had a splashing-good time in Miller Park. When the Locke Ness Monster was back in dry dock, the Shark Tank took over, Mark Melancon, the eighth (inning) wonder of the world, turning it over to Tony Watson with a four-run lead.
"In this ballpark, against that lineup -- without his best stuff," said Pirates manager Clint Hurdle, marveling at Locke's effort. "Today's gotta be a boost to his confidence."
Backed by a trio of early homers off Milwaukee right-hander Mike Fiers, Locke frustrated the Brewers with sharp breaking pitches and well-placed modest fastballs to win his fifth consecutive decision, setting a season high with seven strikeouts.
To turn the tide of 48 losses in the Pirates' previous 55 games at Miller Park, Locke had to handle a lineup stocked with a quartet of right-handed batters hitting .300 or better -- Jean Segura, Ryan Braun, Aramis Ramirez and Carlos Gomez.
Against Locke, those four went 1-for-10, with three strikeouts. As a possible clue to Locke's effectiveness, Gomez still wound up with his first career two-homer game, against two other southpaws -- relievers Justin Wilson in the seventh, and Watson in the ninth.
"I wish I hit those two homers in key situations," Gomez said. "Two homers with nobody on base, it's not worth it. It's good, personally, but not for the team, you know what I mean?"
By dominating confused Major League hitters every five days, this Locke is mocking the one who had a record of 1-7 in his first 11 big league starts.
"It's a better story this way," Hurdle said before Locke took the mound. "There was nothing in his two earlier shots in the big leagues to make you go, 'Wow. Can't miss.' He's putting together a nice little book."
"It's nice to come in here and win a game, that's most important," Locke said. "We've struggled here from what everyone says, but I only pitched here once before."
Odd that Locke would want to remember, or admit, that. It came in his fourth Major League start, on Sept. 28, 2011, and he surrendered three homers.
"Keep being aggressive, attack," Locke said of his short to-do list. "I worked both sides of the plate with the two-seamer -- they'd start off as balls, and come back across the plate. I want to be as consistent as possible every time out."
Locke lowered his ERA to 2.45 and raised his record to 5-1, the wins coming consecutively to become the first Pittsburgh left-hander to win that many in a row since 2005, when Zach Duke won six straight.
For the sixth time in his past seven starts, Locke allowed three hits or fewer. In that stretch, he has allowed a total of 24 hits in 43 innings.
Locke's latest effort also helped carry the Bucs to another pitching benchmark. The staff has not allowed more than four runs in 11 consecutive games, matching the team's streak from May 16-29 2011. The Pirates have not had a longer such stretch of pitching dominance since a 15-game streak from May 7-24 2005. Must be something about the merry month of May.
Though a personal admirer of Fiers, who has nobly dealt with personal issues, including his supportive mom suffering from lupus, Hurdle wished only one thing on him once Saturday's game began.
"We look to knock him out early," Hurdle said before the game. "I don't even know him, and I pull for him when he's not on the mound against us. He wants to go deep. We want to knock him out early."
The Pirates won that battle of wills. Fiers, who had stepped into the turn vacated by sore-elbowed Kyle Lohse, departed after four innings, having allowed two hits in addition to the three homers, and four runs.
Andrew McCutchen, who conducted his personal Fiers drill on May 14 -- he powered a 12th-inning walk-off homer and everyone evacuated PNC Park -- again set off the bells with a solo shot in the first.
That home run was McCutchen's third in his past three at-bats against Fiers.
In the second, it was Pedro Alvarez's turn, as he followed Neil Walker's one-out single with a rocket into the right-field seats for his ninth of the season. Two innings later, Walker drove himself in, with an upper-deck shot for his second homer, and first in 75 at-bats since April 15. Alvarez tacked on insurance in the ninth with a 459-foot monster homer to give the Bucs a four-run cushion.
"That's what always gets you fired up about Pedro," Hurdle said. "The ability to shrink a ballpark. I hope this is one of those times he catches fire for an extended period of time."
In the second inning, Locke came face to face with the kind of trouble that, in his formative starts, would almost predictably overwhelm him. Carlos Gomez walked on a 3-2 pitch, then a single by Rickie Weeks brought the tying run to the plate with one out. Locke responded by striking out Alex Gonzalez, the Brewers' Friday-night hitting hero, and, less impressively, Fiers.
Tom Singer is a reporter for MLB.com and writes an MLBlog Change for a Nickel. He can also be found on Twitter @Tom_Singer. This story was not subject to the approval of Major League Baseball or its clubs.