Haren's strikeout stuff not enough as Nats fall to Phils
Right-hander takes no-decision despite fanning 10 over six innings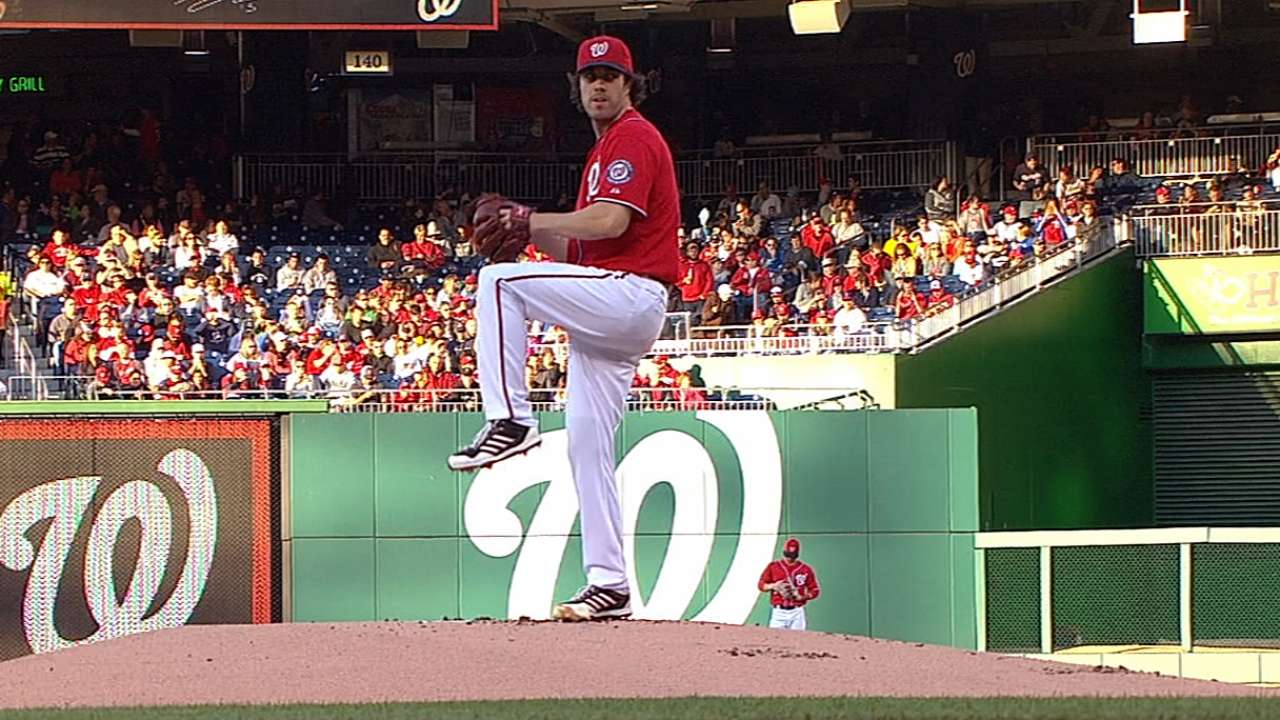 WASHINGTON -- Reliever Drew Storen had a tough time getting the third out in the eighth inning, and it proved costly as the Phillies defeated the Nationals, 5-3, at Nationals Park on Saturday night.
The score was tied at 3 when Philadelphia scored two runs off Storen in the eighth. With two outs, Delmon Young singled past first baseman Adam LaRoche down the right-field line. Michael Young scored from first base to give Philadelphia a one-run lead.
Domonic Brown followed with a double to right-center field, scoring pinch-runner Michael Martinez.
Storen has been inconsistent all year. His ERA is at 5.21. Manager Davey Johnson seems to think that Storen is having problems with his location. But Johnson gave the impression that he is not going to give up on Storen.
"I've got to have him. He is important to our bullpen," Johnson said about Storen. "It's a situation where I count on him to do it. At times, he has been relying on stuff and throwing the ball hard. He has a good hard breaking ball. Tonight, he threw a couple of good changeups to [Ryan] Howard -- a back-door breaking ball. But it's just location. You can get by on stuff for just a little while. You have to make good pitches."
Storen didn't have any excuses for his disappointing outing. He acknowledged that he didn't make good pitches and the ball found holes.
"If you leave it up in the zone, guys are going to hit it," Storen said.
Before this year, Storen spent most of his Major League career as a closer. This season, with the acquisition of Rafael Soriano, Storen has been relegated to the setup role and Johnson is still trying to figure out the roles for almost every reliever in Washington's bullpen. Asked if it's still a challenge figuring out his role in the bullpen, Storen said, "It's doesn't matter. I'm going out there pitching. It doesn't change my job if we are up by 100. I still need to make pitches, not leave balls up in the zone."
Right-hander Dan Haren had one of his best games as a member of the Nationals. It was the antithesis of his last outing against the Padres, in which he allowed seven runs in five innings. On Saturday night, Haren ended up with his first no-decision of the season. He struck out a season-high 10 batters in six innings and allowed three runs on four hits.
Haren allowed two of the three runs in the second inning on back-to-back home runs by Brown and Erik Kratz. Haren allowed the third run three innings later, when pitcher Jonathan Pettibone scored on a double by Jimmy Rollins.
"I was rolling there early and they came up aggressive. Obviously, two first-pitch homers," Haren said. "I felt great. The game against the Padres, my arm felt heavy. It felt like I was throwing a softball. I just didn't throw good. … Stuff-wise, today, is about as good as I've had all year. I just made a couple of mistakes. If I'm throwing like I am tonight, we'll be good."
Haren's counterpart, Pettibone, lasted six innings and allowed three runs on nine hits. LaRoche and Denard Span were the offensive forces against Pettibone. With the Phillies ahead, 2-0, LaRoche singled to right center-field, scoring Span, in the third.
Washington tied the score at 2 an inning later. With one out, Steve Lombardozzi reached first on an infield single and advanced to second on an error by Rollins at shortstop. Two batters later, Span singled to right, scoring Lombardozzi.
After the Phillies went ahead in the fifth inning on Rollins' double, the Nats tied the score at 3 in the bottom of the inning on a home run by LaRoche, his eighth of the season. LaRoche has been one of Washington's most consistent hitters during the month of May, going 25-for-77 (.325) with five home runs and 15 RBIs.
"We wobbled a little bit, but we gained composure," Phillies manager Charlie Manuel said. "It was interesting. Actually, we ended up doing a good job. We got guys out when we were supposed to. That's what counts."
Bill Ladson is a reporter for MLB.com and writes an MLBlog, All Nats All the time. He also could be found on Twitter @WashinNats. This story was not subject to the approval of Major League Baseball or its clubs.