Delmon delivers in eighth as Phils top Nats
RBI single scores M. Young from first as Philadelphia evens series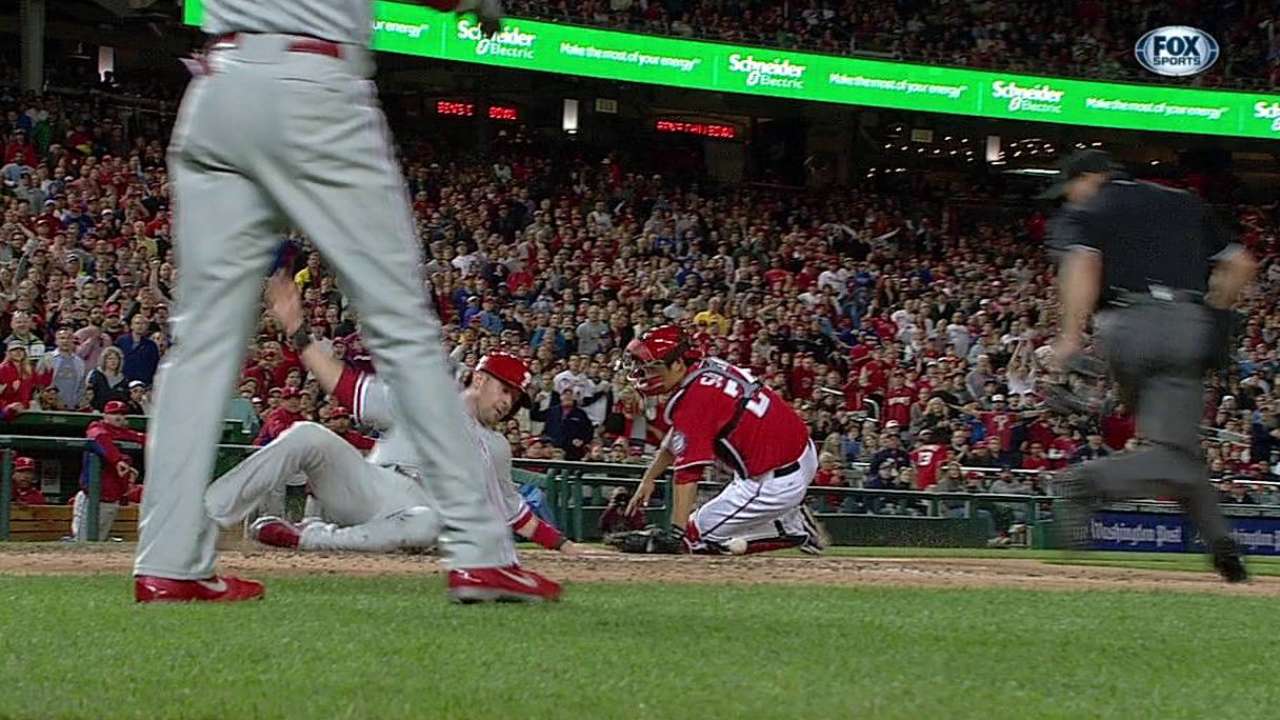 WASHINGTON -- Charlie Manuel has been sick since last week, and his voice has suffered as a result.
But his words came through clearly following Saturday night's 5-3 victory over the Nationals at Nationals Park. Memorial Day might be Monday, which means there is plenty of baseball to play, but Sunday's series finale against the Nationals is a big one for the Phillies. Cole Hamels is facing Stephen Strasburg as the Phillies attempt to move to .500 for the first time since April 14. If that happens, the Phillies and Nationals will be 25-25 and tied for second in the National League East.
"That made it more interesting for Strasburg tomorrow," Manuel said of Saturday's victory. "It might get us a little more jump on getting him. We've got Hamels. Hamels is due to win a game, man. That's a bright spot. Hamels is going to be letting it go tomorrow.
"Yeah, we've had a hard time getting [to.500]. We'll keep going until we get there. We're going to get there and go by that."
The Phillies got within a game of .500 because Domonic Brown continues to blossom offensively, Jonathan Pettibone kept his team in the game, beleaguered relievers Chad Durbin and Jeremy Horst got big outs and Michael Young and Delmon Young combined to score the go-ahead run in the eighth.
Nationals right-hander Dan Haren struck out four consecutive Phillies before Brown and Erik Kratz hit back-to-back home runs on back-to-back pitches in the second inning to hand the Phillies a 2-0 lead.
Brown, who later doubled in the eighth to score pinch-runner Michael Martinez as an insurance run, is hitting .294 with six doubles, one triple, seven home runs, 21 RBIs and an .857 OPS in 28 games since April 23. He has nine home runs and 27 RBIs overall, both of which lead the team.
"Truthfully, I wasn't even worried about it," said Brown, asked if he wondered if his strong Spring Training numbers would carry into the season. "I was just trying to get some good pitches to hit, like Charlie said. I know if I do that, I'm going to put a good swing on it."
Haren allowed four hits and one walk and struck out 10 in six innings, but allowed three runs. Pettibone, meanwhile, pitched less effectively, scattering nine hits and walking one in six innings, but also allowed three runs.
He has a 3.21 ERA in seven starts, keeping his team in the game every time.
"That's what I'm here for," he said.
But the Nationals threatened in the seventh. Antonio Bastardo walked Bryce Harper and Adam LaRoche, which coaxed Manuel into an unusual pitching decision.
He asked Chad Durbin to extinguish the rally.
Durbin entered the night with an 8.10 ERA in 13 appearances. He had not pitched since May 18, he had allowed nine of 15 inherited runners to score, and had pitched in a tie game or when the Phillies held the lead just twice this season.
"I don't know if it took nerve or not," Manuel said.
Durbin got Ian Desmond to fly out to center field to end the inning.
"If they do call on you, you have to be ready," Durbin said. "If it works out, it works out that you get in a tight game and sometimes that's the momentum that builds. The bullpen came together tonight and picked each other up."
It proved to be a pivotal point in the game, as the Phillies took a 5-3 lead in the eighth. Michael Young worked a one-out walk and Delmon Young followed with a two-out single down the right-field line to score Michael Young from first to give the Phillies a one-run lead.
Manuel had been asked before the game about third-base coach Ryne Sandberg's seemingly conservative tendencies sending runners home, but there was nothing conservative about sending Michael Young there.
"Obviously I'm the go-ahead run out there, so the second he hit behind me, I knew I was going to do everything I could to score," Michael Young said.
Delmon Young remained at first as the play developed. He waved toward the dugout for a pinch-runner afterward, which Manuel said he planned to do anyway. Delmon Young, who missed the first month of the season recovering from a right ankle injury, said he is fine. He said first-base coach Juan Samuel held him at first "because, more than likely, that's a first-and-third play, because Harper was shading down the line."
"Usually on my last at-bat of the game, I come out," he added. "I was looking around and wondering if I was staying in or if they were going to pinch-run or what."
It was a big hit for Delmon Young, who is hitting .333 (5-for-15) with one double, two home runs and four RBIs in his last four games.
Horst, who had allowed seven of 17 inherited runners to score, got Durbin out of a jam in the eighth, stranding two runners, allowing Jonathan Papelbon to pick up his ninth save in the ninth.
It sets up a big Sunday afternoon.
"Big series, considering the time of year for sure," Michael Young said. "I don't think anyone is under any illusions that this is going to decide the division, but we are playing a very good club at their ballpark and, for this time of year, it is a big series. It's a big May series, for sure."
Todd Zolecki is a reporter for MLB.com. This story was not subject to the approval of Major League Baseball or its clubs.