Mitchell has power pitcher potential for White Sox
Mitchell has power pitcher potential for White Sox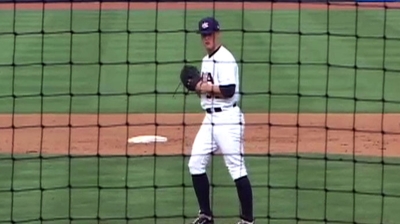 TCU starter Andrew Mitchell had one of the best curveballs in college baseball last season. He learned it in one night over the phone.
Mitchell was a third baseman until his coach offered him a chance to pitch in his senior year of high school. The problem was he didn't know how to pitch. The only thing he understood was to rear back and fire, so he only possessed a fastball. Mitchell was frustrated with his lack of success and called his brother, who's eight years older and played college baseball.
"I called him and told him, 'Hey, my slider [stinks]. How do I throw this thing?'" Mitchell said. "He told me how to throw it. He said just put it deep in your hand and choke it more than you are, because I was holding it pretty loose in my fingertips. And the next day I struck out nine in three innings."
Over the next three years, the "slider" developed into the devastating 12-6 curveball that caught the White Sox attention on Day 2 of the MLB First-Year Player Draft on Friday, when Mitchell was selected in the fourth round with the 123rd pick.
"I wasn't drafted out of high school, so I didn't really know what to expect," Mitchell said. "I was just with my family. I'd just gone to get something to eat, and I came back. We were just kind of sitting on the couch, watching guys I knew get taken and all of a sudden my name pops up. It's just kind of surreal feeling that my dreams are going to come true. I'm going to get a chance to play after college."
Mitchell had no idea when he was going to be selected, and his family agreed to treat Friday like a normal day -- "Whatever happens, happens," he said. So minutes before he was selected, he was ordering food at Raising Cane's, a fast food chain that serves chicken fingers in Houston.
"We weren't trying to make a big deal out of it," Mitchell said. "The Draft is so unpredictable. Anything can happen, and what you think will happen probably won't happen. I was just trying to keep an open mind. A lot of people don't get the chance to play after college, so anything that happened would be a great thing for me."
His power stuff, paired with that tricky curveball, enabled him to strike out 11.8 hitters per nine innings and keep them to a .198 average in 2012, when he was named first-team Mountain West Conference selection.
Blessed with a power pitcher's frame at 6-foot-3 and 225 pounds, Mitchell's size and durability were strong points in his favor. But he was hurt by shaky command. Mitchell walked 5.38 batters per nine as a sophomore and continued to have problems with the free pass this year. Mitchell said he knows he needs to attack the zone better, control his pitches and induce contact earlier in at-bats to be successful as a starter at the next level.
"We've had a little bit of success with guys with stuff," White Sox director of amateur scouting Doug Laumann said. "He's been up to 95-96 [mph] and he has a tremendous curveball. The control issues, we feel that our player development people can go in and get those guys straightened out."
Ethan Asofsky is an associate reporter for MLB.com. This story was not subject to the approval of Major League Baseball or its clubs.