Garcia picks up first victory as O's take series edge
Jones homers in third straight game; Valencia adds two-run shot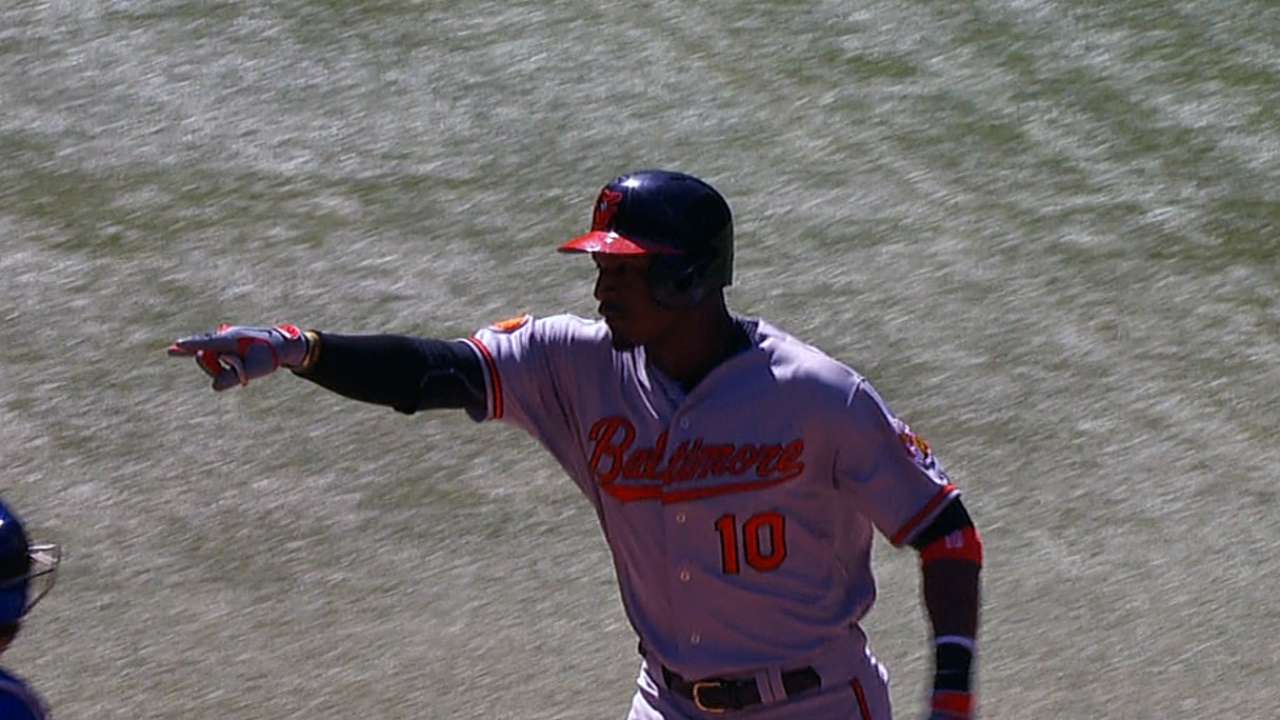 TORONTO -- The Orioles carried a comfortable lead into the eighth inning that quickly evaporated after Toronto strung together a rally to get back in the contest. But Baltimore clamped down to win its second straight game, 6-5 on Saturday, and has the long ball to thank, yet again, for building an early cushion.
Baltimore hit two more homers, giving it nine over the first three games of the series, and continued its strong offensive showing on the road, scoring five-plus runs away from Camden Yards for the eighth consecutive game -- the first time the club has achieved that feat since 1998.
Danny Valencia and Adam Jones each went deep, while Freddy Garcia earned his first win of the season in front of 35,915 at Rogers Centre on Saturday.
"We have a team that can drive the ball out of the park. We score in a lot of unique ways, and we trusted Freddy," said Jones, whose eight homers at Rogers Centre since 2012 is the most by any opponent. "I just see the ball good here."
With Baltimore ahead, 6-3, in the eighth, Toronto scored two runs off reliever Steve Johnson -- Darren O'Day, who entered for Johnson, allowed an inherited run to score -- to make it a one-run game.
But the Orioles escaped Toronto's surge with a lead intact and turned to closer Jim Johnson for the ninth inning, who had a clean frame with one punchout to record his 15th save of the season.
"Jim Johnson closing a one-run lead on the road in the American League East against a team as hot as anybody, that's pretty impressive," manager Buck Showalter said.
Before the Blue Jays' comeback, the Orioles couldn't be stopped by Toronto ace R.A. Dickey.
Chris Davis put Baltimore on the board first by ripping a ground-rule double down the right-field line to drive in Manny Machado before the following batter, J.J. Hardy, helped the Orioles tack some more runs on the board.
Hardy drove a 1-0 pitch on a line to center field for a two-run single to put Baltimore in front, 3-0. It was the second consecutive game that the Orioles jumped out to a three-run lead in the first inning.
The homers soon followed, starting with Valencia's blast in the third inning.
After Hardy recorded his second hit of the game on a two-out double, Valencia crushed a two-run shot into the second deck in left field to put Baltimore ahead, 5-2. It was Valencia's second homer of the season and second in as many nights.
Dickey settled in after that, containing the Orioles for over three innings before running into Jones in the seventh.
Jones was seeing the ball well against Dickey, as he just narrowly missed a monster home run off him in the third, sending a long fly into the top level in left that hooked foul. In his next at-bat, Jones was robbed of extra bases on a fantastic catch at the wall from Melky Cabrera in the fourth, but he got some measure of revenge against Dickey and ended his day by depositing a 1-1 pitch into the upper deck in left field to give the Orioles a 6-3 lead. It was Jones' ninth homer of the season, and he has tallied one in each game this series.
"It was a really nice play. It happens," Jones said of Cabrera's catch. "[But] it didn't deter me from my mission to do what I wanted to do."
The knuckleballer lasted 6 2/3 innings, allowing six runs on nine hits, while walking three and striking out four to fall to 4-6. Dickey had a string of three consecutive quality starts snapped and suffered his second loss of the season to Baltimore.
In two games vs. Dickey this season, the Orioles have tagged him for 10 runs on 15 hits over 12 2/3 innings.
"It was just tough to get the feel of it early," Dickey said about his knuckleball. "I grew into it a little bit, but by that time we had already given up three runs."
Despite Dickey's inconsistency, Showalter was still impressed with his performance.
"He pitched seven innings almost. That's R.A," Showalter said. "They're going to like him. He's a special breed and they're lucky to have him. [If] they get tired of him, pass him our way."
Garcia, meanwhile, allowed one run each in the first, second, and fifth innings, but he was able to prevent the Blue Jays from a big inning. Showalter was impressed that he didn't issue any free passes, like starter Chris Tillman the night before, and Garcia ended his outing by inducing a groundout to strand two runners.
The 36-year-old logged five innings of three-run ball, while striking out one and surrendering a season-high nine hits.
"I made a good pitch when I needed," Garcia said. "I just tried to keep the ball down, and I did it because the ball carries here."
Baltimore will look to win its second consecutive series on Sunday, with starter Miguel Gonzalez squaring off against Toronto's Chad Jenkins.
Chris Toman is a contributor to MLB.com. This story was not subject to the approval of Major League Baseball or its clubs.