Gillaspie caps Peavy's fine effort with walk-off hit
Ninth-inning single plates winner; righty picks up complete-game win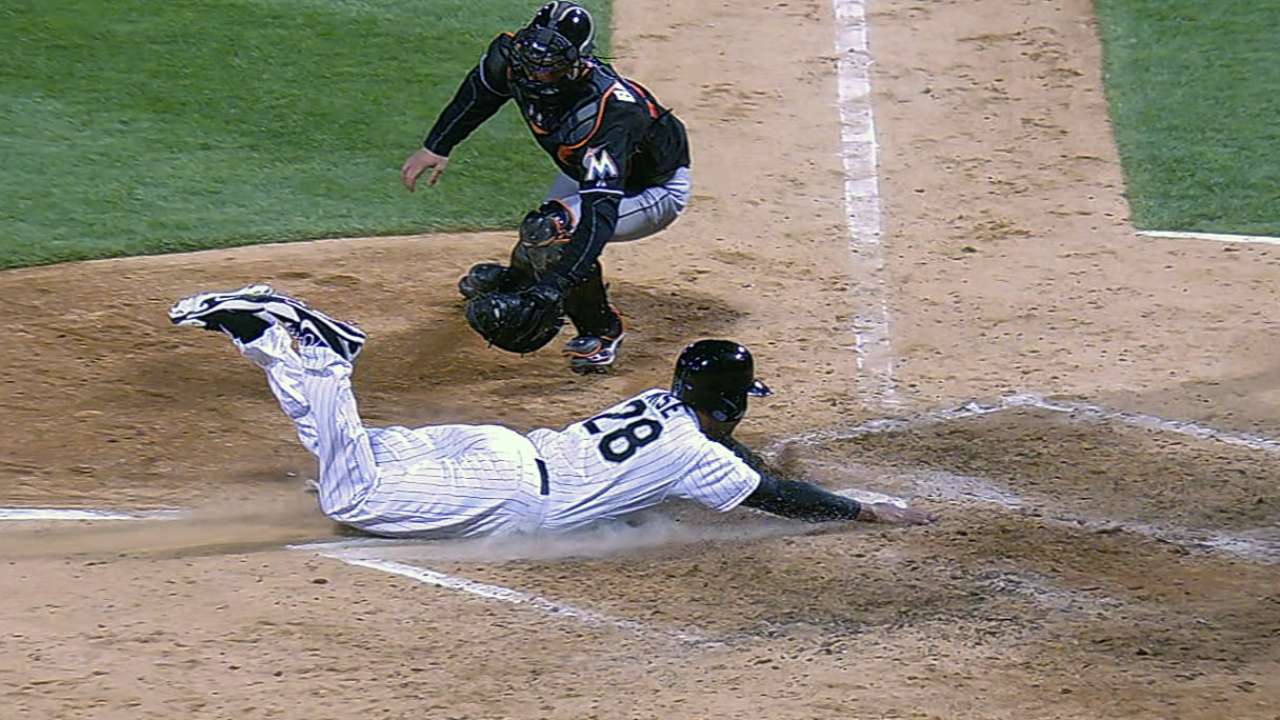 CHICAGO -- With Dewayne Wise on second and nobody out in the bottom of the ninth of a tie game between the White Sox and Marlins at U.S. Cellular Field on Saturday night, Conor Gillaspie had one thought in mind as he faced reliever Ryan Webb.
"I was actually thinking pull there and obviously that's a situation where I should be looking to hit the ball on the right side," said Gillaspie, whose game-winning single to left brought home Wise for a 2-1 victory before 23,705. The win moved the White Sox (23-24) as close as they've been to .500 since their record was 7-8 on April 17.
"It's a little bit of luck, too," Gillaspie said. "It was a good pitch to hit and maybe because I was thinking pull, it kind of shortened me up a little bit. I just kind of slapped at it, but I was ready to hit early to try to get him over."
As soon as the left-handed-hitting Gillaspie made opposite-field contact off Webb (1-3), who also was the losing pitcher on Friday, it seemed like a first-and-third, nobody-out situation for the South Siders was in the offing. It seemed especially true when Wise, who doubled to left to open the ninth, didn't get a good break off second.
But third-base coach Joe McEwing and Wise decided to challenge Juan Pierre, who for all his accomplishments, does not have a strong throwing arm. Wise easily beat the throw home, as the throw from left ended up toward the pitcher's side of the plate.
"When the ball was hit, I kind of froze, so in the back of my mind I thought he was going to hold me right there because I didn't get a very good jump coming off of second," Wise said. "He was waving his arms so I had to go."
"You've got a guy that runs pretty good, but you're going to be aggressive," White Sox manager Robin Ventura said. "You're still going to have a guy at second base if he makes the throw. Joe was just being aggressive."
Those four ninth-inning pitches from Webb and the ensuing results turned the night for White Sox starter Jake Peavy (6-2) from great to heartbreaking and back to great again. Peavy recorded his 14th career complete game and seventh with the White Sox, allowing one run on six hits, while striking out five and walking two.
Peavy threw 117 pitches, including a slider that he overthrew to Derek Dietrich, who hit the 1-2 pitch for a game-tying homer with one out in the ninth. The right-hander eventually stranded Chris Coghlan at second, after walking him and balking him there, to give Gillaspie a chance for his heroics.
If the White Sox had not rallied like they did, Peavy readily admitted it would have been a tough night of sleep for him.
"Just a bad, bad pitch," said Peavy of the same backdoor slider used in the seventh to strike out Dietrich looking. "You hope to win those if you go nine and give up one. I was excited that we found a way as a team to get it done."
"He's a competitor. He pounded the strike zone. He was in and out," said Marlins manager Mike Redmond of Peavy. "He changed speeds when he needed to. It was nice to put a little pressure on him with Dietrich getting that big hit, but other than that, he was in complete control."
Marlins starter Ricky Nolasco matched Peavy's success, holding the White Sox to Alexei Ramirez's run-scoring double in the third over 7 2/3 innings. He yielded just eight hits, while striking out six.
Despite the Marlins' dismal 13-36 record, victories were no guarantees for the White Sox as they now have a 12-14 record this season against teams under .500. There are no style points taken away, though, for the White Sox taking two walk-off wins against one of the Majors' worst teams.
In fact, the White Sox moved to within four games of the Tigers for the top spot in the American League Central thanks to Saturday's finish. The White Sox have not been closer than that since April 27, but with one more game against the Marlins on Sunday and then four against the Cubs in a home-and-home series this week, Ventura's crew has a chance to make up some ground.
"Baseball's such a funny game because everybody feeds off each other," Gillaspie said. "We went through some pretty rough times the first month and a half of the season. It's good to kind of get everybody on the same page. Everybody's excited and you can feel it in the clubhouse."
"That's the White Sox way," said Peavy with a smile. "Nothing is easy around here, is it?"
Scott Merkin is a reporter for MLB.com. Read his blog, Merk's Works, and follow him on Twitter @scottmerkin. This story was not subject to the approval of Major League Baseball or its clubs.