Chatwood shines in another win over Giants
Cuddyer drives in three runs in return from DL; CarGo belts homer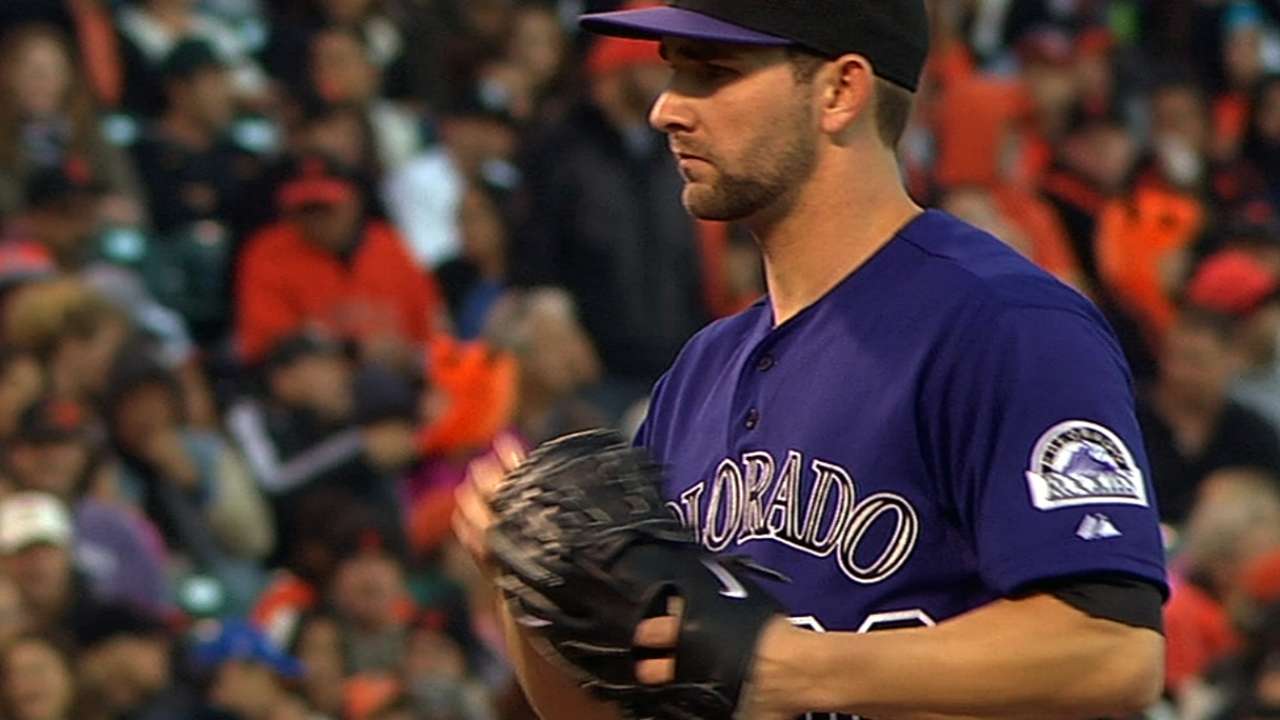 SAN FRANCISCO -- The Rockies' newfound ability to challenge the Giants is a trait right-handed pitcher Tyler Chatwood has had all along.
Chatwood held the Giants scoreless for six innings on four hits, Michael Cuddyer homered and drove in three runs in his return from the disabled list and Nolan Arenado sparkled defensively as the Rockies won, 5-0, Friday night at AT&T Park to open a three-game series and five-game road trip.
The Rockies had lost 10 straight matchups with the Giants before winning three straight against them in a series at Coors Field a few days back. That series was part of a six-of-seven surge that has the Rockies and D-backs tied for first in the National League West, a game ahead of the Giants. Friday's win ended the Rockies' losing streak at AT&T Park at nine games.
Chatwood (3-0) has mostly good memories against the Giants. The last time the Giants were shut out at home was last Aug. 10. It was against the Rockies and Chatwood was the starter. Chatwood is 3-2 with a 2.00 ERA in seven appearances, including six starts, against the Giants.
"I think it's just worked out that way," Chatwood said. "It's obviously a great-hitting team over there. Anytime you can have success against a lineup like that, it's big."
Chatwood's work Friday included four strikeouts, no extra-base hits and 59 strikes on 88 pitches. In four starts over two promotions from Triple-A Colorado Springs, Chatwood has a 1.90 ERA and hasn't given up a run on the road.
"He was very impressive, pounded the bottom of the zone, had a great fastball, good breaking ball, threw strikes," Rockies manager Walt Weiss said. "When he does that, he's real good."
Relievers Josh Outman, Matt Belisle and Wilton Lopez completed the Rockies' third shutout of the season and second over the Giants.
Also helping Chatwood was Arenado, a rookie who has sparkled defensively in 24 games since being called up from Colorado Springs. Arenado made two difficult throws, one on a bunt, to retire Marco Scutaro in the third and fifth innings, and ranged to his right to make a jump throw to beat Gregor Blanco in the seventh. Arenado was the key reason Scutaro's hit streak against the Rockies ended at 15 games.
Cuddyer, in his return from a bulging disk in his neck, doubled in two runs against Tim Lincecum (3-4) in the first inning, reached on a wild pitch after a strikeout and scored on DJ LeMahieu's single in the fourth, and parked his eighth homer of the season in the sixth.
"Cuddy picked up where he left off, especially in two-strike situations, RBI situations," Weiss said. "He's in the big part of the field and he's a tough out."
Cuddyer said, "To to be able to get the win, that's what felt best."
Lincecum struck out eight and gave up seven hits in seven innings. Still, his last two starts have resulted in losses to Chatwood and the Rockies.
"He's very aggressive," Lincecum said. "He changes eye levels with his fastball and changes speeds with it. It's hard to sit on one pitch, because he has a really good curveball."
Carlos Gonzalez hit his team-leading 12th homer, off Sandy Rosario to open the eighth. He came about an inch from not being around for it.
A fan who wanted him to autograph a baseball before the game threw him a pen. Problem was Gonzalez already had a pen and wasn't expecting the toss. The pen hit him about an inch below his left eye and left a red mark. Gonzalez signed with the bloody pen, then bludgeoned the Giants to the tune of two hits.
"I thought it wasn't going to be my night," Gonzalez said.
Until recently, just about any time that the Giants were the opponent wasn't the Rockies' night.
"It's obviously comfortable when you start your road trip winning, especially against these guys," Gonzalez said. "They've dominated us every time we played here. Last time we faced them at home, we played really well. We should have won four games at home, but they got away with the first one.
"That creates a lot of confidence when we win a series against a team that's really good, has won two championships in the past three years."
Thomas Harding is a reporter for MLB.com. Read his blog, Hardball in the Rockies, and follow him on Twitter @harding_at_mlb. This story was not subject to the approval of Major League Baseball or its clubs.