Giants go quietly behind Lincecum vs. Rockies
Right-hander allows four runs, loses second straight to Colorado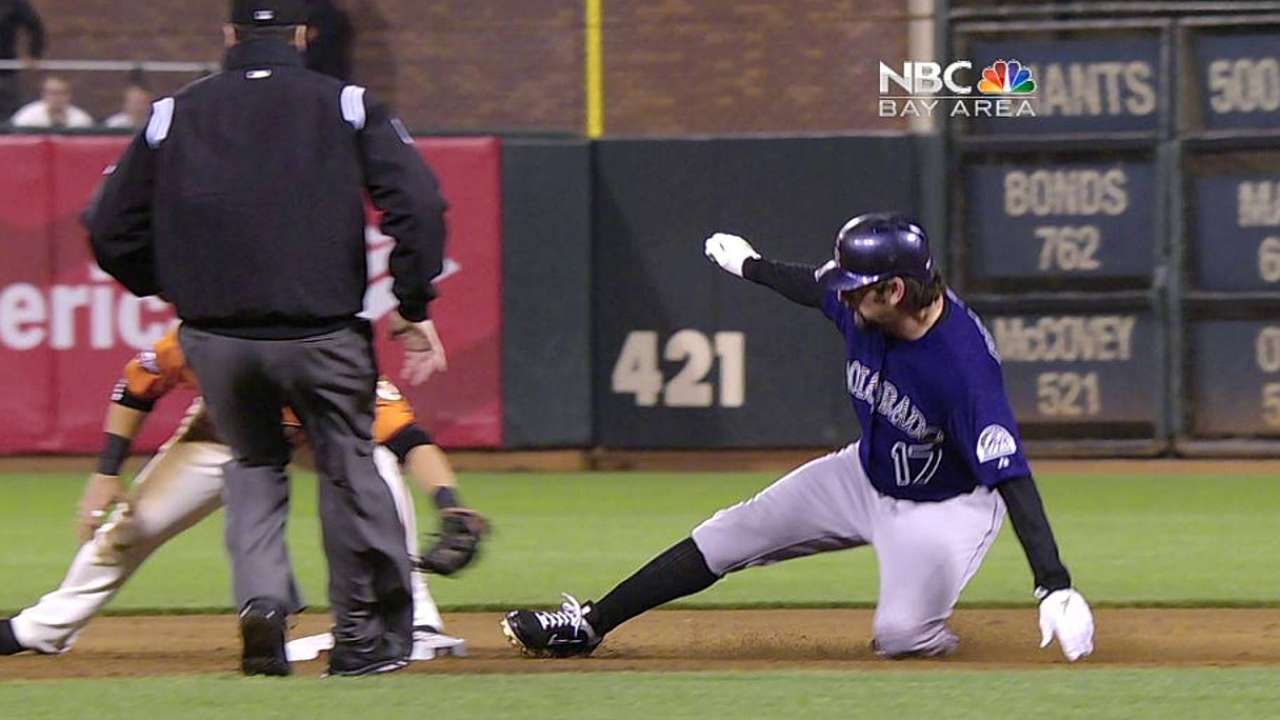 SAN FRANCISCO -- The Colorado Rockies have found a new way to subdue the Giants: Outpitch them.
Colorado's 5-0 victory Friday night was its second straight shutout defeat of the Giants, who entered the game leading the National League in hitting before mustering five hits. Rockies starter Tyler Chatwood yielded four singles in six innings, six days after permitting San Francisco one run in 5 2/3 innings.
Losers of four consecutive games to the Rockies, the Giants have scored two runs in the last three games of that stretch. Historically, the Rockies rarely have been known for their pitching, due to playing home games in hitter-friendly Coors Field and habitually assembling subpar pitching staffs.
This year's different. The Rockies' 3.71 ERA overall represents a vast improvement over their NL-worst 5.22 in 2012. Asked whether Colorado had upgraded its pitching, Giants manager Bruce Bochy replied, "No question. That's why they're where they are."
That happens to be in a first-place tie with Arizona in the NL West, one game ahead of the Giants. San Francisco has stalled while losing seven of its last 10 games. Not only are the Giants struggling offensively against Colorado, but they're also struggling offensively, period. They're batting .200 (20-for-100) in their last three games.
Though 114 regular-season games remain, Giants right-hander Tim Lincecum said that it's not too early for the reigning World Series champions to surge past their rivals.
"It's a good time to separate ourselves from them, or at least try to," Lincecum said.
Lincecum attempted to contribute by working a personal season-high seven innings for the fourth time in his last six starts. But he fell victim to bad timing, bad luck and a couple of bad pitches.
The bad timing was right fielder Michael Cuddyer's return from the disabled list. Cuddyer drove in three runs with a first-inning double and a sixth-inning homer in his first game since May 8, having been sidelined with an inflamed cervical disk.
Bad luck struck Lincecum in the first inning, when second baseman Marco Scutaro dove to smother Carlos Gonzalez's grounder and tried to shovel the ball from his glove to shortstop Brandon Crawford for a force play on Nolan Arenado. But Scutaro's flip was wide, pulling Crawford off second base. It was a difficult play, but had it been made, Lincecum might have avoided yielding two first-inning runs.
Lincecum experienced more misfortune in the fourth inning, when Cuddyer reached first base after striking out on a wild pitch. Cuddyer moved to second base on Todd Helton's single and scored on DJ LeMahieu's single.
The bad pitches Lincecum lamented included the fourth-inning fastball that LeMahieu smacked for his RBI single and the sixth-inning curveball that resulted in Cuddyer's homer.
Lincecum also was unhappy with the first inning.
"If I don't put us in a hole, maybe it's a whole different game and we scratch back a little differently," he said. "But it's kind of tough to overcome a two-run deficit in the first."
The Giants have surmounted wider deficits on numerous occasions. But that didn't seem possible against Chatwood -- who, besides silencing the Giants last week, also beat them and Lincecum in a 3-0 decision last Aug. 10. That happened to be the last time San Francisco was shut out at home.
"He's very aggressive," Lincecum said. "He changes eye levels with his fastball and changes speeds with it. It's hard to sit on one pitch, because he has a really good curveball."
Chatwood attributed his success against the Giants to coincidence.
"I think it's just worked out that way," he said. "It's obviously a great-hitting team over there. Anytime you can have success against a lineup like that, it's big."
It was a big deal for the Rockies to end San Francisco's nine-game winning streak against them at AT&T Park.
"It's obviously comfortable when you start your road trip winning, especially against these guys," left fielder Carlos Gonzalez said. "They've dominated us every time we played here."
Chris Haft is a reporter for MLB.com. This story was not subject to the approval of Major League Baseball or its clubs.