Stults, Padres felled by five-run seventh in Arizona
Left-hander carries shutout into frame before running into trouble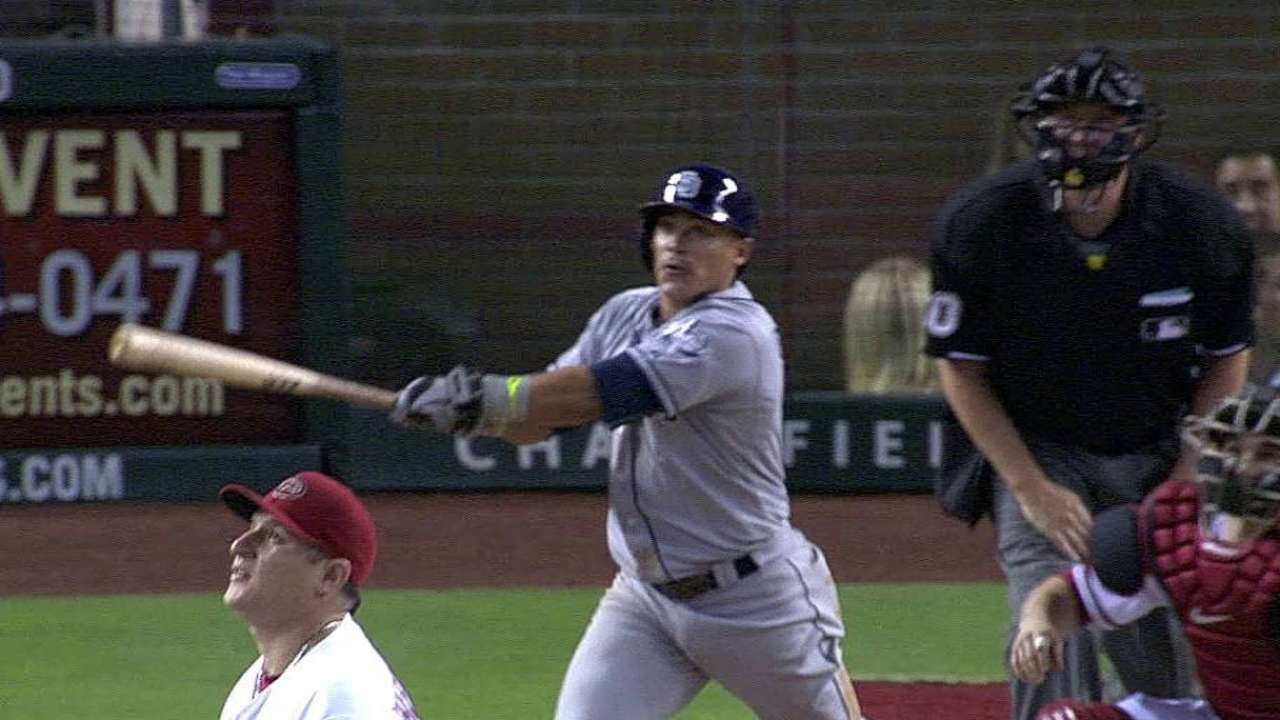 PHOENIX -- When looking at a box score such as the one from Friday vs. the D-backs, Eric Stults' assessment of his performance doesn't exactly follow common logic at first glance.
The left-hander shut out the D-backs over the first six innings on just 79 pitches, but he felt he wasn't executing his pitches up to his standards.
Then in the seventh inning, Stults surrendered four runs on three doubles and a walk, but he actually felt he threw the ball where he wanted to.
Go figure.
The end result translated into the Padres dropping their third straight game, 5-2, to the D-backs, with all five runs coming in the seventh off Stults and the bullpen.
"I thought I got away with some pitches early on," Stults said. "And I actually felt like in the seventh I made the pitches I wanted to, just didn't have the results."
Even though he wasn't feeling his best, Stults still carried a 1-0 lead into the game-deciding frame. But in a span of just 15 pitches, the southpaw went from tossing a potential shutout to taking the loss.
After Miguel Montero led off the inning with a double, Martin Prado followed with a jam shot down the first-base line for another two-bagger that tied the game at 1.
"Prado was just trying to advance the runner, and he inside-outed the ball," Padres manager Bud Black said. "It was a soft ground ball that got through, that was unfortunate for us."
Three batters later with the game tied, Stults had a pinch-hitting Wil Nieves down 0-2 in the count but left a fastball at the top of the zone that the catcher hit off the left-center field wall to drive in the go-ahead run.
"I thought I made a good pitch, he chased the one before, up and in," Stults said. "I wasn't trying to throw a strike, and it wasn't a strike. It was up and off the plate, but he put a good swing on it, you have to give him credit for getting the barrel of the bat there."
That crushing hit forced Black to go to the bullpen, abruptly ending Stults' evening after such a promising start.
"I made the pitches I wanted to make, but I didn't get the results you normally get when you make your pitch," Stults said. "You have to give them credit, they hit some good pitches. Overall, I just came up short."
After Dale Thayer and Anthony Bass served up two more RBI hits later in the frame, Stults, who entered Friday with a 2.39 ERA in May, finished the game charged with four runs on six hits over 6 1/3 innings.
"He had good stuff, he was tricky," D-backs outfielder A.J. Pollock said. "He's a guy that when he's hitting his spots with his slider, his changeup, his fastball, it's tough. So you just have to look for your pitch, and when you get it, you can't miss it. That's where he makes his living, getting people to roll over and chase stuff they're not looking for."
Part of the problem Friday came from the lack of run support for Stults.
The Padres gave Stults the only help they would offer in the second inning when Yonder Alonso singled home Carlos Quentin, who doubled off D-backs starter Brandon McCarthy to lead off the frame.
Quentin, playing for the first time since Monday when he tweaked his left knee, finished the night as one of the few silver linings for San Diego, collecting three hits, including a pair of doubles.
"Carlos swung the bat well," Black said. "That was good to see from Carlos, I know he's been working on some things with his stance. I hope that can continue."
Still up by just one through the middle frames, the Padres left a runner in scoring position in the fifth and sixth, leaving Stults with no wiggle room. McCarthy ended up tossing seven innings, allowing just the single run and leaving Black impressed with the movement on his fastball.
"He pitched well, lot of good fastballs to both sides of the plate," Black said. "Arm side had a nice sink to it, glove side had a nice cut to it. He mixed in a few good curveballs, but I think it was about the late action on the fastball. We stressed him a couple times, couldn't get the big hit. He didn't give us a lot of opportunities."
Only after the D-backs' offensive explosion in the seventh did the San Diego bats wake up again, plating the club's second run of the game on a Everth Cabrera solo shot to right field off David Hernandez.
That dinger proved to be too little too late, though, as former Padres closer Heath Bell quelled San Diego's comeback attempt in the ninth to record his first save against his old team since departing after the 2011 season.
Tyler Emerick is an associate reporter for MLB.com. This story was not subject to the approval of Major League Baseball or its clubs.