Masterson stumbles, Indians' offense held in check
Sinkerballer allows Red Sox five runs on six hits over six-plus frames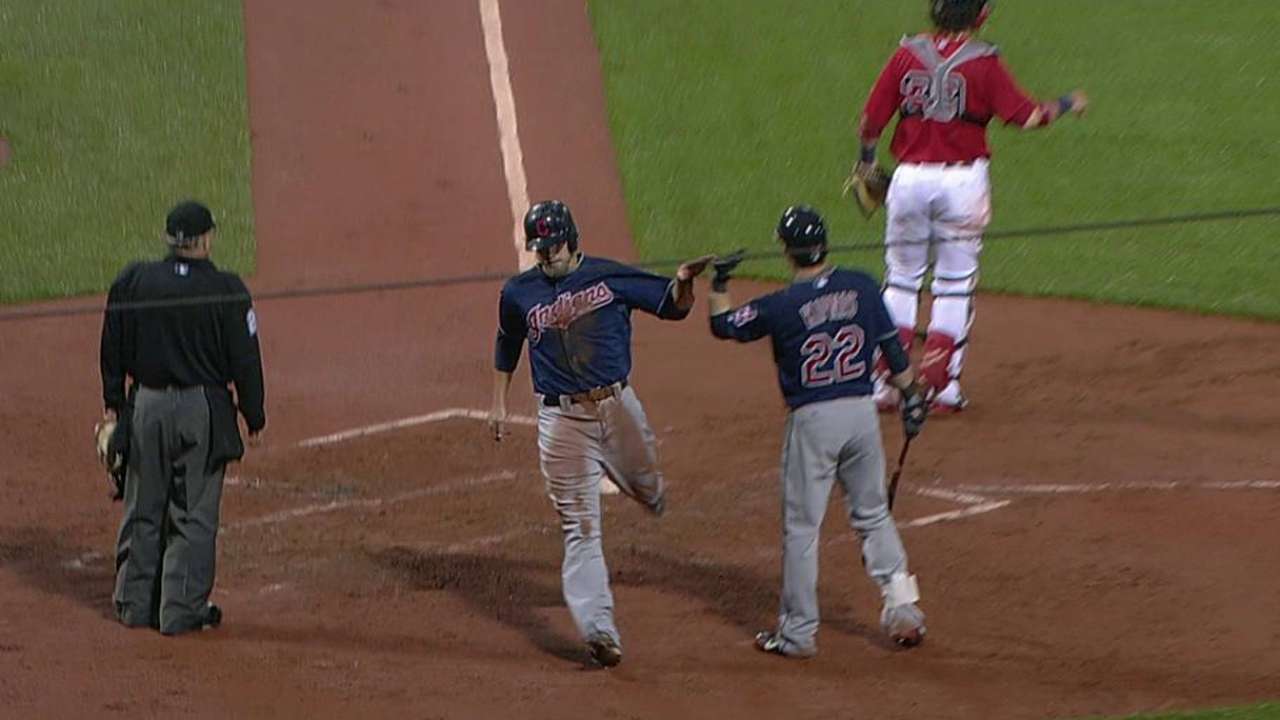 BOSTON -- The Indians have shown a knack for shrugging off lopsided losses early on this season. That is good, because the defeat they suffered on a wet Friday night at Fenway Park was the kind of loss the Tribe will want to quickly forget.
Red Sox right-hander John Lackey quieted the Indians' potent lineup, making the few mistakes of starter Justin Masterson more glaring in an 8-1 loss. Cleveland has suffered three defeats in a four-game stretch for the first time since the end of April.
The Tribe (27-20) plans on swiftly turning the page.
"Without a doubt," Masterson said. "We're a good team. You look at it tonight, I didn't do as well as I was hoping to and the guys probably wish they would've put some more runs on the board. It was raining. It was ugly, but by the end of it, everyone is like, 'You know what? It would've been nice to win this game, but we didn't. A loss is a loss, whether it's by two or by seven.'
"We'll come back tomorrow and do our thing. We know we'll be able to."
The Indians, who are a half-game behind the first-place Tigers in the American League Central, have lost by five or more runs eight times this season. On average, Cleveland has been outscored by more than four runs in its 20 defeats this year. Being on the wrong end of a rout has been an early trend through the first two months of the season.
This is a good time to mention that the Indians have won 19 of their last 26 games.
That is a snapshot of Cleveland's mentality.
"You've got to have a short memory in this game," veteran Jason Giambi said. "You've got to come back tomorrow and play a good baseball game tomorrow. That's a good Red Sox team over there. We played well [Thursday] night. We struggled tonight. You've got to tip your cap. John Lackey threw a great game."
Lackey gave Boston (29-20) seven innings and struck out eight, limiting the Indians -- second in the Majors in runs scored, entering Friday -- to one unearned run on two hits. In the third inning, Mark Reynolds and Michael Brantley pulled off a double steal, but the throw to third base from catcher Jarrod Saltalamacchia was wild, sailing into left field. Reynolds scored easily to account for the Tribe's lone run.
"That's just good baseball," said manager Terry Francona, referring to Reynolds' sprint to third. "They're not paying attention to him and that's a situation where you've got to be safe. At the time, it ends up being a big play."
Lackey made sure it was the Indians' only scoring play.
"I thought he was good," Francona said. "He had velocity. He ended up throwing that cutter very effectively. He kind of ran it in on our lefties, and as he got more successful with it, he started bringing it off the plate a little bit, opening up the rest of the plate."
Masterson (7-3) would not blame the weather -- both teams played through a steady rain all evening -- or the 44-minute delay before the game began, but it was clear that the starter was off from the start. His slider has been a stellar secondary weapon all season, but Masterson struggled to command the pitch against his former club.
"I was hanging a lot of sliders," Masterson said. "I wasn't getting through a lot of pitches like I wanted to. If I didn't hang a slider, I was hitting someone in the back foot with it. I just got in some bad counts. I didn't as feel as good as I would've liked to, but we tried to battle and work through it."
Things got away from Masterson in the second inning, and spiraled out of control for the Tribe after his departure.
In the second, the big righty issued a leadoff walk to slugger David Ortiz and then allowed a base hit to Mike Napoli. Two hitters later, left fielder Mike Carp -- a thorn in Masterson's side this season -- settled into the batter's box with one out.
Masterson spun a 1-1 slider, which Carp crushed and deposited over the wall in right field for a three-run home run to put the Indians down, 3-0. That marked the fourth extra-base hit in Carp's first four at-bats against Masterson this season. The outfielder clubbed a pair of doubles and a triple off the sinkerballer in a Red Sox win on April 17.
"I got him out his last at-bat against me," Masterson quipped. "No, it seems to be from the last outing facing him to this one, he's seeing something well. You're going to have that every once in a while."
Boston had two more breakthroughs that added damage to Masterson's final line.
In the sixth inning, Napoli chopped a pitch to shortstop Asdrubal Cabrera with the bases loaded for a would-be inning-ending double play. Cabrera flipped the ball to second baseman Jason Kipnis, whose throw to first base forced Nick Swisher off the bag. Napoli was safe and one run scored, putting Cleveland in a 4-1 hole.
Masterson bowed out of the ballgame after allowing a leadoff single to Saltalamacchia in the seventh. Boston's catcher eventually came around to score when Jacoby Ellsbury delivered a two-run single off lefty Rich Hill, pushing the Tribe behind, 6-1, and putting the final touch on Masterson's performance.
The Red Sox continued to pad their lead in the seventh when Dustin Pedroia added a two-run single off reliever Matt Albers.
Masterson was charged with five runs on six hits over six-plus innings, ending the evening with five strikeouts, one walk and one hit batsmen.
The Indians do not intend to dwell on this defeat.
"Regardless of what happens," Francona said, "tonight's game can have no bearing on tomorrow."
Jordan Bastian is a reporter for MLB.com. Read his blog, Major League Bastian, and follow him on Twitter @MLBastian. This story was not subject to the approval of Major League Baseball or its clubs.