With surgical precision, Lackey soaks Tribe
Allows unearned run, two hits and fans eight over seven innings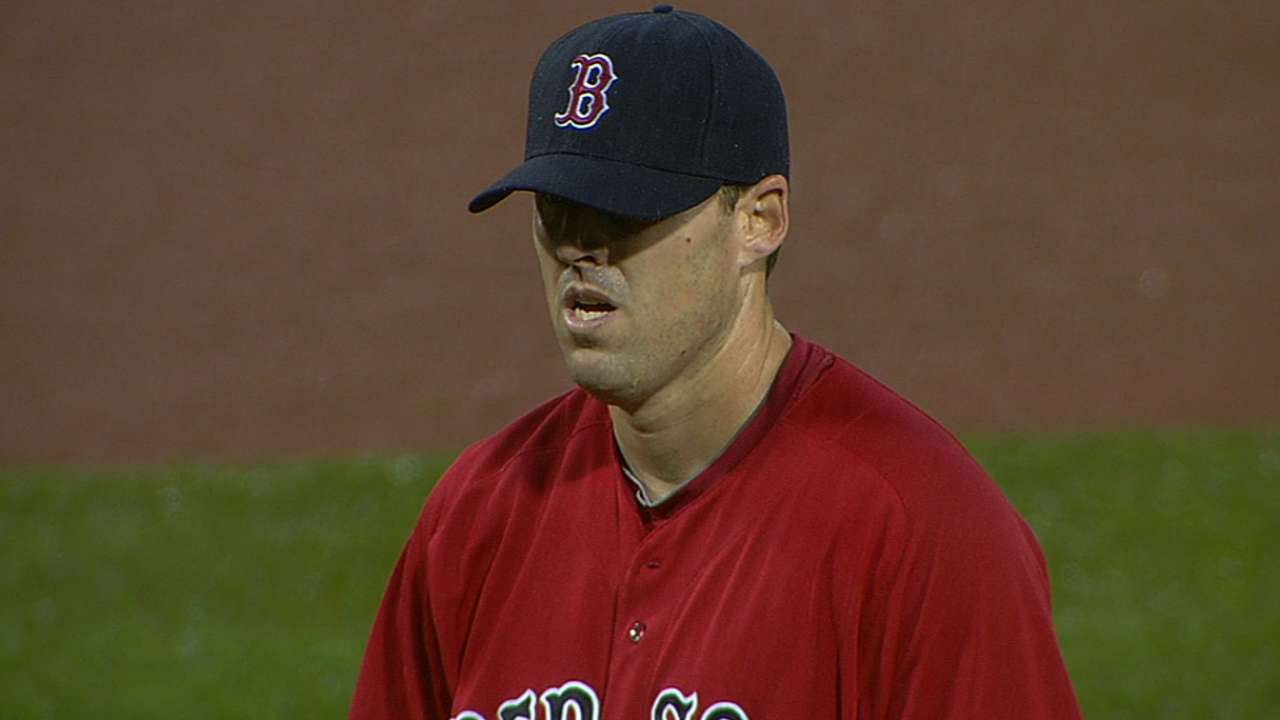 BOSTON -- Though it is still early, the Red Sox appear to be getting the best-case scenario when it comes to John Lackey's return from Tommy John surgery.
The right-hander hasn't just come back to take a spot in the rotation. He looks poised to put together the type of success that marked his years with the Angels.
Friday marked the second straight start that Lackey was masterful. While leading the Red Sox to an 8-1 victory over the Indians at a rainy Fenway Park, the righty allowed just two hits and an unearned run over seven innings. He walked three and struck out eight.
In Lackey's last two starts, he hasn't allowed an earned run over 13 innings.
"It's been a lot of fun," said Lackey. "It's fun to get back in there with the guys. They are a great group of guys to compete with and have success. It's nice just to be healthy and not fighting a whole lot of other things. I've been able to execute pitches and am feeling pretty good."
Don't be fooled by Lackey's 3-4 record. His 2.72 ERA is far more indicative of the way he's pitched.
If Red Sox fans are surprised by Lackey's success, perhaps a look at his pre-surgery track record is in order.
"I had one bad year and needed surgery afterwards," said Lackey. "It's not like I've never been good before."
While slicing through Cleveland's batting order, Lackey threw 109 pitches, 71 for strikes.
For Lackey, the exciting part in all this is that his pitches figure to get better as the season progresses.
"I felt pretty good," said Lackey. "I felt like arm strength and stuff is getting better. Endurance is getting better. Things are going on the right track. Honestly, I don't think it's all the way there yet, but definitely I think tonight was a nice step. I think I got over 100 pitches. Now I just need to do that a few times and hopefully carry some velocity through the game a little bit better."
In the sixth, after Lackey struck out Nick Swisher, he hopped off the mound with a fist pump. That was a sight Angels' fans became accustomed to for years.
"John had some good intensity tonight throughout," said manager John Farrell. "He gets a big strikeout to end the sixth inning and you could see the emotion. More than anything, that says he's not thinking about anything that's taken place in the past, either performance-wise or injury-wise, and he's going out and competing at a high level right now."
After getting shellacked to the tune of 12-3 by the red-hot Indians on Thursday, the Red Sox badly needed Lackey to set the tone -- and he did just that.
Lackey got an early boost from his offense, as Mike Carp drilled a three-run homer in the second against Justin Masterson to make it a 3-0 game.
"I was just looking to drive the ball and get that run in, and he left one over the plate and I put a three on the board," said Carp. "He doesn't want me to get extended. He let me get extended by getting it out over the plate."
Lackey opened the third by giving up two straight hits, a single to left by Mark Reynolds and an infield hit by Michael Brantley. With two outs, the Indians called for a double steal that turned into a problem for the Red Sox. Jarrod Saltalamacchia's throw to third wasn't even close, and it sailed into left field. The ball glanced off Carp's glove and Reynolds scored to make it a 3-1 game.
With the bases loaded and one out in the sixth, the Red Sox added an insurance run on a strange play. Mike Napoli hit a grounder to short. The Indians got the force at second, but the throw to first by Jason Kipnis took first baseman Nick Swisher off the bag as Daniel Nava scored. As Swisher tried to tag out Napoli to no avail, Dustin Pedroia attempted to score from second. However, he was tagged out easily, ending the inning.
"We were able to manufacture that fourth run on great heads-up baserunning by Napoli to avoid the tag for the fourth run," said Farrell. "It was a good night here tonight."
The Red Sox broke it open with a four-spot in the seventh. The big hits were two-run singles from Jacoby Ellsbury and Pedroia.
From there, Lackey handed it over to the bullpen after another job well done.
"I thought he was good," Indians manager Terry Francona said. "He had velocity. He ended up throwing that cutter very effectively. He kind of ran it in on our lefties, and as he got more successful with it, he started bringing it off the plate a little bit, opening up the rest of the plate."
Ian Browne is a reporter for MLB.com. Read his blog, Brownie Points, and follow him on Twitter @IanMBrowne. This story was not subject to the approval of Major League Baseball or its clubs.