Mauer's ninth-inning knock breaks up no-hit bid
Sanchez strikes out 12 Twins as losing streak reaches double digits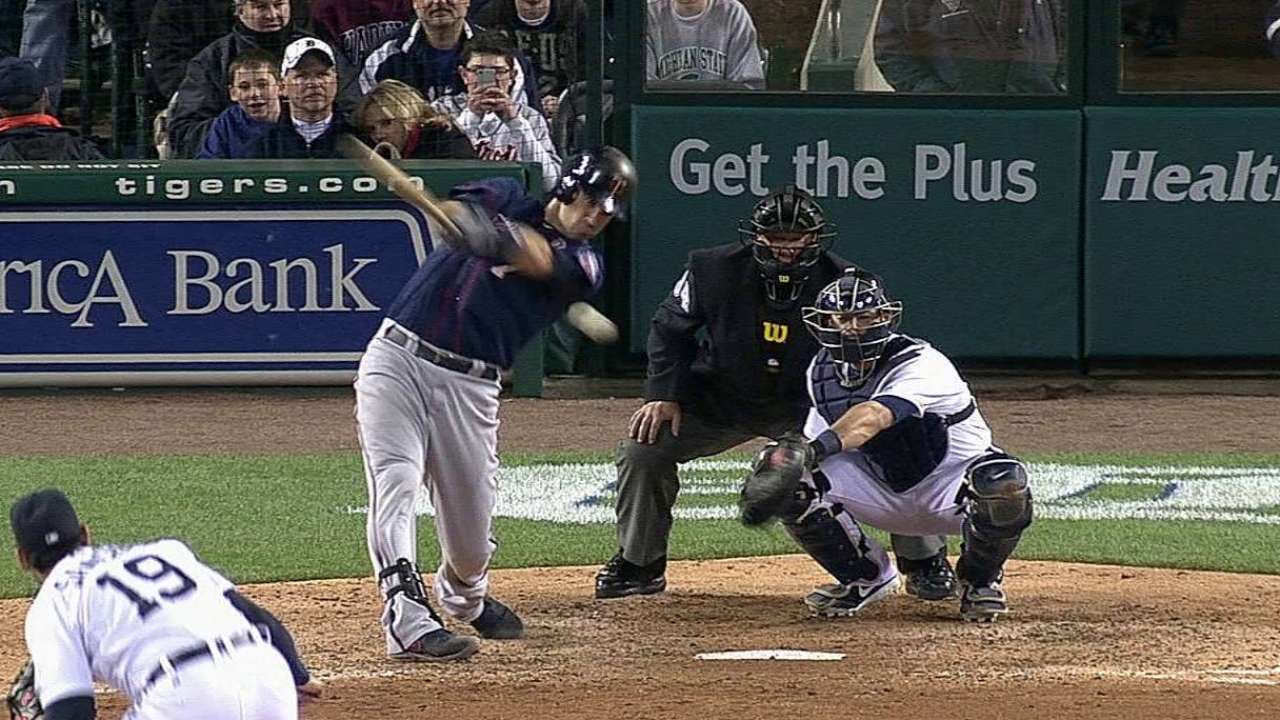 DETROIT -- It was only fitting that on the night the Twins just about hit rock bottom, they nearly couldn't get a hit at all.
The Twins saw their losing streak reach double digits and were almost no-hit by Tigers right-hander Anibal Sanchez in a 6-0 loss Friday night in front of a crowd of 39,789 at Comerica Park.
Sanchez, making his 10th start of the year, didn't give up a hit until there was one out in the ninth, when Joe Mauer singled up the middle to break up the bid. Sanchez's one-hit effort handed the Twins their 10th straight loss, which is their longest streak since losing 11 games in a row from Sept. 9 to 21, 2011.
"It's just kind of how it's been going," Mauer said. "The ball isn't bouncing our way very well. When you've got a guy out there throwing the ball like he did tonight, it's tough. You just have to stay positive."
Mauer was able to deposit a 1-1 curveball from Sanchez up the middle for a clean base hit to break up the no-no. It marked the third time in his career he'd broken up a no-hitter in the ninth, as he did against the White Sox on May 6, 2008, and against the Rangers on May 6, 2008.
"It's really hard to face that guy four times or five times in one game and dominate," Sanchez said. "This guy, he's so smart. I tried to make my best pitch."
Mauer's single cost Sanchez a second career no-no, as he threw a no-hitter Sept. 6, 2006, against the D-backs while pitching for the Marlins.
Minnesota managed three walks against Sanchez, with Jamey Carroll leading off the game with a walk and Chris Parmelee walking with one out in the second. Sanchez retired 18 in a row before issuing a free pass to Eduardo Escobar with one out in the eighth.
But Sanchez was simply dominant, as he struck out 12 batters, including pinch-hitter Chris Colabello to end the eighth, stranding Escobar at second after pinch-hitter Ryan Doumit hit into a fielder's choice.
"Their guy shut us down totally," Twins manager Ron Gardenhire said. "He had great stuff. Our guys were saying his ball was diving and his breaking ball was sharp. So congratulations to him. He pitched a heck of a ballgame. Fortunately for us, Joe got a hit."
Sanchez outpitched right-hander Samuel Deduno, who was recalled from Triple-A Rochester before the game and struggled in his season debut, giving up six runs on nine hits and three walks over 5 1/3 innings.
"I couldn't get my grip on the breaking ball," Deduno said. "That was my problem. I couldn't throw my breaking ball for a strike."
The Tigers scored three runs in the second after loading the bases with two outs. Deduno didn't help his cause with two defensive misplays, as he failed to cover first base on a potential double-play ball hit to first base by Don Kelly and couldn't field a soft grounder from Avisail Garcia.
"I thought it was going to be a base hit so once I saw [Justin] Morneau got it, I was late to first base," Deduno said. "So if I would've went early, I would've been able to make it."
Deduno walked Omar Infante to bring home the first run before Miguel Cabrera laced a two-run single past a diving Carroll at third base.
Detroit added two more runs in the third on a two-run blast from Kelly after Jhonny Peralta singled. The homer landed just out of the reach of Chris Parmelee, who made a leaping effort at the wall in right field.
Deduno exited in the sixth after giving up back-to-back singles to Garcia and Andy Dirks with one out. Rookie reliever Ryan Pressly gave up an RBI single to Infante, but was able to strike out Cabrera and get Prince Fielder to ground out to first to end the inning.
But the story of the night was Sanchez's performance, and it reminded Josh Willingham of Sanchez's no-hitter in '06, as he was his teammate with the Marlins at the time. But Willingham was also relieved not to be on the wrong part of history after Mauer's clean single.
"It may have been the only mistake he made all game," Willingham said. "It was a hanging breaking ball and he just drove it up the middle. You never want to be no-hit so I was happy to not be no-hit. He was throwing the ball great. It was moving all over the place like a Wiffle ball."
Rhett Bollinger is a reporter for MLB.com. Read his blog, Bollinger Beat, and follow him on Twitter @RhettBollinger. This story was not subject to the approval of Major League Baseball or its clubs.