Cubs, Feldman topped by Reds' five-run fourth
Cincinnati's big inning erases Feldman's first career home run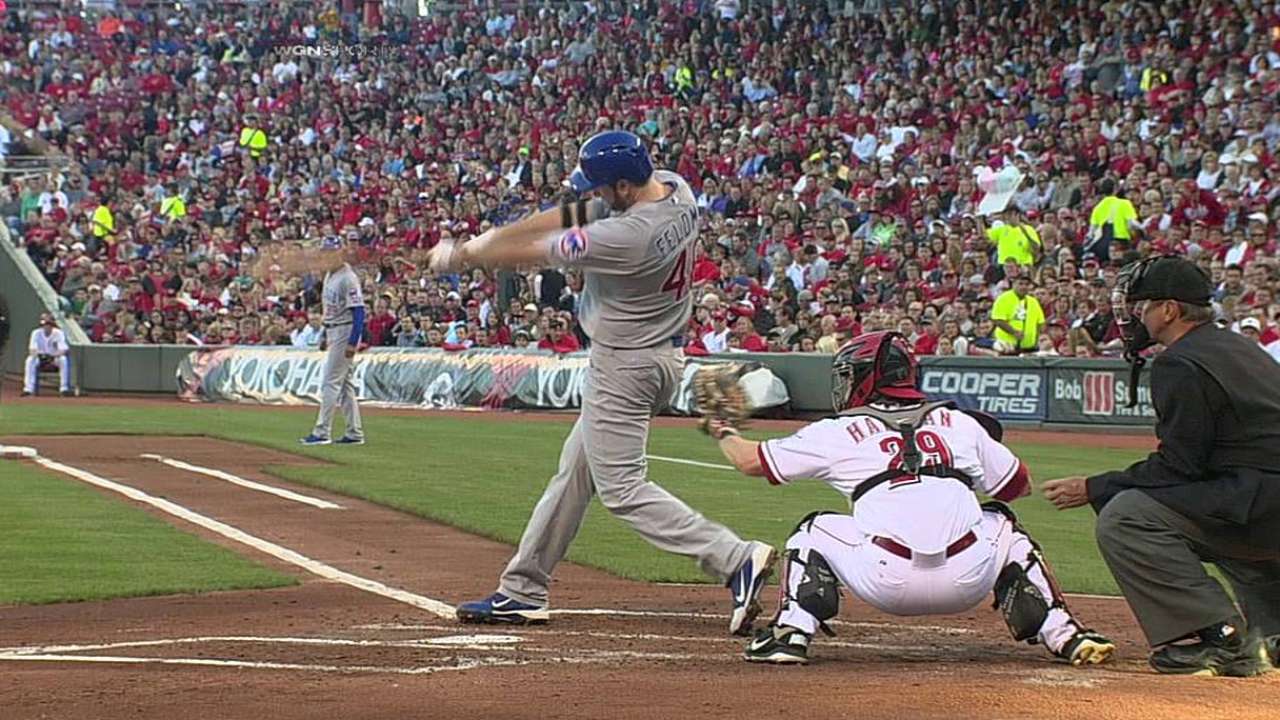 CINCINNATI -- Before Friday's game, Cubs assistant hitting coach Rob Deer razzed pitcher Scott Feldman about missing the hitters' meeting. Feldman apparently had done his homework.
The right-hander hit his first career home run, a two-run shot, but he also served up a pair of homers as the Reds posted a 7-4 victory Friday night over the Cubs, who lost their fifth in a row. Joey Votto hit a solo home run with one out in a five-run fourth, which included a three-run homer by Ryan Hanigan on a pitch Feldman would like to have back.
The Reds trailed 3-0 heading into the fourth when Votto, a more experienced home run hitter than Feldman, collected his eighth of the season. Brandon Phillips then singled and moved up on a wild pitch and errant throw by Dioner Navarro. Todd Frazier walked, although Feldman thought he had struck him out on a 3-2 pitch, and Xavier Paul followed with an RBI single. Hanigan then hit a three-run home run to go ahead, 5-3.
"[Feldman] was one pitch away from another good outing," Cubs manager Dale Sveum said. "A 3-2 hanging curveball [to Hanigan] -- that seems to be our motto lately, is one hanging offspeed pitch in situations where we can do anything with a baseball with the pitcher coming up. We're making bad mistakes at the wrong time in situations where we don't have to even throw a strike."
Reds starter Bronson Arroyo followed Hanigan in the lineup, and Feldman got him to fly out to right but the damage was done.
"It really was a bonehead pitch there," Feldman said of the curve to Hanigan. "We had the pitcher on deck, and the one thing that could hurt us right there was giving up a home run. That one stings a little bit. It did come down to that one pitch, and I wish I had it back."
"That was a big, big turn in the game there, that five-run inning," Hanigan said. "Guys had good at-bats, getting on base, a couple hits. I popped one and gave us the cushion there."
Cubs pitchers take hitting seriously. Jeff Samardzija and Travis Wood took early batting practice on Friday. Both of them have already hit home runs this month, and Feldman's blast raised the Cubs pitchers' total RBIs in May to 15, the most in one month since the August 1937 staff drove in 15. Since 1921, the most RBIs in a month by Chicago hurlers is 16, set in July 1925.
However, the Cubs need production from someone other than the pitchers. In the last four games, Chicago pitchers have four RBIs, while the position players have six.
The Cubs have been happy with Feldman's pitching of late. He began the season 0-3 and entered Friday's game with a stingy 1.27 ERA in his five previous starts, giving up five earned runs over 35 1/3 innings. The Reds totaled that many runs in the fourth.
Luis Valbuena doubled with one out in the Cubs' second against Arroyo, moved up on Navarro's single, and scored on Darwin Barney's sacrifice fly. Feldman followed with his home run off a 3-2 pitch to go ahead, 3-0. The Cubs pitcher entered the game with six hits in 38 career at-bats, and half of those have come this season. The blast also ended a string of six homerless road games for the Cubs.
"It felt good," Feldman said of his big hit. "But now, I don't even feel like I hit a home run, because I kind of ruined it with that pitch I hung to Hanigan. It felt good at the time [to hit it]. I could go the rest of my career without getting a home run, if I could win the game."
He never hit a home run in the Minor Leagues, and said his last one was most likely when he played for the College of San Mateo.
"We do hit a lot [with the Cubs], and that's definitely helped," he said. "I was feeling a little more comfortable trying to hit, but at the end of the day, I'm a pitcher and sometimes you just get lucky."
Valbuena added an RBI single with one out in the eighth, driving in Ryan Sweeney, who had doubled, but Phillips gave the Reds a cushion with a two-run home run in the eighth.
The Cubs dropped to 1-6 in their last seven games, and a season-low 11 games under .500 at 18-29. The Trade Deadline isn't that far away.
"There's no question about it -- we all know if we don't [play better], there could be changes," Sveum said.
Cubs first baseman Anthony Rizzo went 0-for-5, and now is 0-for-22 in his last five games. Since he signed the seven-year, $41 million contract extension on May 13, Rizzo is batting .143 (6-for-42) with one home run and three RBIs.
"I guess you can call it different things," Sveum said of Rizzo's funk, "but he's not taking his walks. He's just kind of swinging, guessing. There's a lot more movement than he normally has at the plate."
Could Rizzo benefit from a day off?
"I guess a lot of people could do that right now," Sveum said.
The Cubs have had their patience tested. They've had 41 of their 47 contests decided by four runs or less.
"We've been in a lot of tight games, and when you get in a tight game and you give up that big hit on that one pitch, it stings," Feldman said. "I think the guys in here will continue to battle. We still have a lot of games left and a lot of time to try to win some more games."
Carrie Muskat is a reporter for MLB.com. She writes a blog, Muskat Ramblings, and you can follow her on Twitter @CarrieMuskat. This story was not subject to the approval of Major League Baseball or its clubs.