Saunders runs out of Safeco magic
Rangers hand Mariners lefty first loss in Seattle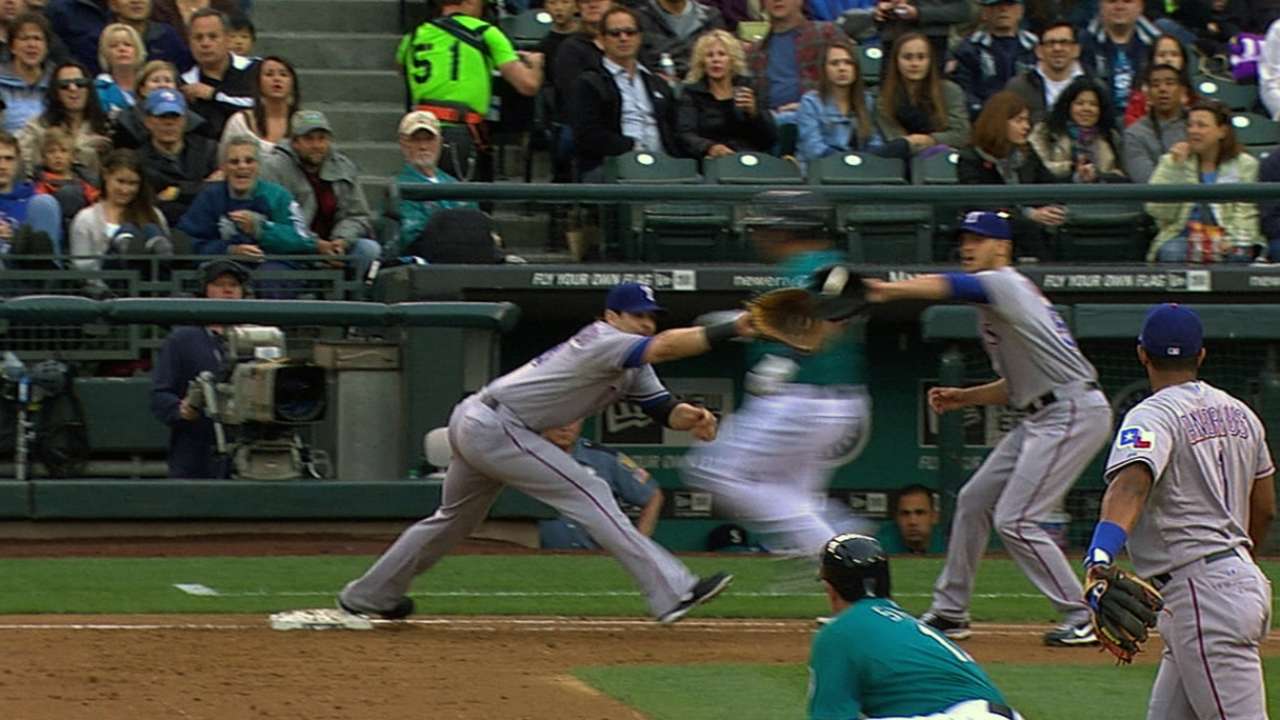 SEATTLE -- Not even "Safeco Joe" could prevent this one.
Left-hander Joe Saunders continued a mid-May Mariners malaise on Friday night in a 9-5 loss to the Texas Rangers, Seattle's seventh consecutive defeat. He damaged some remarkable personal statistics in the process, too.
Saunders had brought a 9-0 record and a 1.72 ERA in 13 career starts at this ballpark into the proceedings, but he finally took a local loss -- and a particularly tough one. With two runs in the second, three in the third and another in the fourth, Texas erased any momentum the Mariners had generated with runs in each of the first three frames.
And soon enough, Saunders' incredible Safeco numbers had given way to another telling statistic: After Friday, the left-hander is 3-9 with 6.60 ERA in 14 regular-season starts against the Rangers. It's the third-highest ERA against Texas among pitchers with a minimum of 10 starts in opposition.
Saunders gave up six runs on eight hits in five innings and saw his ERA climb to 6.09 despite striking out a season-high seven batters.
"In this game, you've got to forget quickly and go get the next guy," Saunders said. "I tried to minimize the damage the best I could, and at least chew up some innings, but this game can be frustrating, to say the least, at times. You've just got to keep your head up."
The Mariners had made some changes to a slumping roster before the game to try to do just that. Seattle optioned catcher Jesus Montero to Triple-A, calling up Jesus Sucre to replace him; and they designated infielder Robert Andino for assignment, calling up Carlos Triunfel to take his place.
The team hoped the new blood, and the change of scenery after a grueling nine-game road trip through New York, Cleveland and Anaheim, would help matters against the Rangers, who entered the game with the best record in baseball. Things looked promising in the bottom of the first inning against Texas' Justin Grimm when Kyle Seager hit a two-out double and Kendrys Morales drove him in for a 1-0 lead.
That was short-lived, however. Jeff Baker hit a two-out home run in the second to put the Rangers up, 2-1.
Things got strange when Sucre stepped to the plate for his first Major League at-bat with runners on first and second and none out in the bottom of the second. Sucre grounded the ball to Texas first baseman Mitch Moreland, who fielded it and threw to shortstop Elvis Andrus. Andrus stepped on second base for the first out and then relayed back for a double-play attempt.
In what was sure to be revisited on highlight reels throughout the night -- and maybe the season -- first-base umpire Jeff Nelson ruled that Moreland had caught the relay to complete the double play, even though Seattle manager Eric Wedge would argue that Moreland's foot came off the bag. What Wedge, Nelson and most without the benefit of instant replay did not see, however, was that Moreland never caught the ball. Grimm, who had run over to cover first, caught the ball while he was standing a good three feet from the base.
The play was ruled a 3-6-1 double play and served as a bizarre footnote in an otherwise dismal game for the Mariners.
"Everybody's just focused on the bag," Wedge said. "I thought he came off the bag. That's what I was out there arguing. And then I come to find out later, with the replay, that he didn't even catch the ball. ... It would have been a much bigger argument if I had known that at the time, no doubt about it."
Added Grimm: "That happened so fast. I didn't realize the umpire called him out. When Elvis threw the ball, I didn't think Mitch would get it, so I snagged it trying to save a run and keep the double play in order. [Umpres] have a tough job. I don't think people realize how quick things can happen out there. We caught a break."
Wedge had some good things to say about his offense, which actually outhit Texas, 14 to 13, and fought until the end, scoring twice in the ninth inning. And the bats clicked early, with continuing progress at the plate by Brendan Ryan (RBI double in the second) and Raul Ibanez (RBI double in the third). But the pitching could not stop the Texas onslaught.
Lance Berkman hit a three-run homer in the third inning to give Texas a 5-2 advantage, and while the Mariners clawed back to 5-3 in the bottom of that frame, the Rangers pulled away. Every hitter in the Rangers' starting lineup had at least one hit, and so did David Murphy, who came in to pinch-hit for Baker and ended up with a two-run single in the Rangers' three-run seventh.
Sucre led off the bottom of the ninth against Rangers reliever Joseph Ortiz and picked up his first big league hit, a single, and scored on Ryan's second double of the game. After flyouts by pinch-hitters Jason Bay and Triunfel, Seager added a second double of his own, knocking in Ryan to make it 9-5. Ortiz then walked Morales to put two runners on and force the Rangers to use their closer, Joe Nathan.
Nathan ended the rally by striking out Mike Morse.
"We've got guys who need to step up here, and we've got a lot of guys, offensively, it looks like they're headed in the right direction, so I think we're on the upswing there," Wedge said. "I want to be more consistent with that. I want to come out here tomorrow and bang the ball around again a little bit. But we've got to do a better job earlier in the ballgame."
That's on the starters, and on Friday, it was on Saunders.
"We're a way better team than what the results have been," Saunders said. "Like I said before, it's freaking frustrating. I know I can do better, especially on the road this year. So it's time for us to turn it around and throw some Ws up there. What else can I say?"
Doug Miller is a reporter for MLB.com. Follow him on Twitter @DougMillerMLB. This story was not subject to the approval of Major League Baseball or its clubs.