Grimm uses homers, 'break' to top Mariners
Double-play call overshadows big flies by Baker, Berkman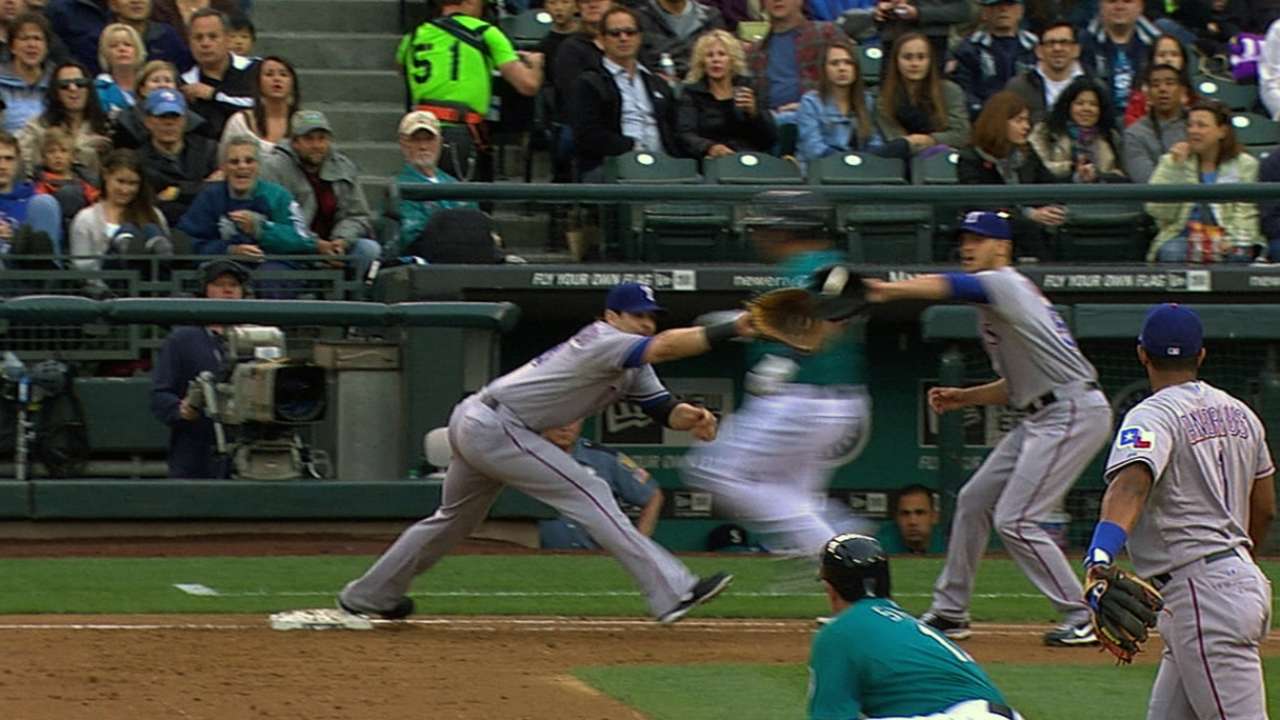 SEATTLE -- Rangers starter Justin Grimm was struggling through the first three innings on Friday night against the Mariners, allowing eight hits to the first 15 batters he faced.
"It was a battle," Grimm said. "I don't mind giving up hits, but I was leaving the ball over the plate and making it easy for them."
Grimm was able to limit the damage by getting some big outs in crucial situations. But a bizarre phantom double play also helped, and that's what they were talking about after the Rangers held on for a 9-5 victory over the Mariners at Safeco Field.
"That was a huge double play," manager Ron Washington said.
He was asked if he saw the replay.
"I don't need to see a replay," Washington said with a smile. "We caught a break there."
That was the case on a night when Jeff Baker and Lance Berkman hit their first home runs in two weeks. That helped the Rangers beat Mariners starter Joe Saunders, who was 9-0 with a 1.72 ERA in 13 career starts at Safeco Field going into the game. But this was his first start here against the Rangers.
Saunders, after allowing six runs in five innings, is 3-9 with a 6.60 ERA in 14 career starts against Texas. That's the third highest ERA ever against the Rangers by a pitcher with at least 10 starts in opposition.
"He probably wasn't quite as sharp as he normally is here," Berkman said. "But we're a good-hitting team, and we took advantage of some situations."
Baker's two-run homer in the top of the second gave the Rangers a 2-1 lead going into the bottom of the second. That's when the Rangers caught the break of the night.
Grimm gave up leadoff singles to Raul Ibanez and Justin Smoak to put runners at first and second. Jesus Sucre followed with a grounder at first baseman Mitch Moreland, who threw to second to start the double play.
Both Moreland and Grimm then went to cover first. Moreland won the race, but shortstop Elvis Andrus' return throw was more toward Grimm, who was a few feet off the bag to the inside. Both players went to catch the ball, but Grimm made the grab. Smoak was called out by first-base umpire Jeff Nelson, even though Grimm did not have his foot on the bag and Moreland didn't have the ball in his glove.
"That happened so fast," Grimm said. "I didn't realize the umpire called him out. When Elvis threw the ball, I didn't think Mitch would get it, so I snagged it trying to save a run and keep the double play in order. [Umpires] have a tough job. I don't think people realize how quick things can happen out there. We caught a break."
Moreland said Sucre would have been out if Grimm had not intercepted the throw.
"When he called the guy out ... I told Grimm, 'Walk with me. There's going to be an argument,'" Moreland said. "But I felt I was right on the ball."
There was an argument by Mariners manager Eric Wedge, but even he didn't know exactly what happened.
"Everybody's just focused on the bag," Wedge said. "I thought he came off the bag. That's what I was out there arguing. And then I come to find out later, with the replay, that he didn't even catch the ball. ... It would have been a much bigger argument if I had known that at the time, no doubt about it."
Brendan Ryan's double drove home a run to tie the game, 2-2, but Grimm struck out Michael Saunders to end the inning. Berkman then put the Rangers ahead with a three-run home run in the third. It was Berkman's fourth home run of the year, but his first from the right side.
"It doesn't matter to me if it's left-handed or right-handed, I'm just happy I hit it," Berkman said.
Grimm gave up three straight two-out hits in the third as the Mariners cut the lead to 5-3. But, with runners at second and third, he retired Smoak on a fly to center to end the inning. He followed that up with three scoreless innings before leaving after retiring the leadoff hitter in the seventh. He allowed 10 hits but did not walk a batter and struck out five. With his second straight win, Grimm is now 4-3 with a 4.05 after eight starts.
"The first three innings he kept getting the ball up," Washington said. "After that he got the ball down and got the outs we needed."
T.R. Sullivan is a reporter for MLB.com. Read his blog, Postcards from Elysian Fields, and follow him on Twitter @Sullivan_Ranger. This story was not subject to the approval of Major League Baseball or its clubs.