Capuano allows five earned runs in loss
Dodgers held to three hits in series opener against Cardinals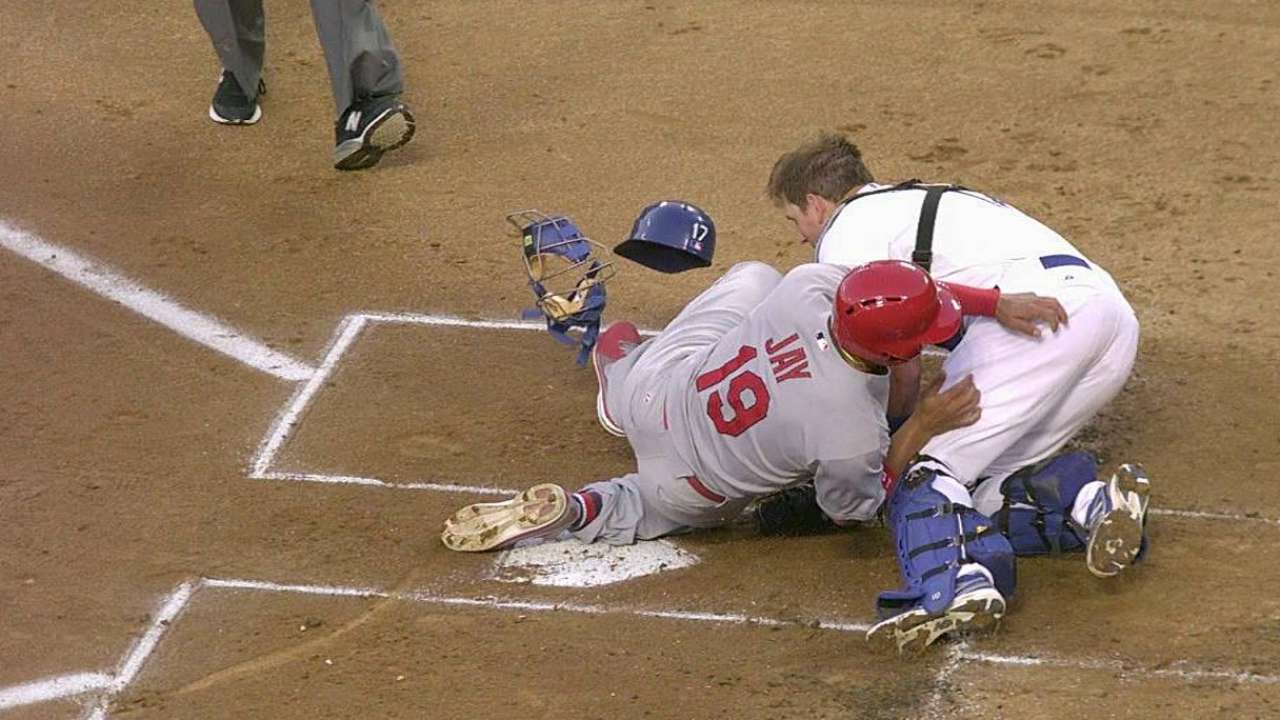 LOS ANGELES -- The Dodgers didn't open their five-game homestand they way they wanted to on Friday night.
Chris Capuano was unable to deliver a third consecutive quality start, and the Dodgers were shut out by the Cardinals, 7-0, at Dodger Stadium in the opener of a three-game series against the team with the best record in the Major Leagues.
The Dodgers managed only three hits, struck out 11 times and had just one runner reach scoring position.
The Cardinals (31-16) took the lead in the second inning and never looked back as they handed the Dodgers their fifth loss in the past seven games.
"It's really not the way you envision coming back home and getting the homestand started," Dodgers manager Don Mattingly said. "They score early and we basically don't have a lot of chances to score and they just kind of keep adding on."
Capuano lost for the third time in five starts and allowed six runs (five earned) on six hits, including two home runs, in five-plus innings. The left-hander struck out four against three walks.
"I just started rushing a little bit out there and was getting frustrated, and really speeding things up," Capuano said. "I'm not real happy mentally with the way I handled the game."
The Dodgers recorded just two hits against Cardinals starter Lance Lynn, who struck out nine over six dominant innings. The right-hander won his seventh game this season and remained unbeaten against the Dodgers in three career starts.
Lynn pounded the zone with fastballs for much of his outing, as the Dodgers were unable to catch up to his heater and make solid contact.
"That's the plan going into every start for me," said Lynn, who departed after six innings only because he experienced tightness in his lower back and hamstring. "But sometimes you give up some hits and have to start adjusting. Tonight, I was able just to keep making pitches with it, so I didn't have to go to anything else until the second time through, just to show them something different."
It was the fourth time this season the Dodgers were held scoreless, the first since April 14 at Arizona.
"We've got to do a better job as a team of putting our own runs up, not putting so much pressure on our guys," catcher A.J. Ellis said.
The Dodgers had a scare in the top of second as Cardinals outfielder Jon Jay barreled into Ellis at the plate just in time to beat Nick Punto's relay throw for the first run of the game.
Ellis stayed on the ground for several minutes as manager Don Mattingly and team trainers checked on him, but Ellis remained in the game.
"It was a good, clean baseball play," said Ellis, who expects to be in the lineup on Saturday. "I wish the ball would have been a tick earlier and we could have gotten him out. You've got to stay there and protect home plate."
Jay said he was glad that no one was seriously injured.
"I don't know what happened," said Jay, who went 1-for-4 with two runs scored. "It was just a last-minute play. I'm glad he's not hurt, and I'm glad nothing bad happened to either of us."
A rare error by Dodgers first baseman Adrian Gonzlalez allowed Jay to reach base. The former Gold Glove award winner fielded a ground ball, but made an errant toss to Capuano as the pitcher ran to cover first.
"I kind of got over there too quick and made it a tough play for him," Capuano said. "I was just rushing a little bit."
Allen Craig added to the Cardinals' lead with a two-run double in the third, then belted a solo shot to left-center in the fifth to make it 4-0.
Capuano served up another homer in the sixth, a two-run shot by David Freese that landed in the Dodgers' bullpen, and was removed in favor of Matt Guerrier.
"I just didn't make enough good pitches tonight," Capuano said. "It was hit and miss. For a stretch of a few pitches I would be real spot-on with location and then I would fly open and yank a few and miss my spots."
Guerrier retired the first three batters he faced, but the Cardinals loaded the bases against him without the benefit of a hit in the seventh and took a 7-0 lead on Yadier Molina's sacrifice fly.
J.P Howell relieved Guerrier and escaped the inning without further damage, but the Cardinals had already built an insurmountable lead. The left-hander tossed a 1-2-3 eighth, and rookie Paco Rodriguez fired a perfect ninth.
Carl Crawford led off the first with a single for the Dodgers, but was caught stealing. The Dodgers didn't have another baserunner until Juan Uribe doubled to right in the third, the only player to get into scoring position in the game.
Austin Laymance is an associate reporter for MLB.com. This story was not subject to the approval of Major League Baseball or its clubs.