Parra activated early but feels ready to play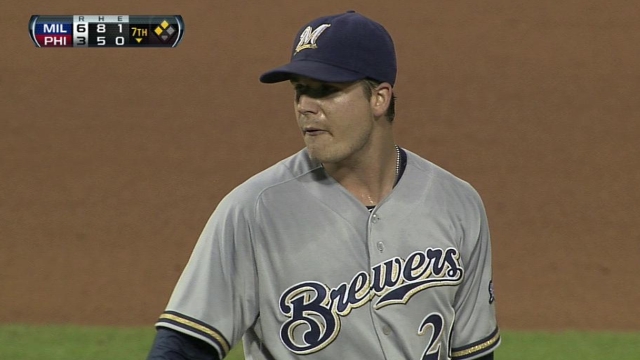 CINCINNATI -- Fresh off a trio of rehab starts for Double-A Pensacola, Reds reliever Manny Parra was back in Cincinnati this week to pick up some things and do some laundry before moving on to continue his rehab assignment with Triple-A Louisville.
Plans changed, though, when the Reds put fellow left-handed reliever Sean Marshall on the disabled list on Friday, and Parra received a call that he was to stay in Cincinnati.
"I'm excited," Parra said. "It's not always good when one of your guys goes down, but I'm excited to get back and compete at this level again."
The roles were reversed about a month ago, when Parra hit the 15-day disabled list with a strained left pectoral muscle and Marshall was reinstated from his first DL stint. Before the injury, Parra amassed an 8.10 ERA in six games, in large part because of a four-run outing on April 21 against Miami.
In his three starts for Pensacola, Parra pitched a total of five innings, surrendering three hits and no runs while registering five strikeouts. Most recently, he pitched two hitless innings on Sunday for the Blue Wahoos.
Although he was slated to continue rehabbing, Parra said he's ready to pitch at the big league level immediately. That's good news for manager Dusty Baker, who has just two left-handers in the bullpen between Parra and Aroldis Chapman.
"He's going to be our main lefty out of the pen," Baker said of Parra. "I'm just glad we got him, and he's back and healthy, because as soon as we get one guy back, another guy goes down. But at least we have some guys to put in that place."
Baker wasn't sure exactly how he planned to utilize Parra. Marshall often entered the game for special situations to face just one batter, and Baker said he might initially use Parra in a similar fashion.
"It all depends on how he does," Baker said. "Everything depends on his performance, as well as everybody's performance, so it's hard."
Jeremy Warnemuende is an associate reporter for MLB.com. This story was not subject to the approval of Major League Baseball or its clubs.