Astros fall as Veras allows costly homer in ninth
Dominguez, Martinez homer, but bullpen unable to hold late lead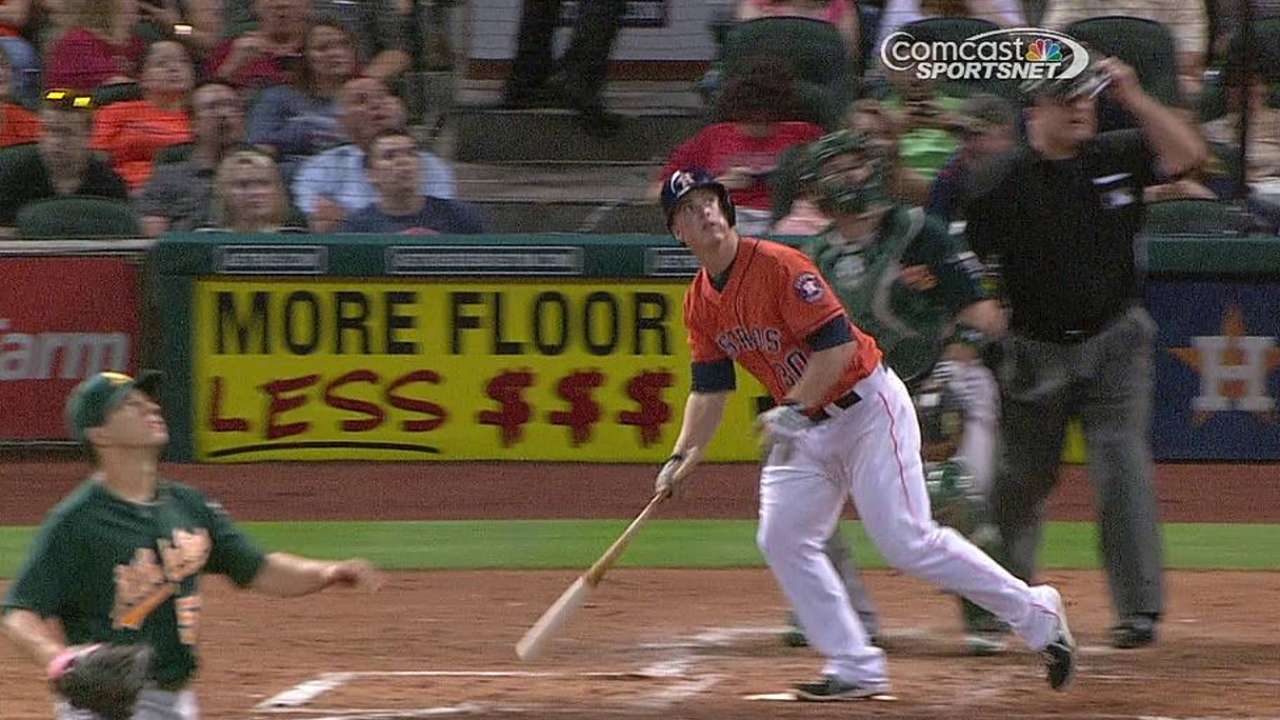 HOUSTON -- Astros manager Bo Porter spent the last few days promising that Houston was a different team than the one that lost to the A's six times in six games last month.
Through eight innings with a 5-3 lead, the Astros proved him right. Then, A's right fielder Chris Young ripped a three-run homer in the top of the ninth inning, lifting Oakland past the Astros, 6-5, in a home-run heavy affair Friday night in Minute Maid Park.
The teams combined for four home runs, none bigger than Young's no-doubter into the left-field seats off Houston closer Jose Veras that erased an otherwise stellar outing from the Astros' pitching staff.
"I didn't have a bad feeling until the ball actually cleared the wall," Porter said. "We thought we were going to get out of it like we had all game."
Veras entered the contest having converted his last six save opportunities, but couldn't recover after walking two A's.
"You fall behind in counts, and you pay one day," Veras said of the two walks. "That happened tonight. I fell behind the first two hitters and that cost us the game, not keeping control on those hitters."
After working the count to 1-1, Young, a Houston native, took an off-speed pitch from Veras well beyond the high left-field wall.
"It was a good pitch, but he just turned on it," Veras said. "It surprised me how good his contact was."
Young went 3-for-5 and scored two runs to break out of a 2-for-15 swoon over the last week.
"I've faced [Veras] quite a few times and he's normally had my number," Young said. "He's pitched well against me and broken plenty of my bats and probably struck me out quite a few times as well. I was just trying to make adjustments and get something up in the zone, whether it was a heater or a breaking ball. He happened to leave a breaking ball up."
The homer was the first hit Veras had allowed since May 3 against Detroit, when he also blew a save by allowing a home run. Astros starter Erik Bedard had been in line for his first win of the season after navigating through a 38-pitch first frame and only giving up two runs as the A's left the bases loaded.
Oakland has now outscored Houston, 15-1, in the first inning in the seven matchups so far this season. Bedard lasted five innings and allowed only those two early runs despite control problems that caused him to walk five batters and hit another.
The A's made that 2-0 advantage hold up for nearly five innings, as Oakland lefty Tommy Milone retired 12 of the first 14 Houston hitters he faced.
But Matt Dominguez's solo shot beyond the Crawford Boxes in left field with two outs in the fifth ignited a dormant Astros attack. After consecutive singles, Jose Altuve broke out of an 0-for-18 hitting slump with an RBI single.
J.D. Martinez capped the two-out rally, lacing a three-run homer off Milone to give Houston a 5-2 lead.
"I saw that in my first and second at-bats, [Milone] kept trying to throw me away, so I was looking away and wasn't trying to pull the ball," Martinez said. "In the fifth, he threw me that first cutter inside and didn't see me flinch, so I changed the approach. Instead of trying to hit it right back over the middle, let's just hit it left-center now and I was able to get my hands through it."
Martinez went 2-for-4 and is now batting .364 (12-for-33) with four home runs and 10 RBIs in his last 10 games.
"J.D. is a run-producer, and that's why he hits in the middle of the lineup," Porter said. "This guy can get on anybody's fastball, he uses the whole field, and when you use the whole field it makes you tough to pitch to."
Pinch-hitter Seth Smith added a solo home run in the sixth off Houston reliever Paul Clemens to inch the A's closer. It was Smith's sixth pinch-hit homer of his career, but his first in nearly three years dating back to May 27, 2010 against Arizona.
Despite that home run, Clemens and reliever Wesley Wright combined to allow just the one run over three frames before turning the ball over to Veras with the two-run lead.
"We were ahead, but that's baseball and games swing like that," Bedard said. "Things happen, but you bounce back and have another game tomorrow."
Oakland had outscored Houston, 45-19, in the team's first six meetings, easily sweeping the Astros twice during the first three weeks of the season.
Martinez said Porter's promise to show Oakland a better team didn't go unreceived despite the loss.
"Tonight still showed how much we've grown from the beginning two series," he said. "They put it to us last time, but Bedard did a good job of keeping it together and we had the opportunity to win. I think they feel that they have to come out stronger this time around against us, because we had them."
Chris Abshire is an associate reporter for MLB.com. This story was not subject to the approval of Major League Baseball or its clubs.