Young celebrates homecoming with clutch homer
Trailing by two runs in ninth, Houston native spoils Astros' lead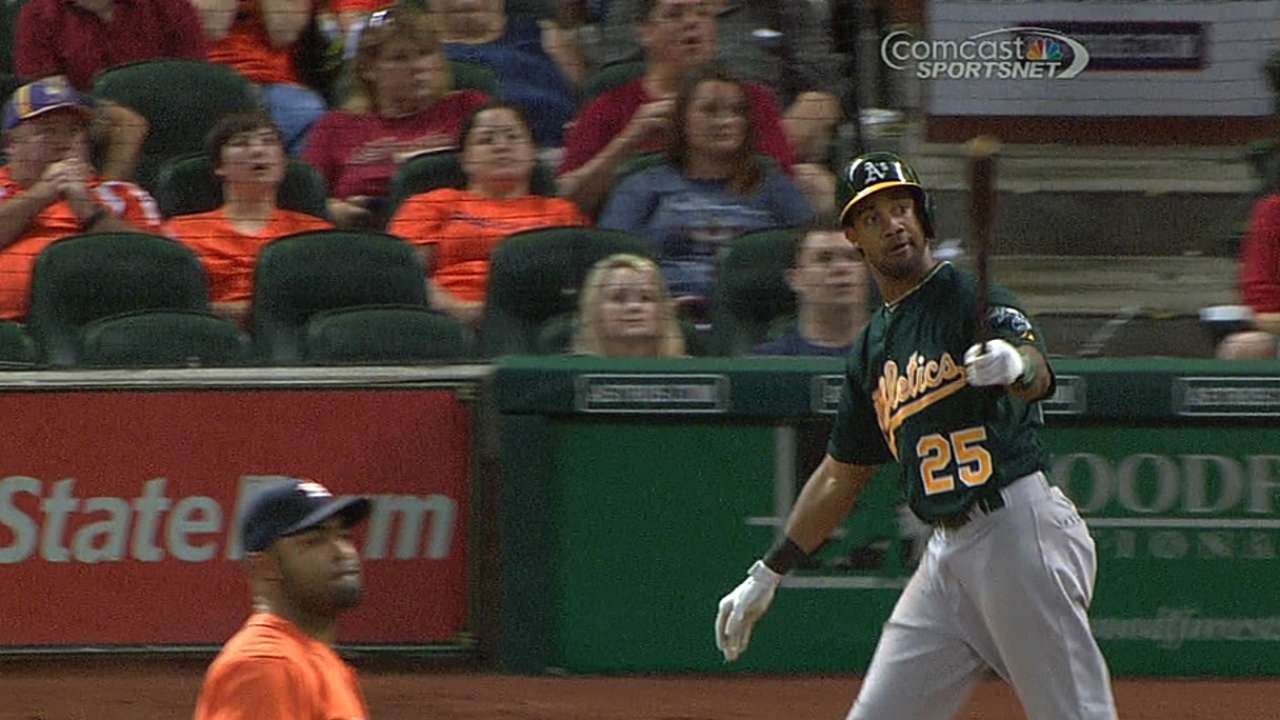 HOUSTON -- There were nearly 50 people crowding the outside of the visiting clubhouse at Minute Maid Park on Friday night, all of them waiting for the game's hero.
And when Houston native Chris Young stepped outside to greet them, they not only embraced their hero, but their son, their cousin, their brother, their friend.
All of them celebrated the Oakland outfielder's homecoming on Thursday's off-day by way of a barbecue, a party that surely was to continue into Friday night, after Young hit a go-ahead three-run homer in the ninth inning that pushed his A's to a 6-5 win over the Astros.
Oakland has won each of its seven meetings with Houston this season.
It was one of three hits for Young on the night, and the veteran is now 33-for-79 (.418) with seven home runs and 27 RBIs in 19 career games at Minute Maid Park. He's also carrying around a 15-game hitting streak against the Astros.
"This is where I'm from, so it's nice to do it in your hometown," said Young. "I love being home. Got to spend time with family yesterday with some good home cooking."
Perhaps that's what's fueling his success in these confines?
"My mom's cooking definitely has something to do with it," Young said, smiling. "Good 'ol southern Texas barbecue, that always does the trick for me."
Young's mother, Carolyn, estimated that 40 to 50 people were on hand for Thursday's barbecue. Essentially all were at Friday's game, too.
"That's normal," said Young. "I really feel a lot of love when they're here."
This time, Young got to share it with his teammates, who entered the ninth against Astros righty Jose Veras facing a two-run deficit.
The A's began the inning the same way they did the game, with a walk. One out later, Coco Crisp followed John Jaso's lead with his own walk, bringing Young to the plate to face a reliever against whom he had struck out three times in five previous tries.
His approach was simple.
"The main goal when you're behind in the ninth inning is just to get the next guy to the plate," Young said. "A single's fine. A double's fine. And if you square one up that's even better.
"I was just trying to make adjustments and get something up in the zone, whether it was a heater or a breaking ball. He happened to leave a breaking ball up."
It landed in the left-field Crawford Boxes, leading the A's to prepare for the bottom half of an inning that wasn't guaranteed before then. And with shortstop Adam Rosales out of the mix, after Jaso pinch-hit for him, and an injured Jed Lowrie unavailable, manager Bob Melvin had some shuffling to do.
Jaso ended up at first base and Brandon Moss played third with the help of Rosales' glove, shifting Josh Donaldson from third to shortstop. Suddenly, a game that was so close to ending in a loss felt like a spirited Little League game.
"There we are, we're all excited and happy and we're all switching positions and having a good time with it," said Jaso. "That was fun."
No one got as much of a kick out of it as Moss, who proclaimed to the clubhouse, "Better call Wilson to get a third-base glove."
Closer Grant Balfour, who pitched a scoreless ninth for his 28th consecutive save dating back to last April, echoed, "Best third baseman in the league."
It was Moss' first Major League appearance at the position. Donaldson had never played shortstop, yet it was there where he made the last out of a game that let Tommy Milone off the hook for a loss.
Milone began the night on cruise control, making the two-run lead awarded to him by teammates in the early goings in Houston seem like much more. Then, two outs into the bottom of the fifth, everything changed for the A's lefty, who gave up two home runs and a string of base hits to turn a two-run lead into a 5-2 disadvantage.
"I felt good, even through that fifth inning," said Milone, who went on to complete seven innings. "The biggest thing was to leave it at that and not let them get anything else, keep us in the game. We did a good job of getting a run back after that."
It was a Seth Smith solo shot in the sixth that narrowed Houston's lead, which was no more three frames later thanks to Young.
"That was a great feeling," Melvin said. "He's had some big games here. He has quite the track record in this ballpark. It seems like every time he comes here, whether he's not swinging that well or he is, he ends up doing some big things."
Jane Lee is a reporter for MLB.com. Read her blog, Major Lee-ague, and follow her on Twitter @JaneMLB. This story was not subject to the approval of Major League Baseball or its clubs.