Vargas helps bump Halos' winning streak to six
Left-hander solid for 7 1/3 innings, while three-run seventh foils KC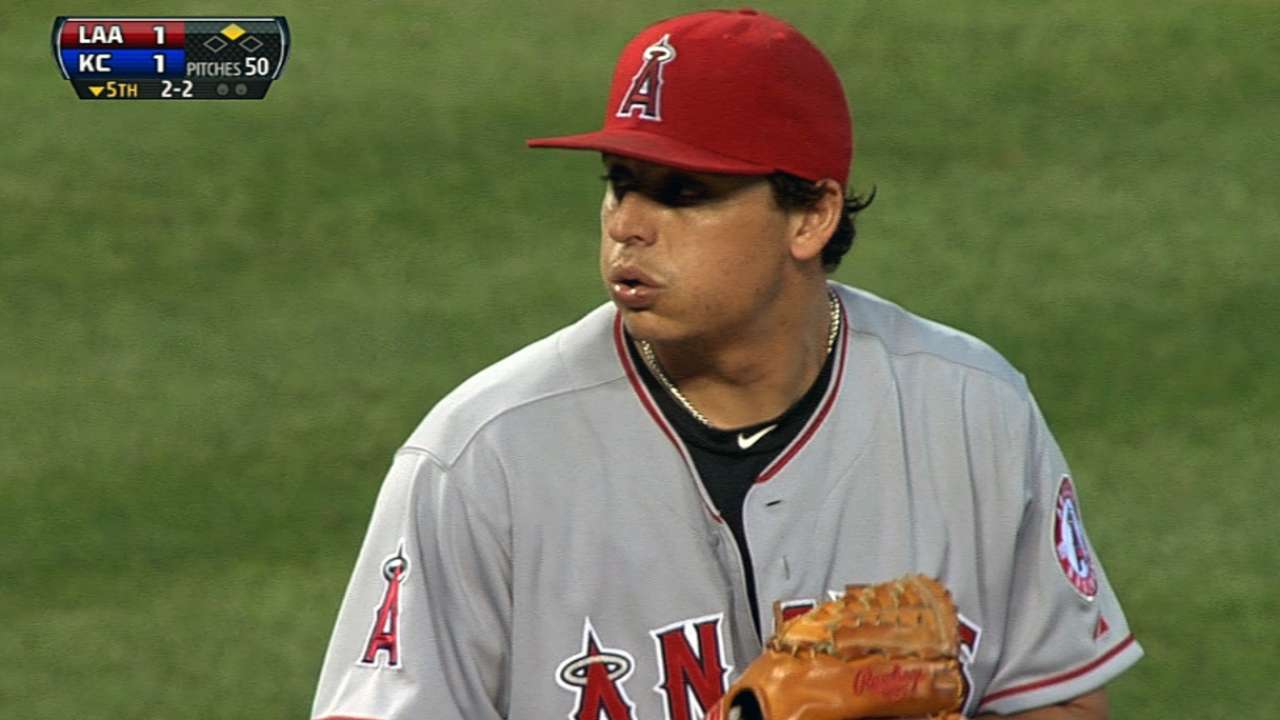 KANSAS CITY -- Jason Vargas deserves to be called Mr. May.
With the Angels' starting rotation in a state of flux this month, the smooth left-hander has done his part to provide some steady leadership. Vargas came through again on Friday night by delivering 7 1/3 solid innings in the Angels' 5-2 win over the Royals.
Vargas allowed just two runs on five hits as the Angels won their sixth in a row. Now 4-0 in May, Vargas' ERA is 2.25 over his last five starts.
In April, Vargas was 0-3 with a couple of no-decisions.
"I don't feel any different than before," Vargas said. "It's just that the situations and outcomes have been different. I've been a little more efficient with pitch counts and controlling the count."
The Angels needed a sharp Vargas on Friday because the offense squandered several opportunities early against Royals starter Luis Mendoza. But after Kansas City took a 2-1 lead in the fifth, Chris Iannetta promptly tied the game with a solo homer in the sixth. Then, the Angels went to work with an aggressive three-run rally in the seventh to take control.
Vargas took the game into the eighth and Garrett Richards finished the job with 1 2/3 innings of nifty relief.
Manager Mike Scioscia continued to like what he's seeing from Vargas, who has beaten the Royals twice in a span of 10 days.
"He's using both sides of the plate and changing speeds," Scioscia said. "He understands his stuff and is very consistent with it. He's letting his defense make plays."
The Angels took control for good after a disputed call at second base involving Mike Trout. After leading off with a walk in a 2-2 game, Trout went for a steal of second with Albert Pujols at the plate. Trout was ruled safe as second baseman Chris Getz and Royals manager Ned Yost put up a stern argument.
"I didn't see it," Trout said. "They called me safe."
Pujols then drew a walk and Mark Trumbo came through with the go-ahead RBI single against reliever Aaron Crow. The Angels didn't stop there, as Pujols and Trumbo alertly tagged and moved up to second and third on Josh Hamilton's deep fly. Howie Kendrick followed with a sacrifice fly and Alberto Callaspo doubled in another run to make it 5-2.
"We probably could have done some things better tonight, but we got some clutch hits when we needed them," Trumbo said.
And that was all the Angels required with Vargas on the mound.
"Jason got some huge ground balls when he needed them," Trumbo said. "You know what you are going to get from him. He throws strikes and works quick."
The Royals felt the momentum shift after the Trout steal in the seventh with second-base umpire Marty Foster making the "safe" call.
"He said that he saw Getz tag the ground and then tag Trout after his hand was on the bag," Yost said. "But as far away as I was in the dugout, I could obviously see Getz make the tag in front of the bag. It's unfortunate that they missed the call because it changed the whole complexion of the inning."
Getz felt certain that Trout should have been called out.
"I felt like I was on him pretty much the whole time he was sliding in and Marty felt otherwise," Getz said. "Unfortunately, it turned into something. It turned into a big inning. It altered the game."
The Angels used the seventh-inning rally to quickly offset disappointment over how the top of the sixth ended. After Iannetta's homer tied the game at 2, J.B. Shuck came through with a one-out triple. But Shuck was hung up between third and home moments later, as Erick Aybar failed to get his bat on the ball with the suicide squeeze on.
In the end, it didn't matter because the Angels are finding ways to win in direct contrast to how the season started.
"You don't want to bank on extended streaks, but you do want to get on a roll," Trumbo said.
It took awhile, but the Angels are now rolling merrily along.
Robert Falkoff is a contributor to MLB.com. This story was not subject to the approval of Major League Baseball or its clubs.