Estrada shuts down Bucs as Crew takes opener
Righty retires first 14 batters, fans eight in seven innings of one-run ball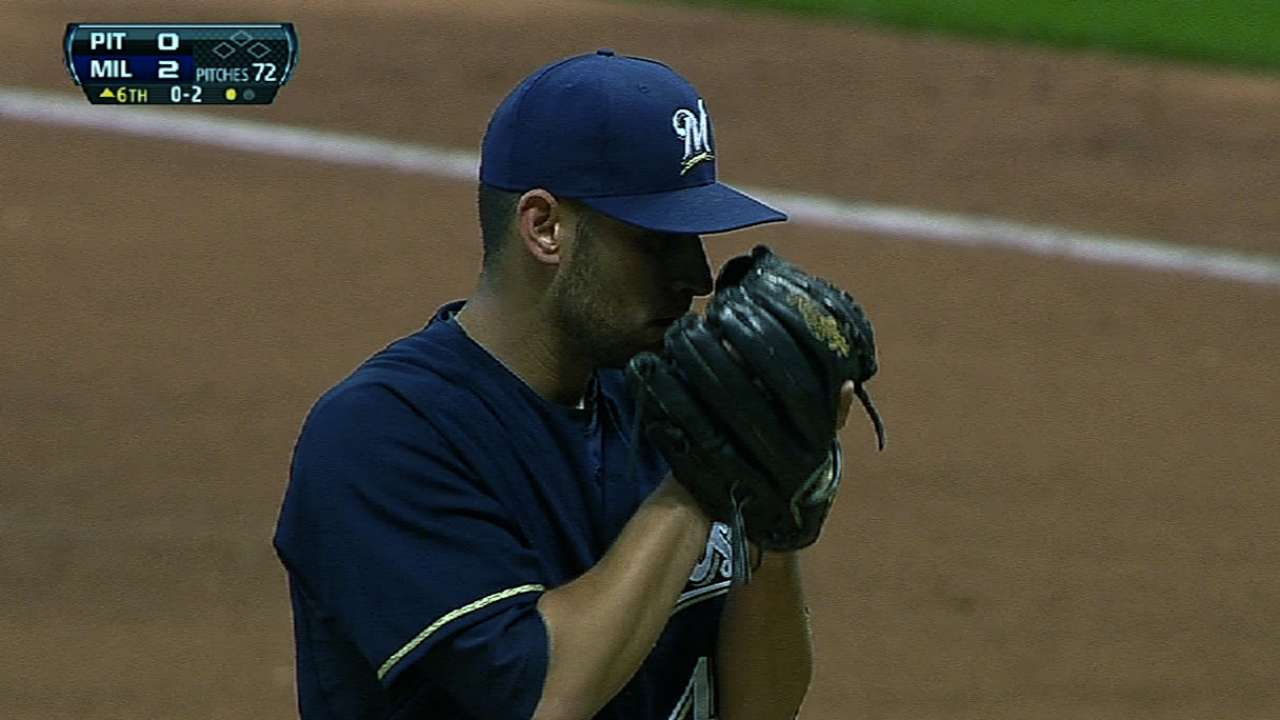 MILWAUKEE -- At the start of a stretch of 20 games in 20 days, this was just the type of pitching performance the Brewers needed.
Marco Estrada was perfect through 4 2/3 innings, held the Pirates scoreless through 6 2/3 innings and pitched the Brewers through the end of the seventh before letting the bullpen finish a 2-1 win at Miller Park on Friday.
Alex Gonzalez drove in a pair of runs with a second-inning double, Francisco Rodriguez logged an emergency save after closer Jim Henderson was lost to a right hamstring injury, and the Brewers improved to 47-8 in home games against the Pirates since the start of 2007 with the sort of pitching that has been missing for most of 2013. Friday marked the first time all season that they won a game while scoring three runs or fewer.
Estrada allowed only one run on four hits in seven quality innings, with no walks and eight strikeouts. He threw 73 of his 100 pitches for strikes and beat a red-hot Pirates team that is 14-7 this month.
"I still wanted to do more," Estrada said. "I didn't realize my pitch count was at 100. I wanted to go back out, but once I looked up and saw 100, I was like, 'OK, I guess I did my job.' But you always want to do more. I wish I could have thrown a complete game and given the bullpen more days' rest."
Manager Ron Roenicke never considered sending Estrada out for the eighth, concurring with the right-hander that "that was good enough."
Estrada entered the night with a 7.31 ERA in May.
"Oh," Estrada deadpanned. "That's not good."
Also not good: Brewers starters had logged only 11 of the 27 innings in the first series of this homestand, two losses in three games against the Dodgers. Hiram Burgos and Wily Peralta combined for only five innings in the final two games of that series.
On Friday, Estrada needed to be good against Pirates starter A.J. Burnett, who allowed only two runs on three hits through seven strong innings of his own. Burnett struck out six batters and walked two, one of which came around to score.
Estrada retired the first 14 batters he faced, with six strikeouts. He had struck out six of the previous eight batters he'd faced when Neil Walker blooped a single down the left-field line with two outs in the fifth inning for Pittsburgh's first hit. Estrada snared a Brandon Inge line drive to end that inning.
Walker's two-out double in the seventh inning put the Pirates on the scoreboard, but again Estrada retired Inge on a comebacker to end an inning that might have been worse had Brewers shortstop Jean Segura not ranged far to his right to snare a Russell Martin grounder and fire to second base for a forceout.
It was only the eighth time in 46 games that the Brewers' starting pitcher made it through the seventh inning. Estrada owns three of those games, including the two most recent -- May 13 in Pittsburgh and Friday against the Pirates again.
"I've been struggling a lot with my curveball, and I felt like today I threw a lot of them for strikes," Estrada said. "I just built off of that."
Estrada insisted he did not notice he had a no-hitter working in the fifth inning.
"I try not to think about it, because I feel like it could be a distraction. Then you try to be too perfect," Estrada said. "I wish I would have got one, but who cares? We got the win and that's all that matters."
Brandon Kintzler and Michael Gonzalez combined on a scoreless eighth inning, but things got interesting for the Brewers in the ninth when Henderson exited the game with a right hamstring strain after landing awkwardly during the second out of the inning.
Recently acquired Rodriguez entered and needed two pitches to record a game-ending groundout for his 295th career save. He badly wants to reach 300.
"I've been chasing that since 2011," Rodriguez said. "It's been awhile."
The Brewers led for most of the night thanks to Alex Gonzalez, who started for the first time in more than a week and stepped to the plate for the first time Friday sporting a .184 batting average. With runners at second and third after an Aramis Ramirez walk followed by a Carlos Gomez double, Gonzalez lined a first-pitch curveball from Burnett to the left-center-field gap for a two-run double. The RBIs were his first since May 2 in St. Louis.
"[Burnett] is one of the best pitchers this year," Gonzalez said. "The last time we faced him, he was throwing a lot of breaking balls with men in scoring position. That was the pitch I was looking for. He threw it first pitch and I hit a double and get two RBIs. That kind of pitcher, you have to stay focused."
Said Burnett: "I don't think I lost on one pitch. I walked Ramirez, and could've pitched him better. It was a heck of an outing for both guys. You may beat me, but you're never going to out-compete me, I tell you that."
With a victory Saturday or Sunday, the Brewers would win their first series since taking two of three from the Pirates at Miller Park from April 29-May 1. Milwaukee is 0-5-1 in series play since then.
Adam McCalvy is a reporter for MLB.com. Read his blog, Brew Beat, and follow him on Twitter at @AdamMcCalvy. This story was not subject to the approval of Major League Baseball or its clubs.