Burnett outdueled by Estrada in opener
Right-hander allows two runs on three hits in seven innings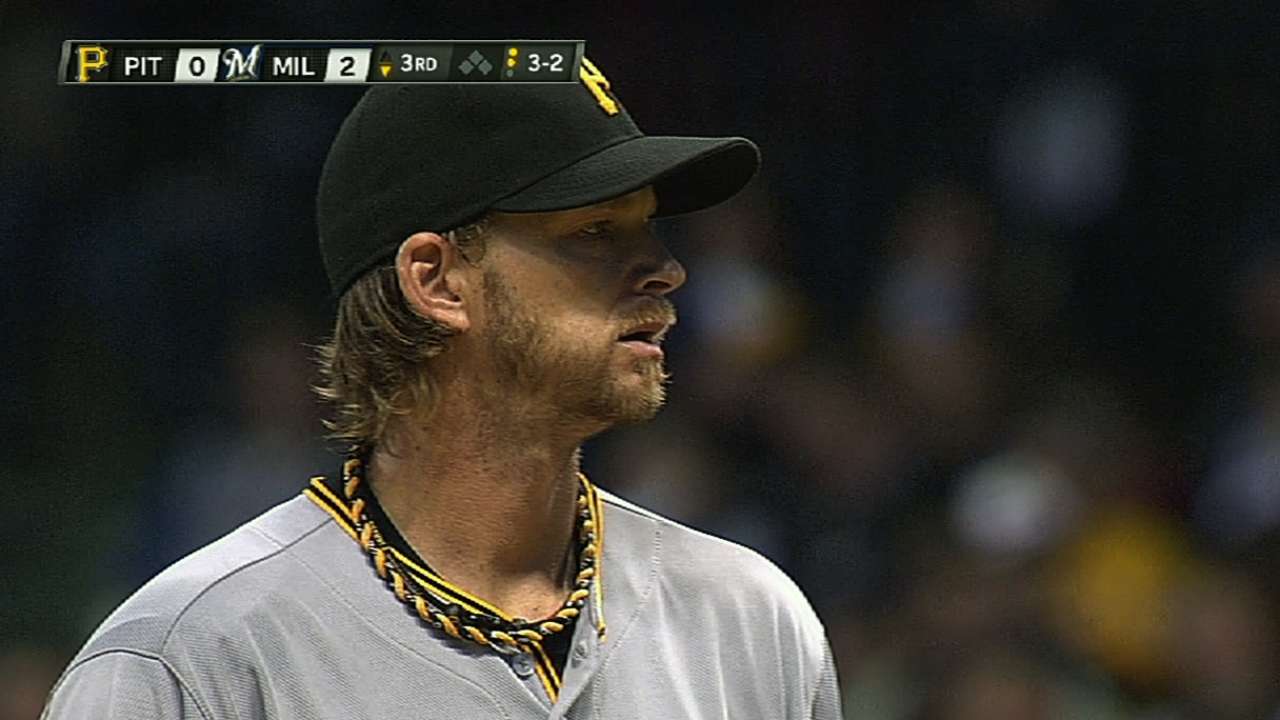 MILWAUKEE -- Some things never change. The Pirates' fortunes at Miller Park. A.J. Burnett's fortunes on a mound anywhere.
Both patterns held steady here Friday night, as the Bucs bowed to the Brewers, 2-1, ending their four-game winning streak at a place where few of their memories are good.
With this defeat, the Pirates are 8-47 in their past 55 games in Milwaukee.
The only thing that changed Friday night -- consistently -- was the speed of Marco Estrada's pitches. Also keeping Pirates' hitters off-balance by occasionally pitching backward, going to the softer stuff when behind in the count. Estrada held the Bucs hitless until Neil Walker's single with two outs in the fifth and to one run and four hits in seven very sharp innings.
Estrada also kept Burnett luckless. This may be hard to believe, considering Burnett is the Bucs' ace and in fact has pitched up to that standard, but the Pirates have gone 11-5 since May 8, and Burnett has started four of those losses.
"A good pitchers' duel. A heck of an outing by both guys," Burnett said, graciously. "You may beat me, but you're never going to out-compete me, I tell you that."
Estrada entered the game with an ERA of 7.31 in three previous starts in May. But, again, he stood up to the Pirates well enough to enable the Brewers to win for the first time without scoring at least four runs since Sept. 19 (against the Pirates), a stretch of 60 games.
"When he's really good, that's the kind of game he throws," said Walker, who also got the Pirates' only hit that really counted, an RBI double in the seventh. "He's down in the zone, getting ahead, elevating his fastball. It's not firm when you look at the radar, but trust me, his 88 [mph] plays a lot harder than it seems because of his offspeed stuff."
Estrada fanned eight without issuing a walk in remaining undefeated against Pittsburgh in five career decisions.
"We haven't been able to solve Estrada since I've been here," said manager Clint Hurdle. "He spots up his fastball and locates his offspeed pitches. Doesn't leave any pitches in the middle of the plate. We've seen the M.O. He's able to step up and get the ball where he wants against us."
Burnett also went seven innings and allowed one fewer hit than Estrada, but one of the three he gave up was a two-run double by Alex Gonzalez in the second inning.
Burnett now has three wins to show for 11 generally solid starts. He has not had that combination since 2006 when, in his first season with the Blue Jays, he was 3-5 after 11 starts with an ERA of 4.81.
Burnett exited Friday night's start with an ERA of 2.57. In the seven Burnett starts that the Pirates have lost (not all of them going on his personal record), the Pirates have scored a total of eight runs.
It is difficult for the Pirates to ignore that here-we-go-again sensation whenever something goes awry in this ballpark.
That feeling set in early. One out after the second began with Aramis Ramirez's walk and Carlos Gomez's double, Burnett was hurt by .184 hitter Gonzalez's two-run double up the left-center alley. Those were the first runs Gonzalez had driven in since May 2.
"[Burnett] is one of the best pitchers this year," Gonzalez said. "The last time we faced him, he was throwing a lot of breaking balls with men in scoring position. That was the pitch I was looking for. He threw it first pitch. … That kind of pitcher, you have to stay focused."
Following Gonzalez's double, Burnett recorded 11 outs before surrendering his next hit, a two-out opposite-field single in the fifth by Estrada. He wound up retiring 17 of the last 19 men he faced.
"I felt like I was making the same pitches as earlier," Burnett said. "I think I was strong. I didn't have the usual put-away hook in the dirt, so I started throwing other stuff."
The Pirates halved Estrada's lead in the seventh. Russell Martin's grounder forced Gaby Sanchez, who had singled with one away, and he scored on Walker's double over right fielder Norichika Aoki's head.
Walker, who flied out deep to right on his first at-bat, and Andrew McCutchen, who hit into two hard outs against Estrada, were least puzzled by the right-hander.
"His best pitch is his changeup, and I had three at-bats and didn't see the changeup," Walker said.
McCutchen, though hitless until dropping a single into center to lead off the ninth against Jim Henderson, seemed to almost resent being asked what had made Estrada so tough.
"I can't speak for everyone else, but I saw him pretty well. I felt pretty good," McCutchen said. "He pitched a good game, I guess. I hit the ball well two, three times. The way the cookie crumbles, sometimes."
Tom Singer is a reporter for MLB.com and writes an MLBlog Change for a Nickel. He can also be found on Twitter @Tom_Singer. This story was not subject to the approval of Major League Baseball or its clubs.