Keppinger delivers White Sox walk-off winner in 11th
Danks sharp into seventh in season debut; Rios extends hit streak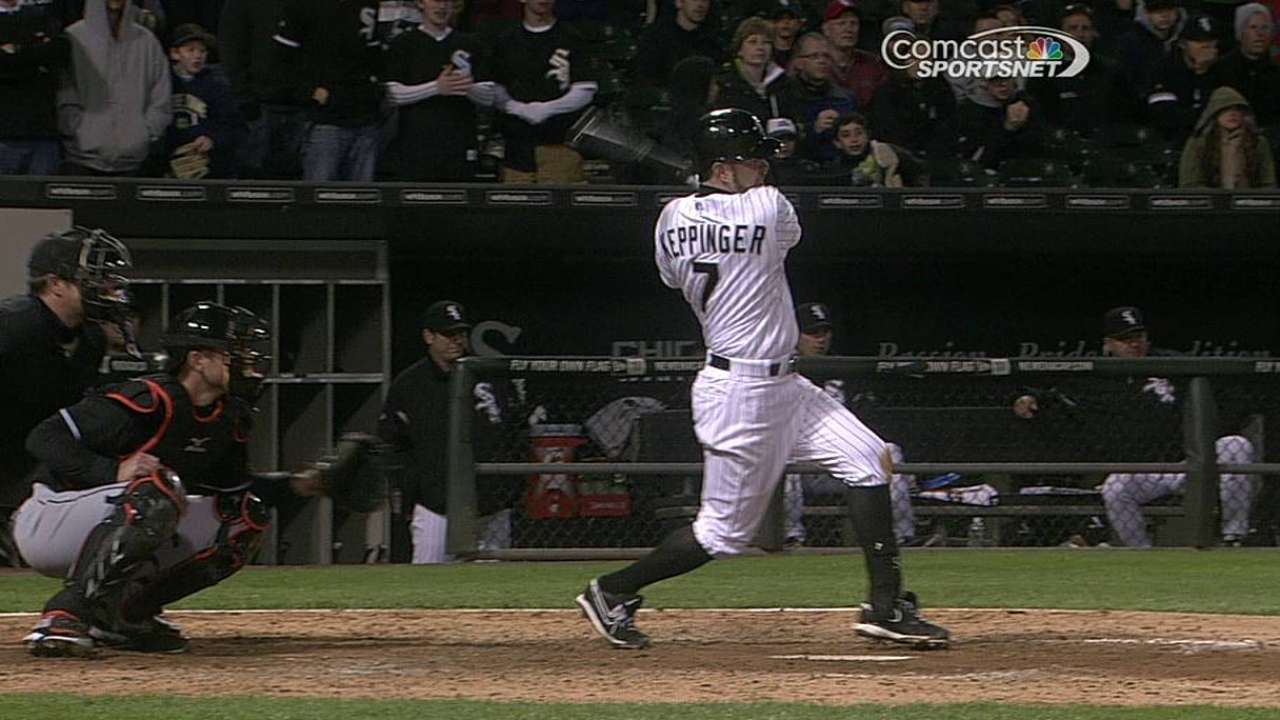 CHICAGO -- The first pitch from John Danks during Friday's 4-3 White Sox victory over the Marlins in 11 innings registered as an 88-mph fastball outside the zone to Adeiny Hechavarria before 20,393 at U.S. Cellular Field.
Danks' last pitch stood as an 82-mph changeup laced into left for a double by Marcell Ozuna leading off the seventh inning. Everything in between for the 28-year-old southpaw was as good as could have been expected for his first Major League start since a victory over the Cubs at Wrigley Field on May 19, 2012.
"Yeah, it was a good first one," said Danks of his no-decision covering six-plus innings. "I did as much as I had hoped to do."
"I'm really happy for him that he's back here and doing what he knows how to do," said White Sox catcher Hector Gimenez, who drove in a run with a fifth-inning single.
"With him coming back, it was just emotions and keeping that in check," White Sox manager Robin Ventura said. "I think the best part was his command going through there and doing everything he needed to do."
Danks underwent season-ending arthroscopic surgery on his left shoulder on Aug. 6, 2012. And while he put in intense and successful offseason work to get ready to break camp with the team for the 2013 campaign, he began on the disabled list to build up velocity and arm strength.
After working through numerous extended spring camp appearances and four Minor League rehab starts, Danks consistently hit in the high 80s Friday and topped out at 91 mph on his fastball. More importantly, Gimenez said that Danks was able to throw inside to both righties and lefties to help what turned out to be a very strong changeup in his season debut.
Of Danks' 76 pitches, 56 went for strikes. He fanned five, hit one and didn't issue a walk, getting touched up for Derek Dietrich's two-run homer in the fourth but not much more. So the command issue that plagued Danks during a few rehab starts was back in the zone Friday.
"Everything that we used today, we used the right way," Gimenez said. "I think we missed one spot on the home run."
"If for the rest of my career I can throw 87 to 90 [mph] and throw the ball exactly where I want to throw it for the most part, I would trade that in for 92 or 93," Danks said. "I've seen a lot of 93-mph fastballs get hit hard and a long way."
Jeff Keppinger's game-winning single to left in the 11th against Ryan Webb (1-2) brought home pinch-runner Tyler Greene and lifted the White Sox (22-24) to their seventh win in 10 games and fourth in the last five home games. Keppinger drove home another run with a fifth-inning groundout.
The White Sox appeared to have won the game in the 10th, when Alex Rios narrowly beat a would-be double play with the bases loaded, but first-base umpire Angel Hernandez ruled Rios out at first to end the inning. The White Sox stayed away from criticizing the call postgame, leaving that to their iconic and fired up television play-by-play man, Ken "Hawk" Harrelson, during the broadcast, but were happy to have fought back for the victory.
"Sometimes it gets to you, sometimes you get frustrated," said Keppinger of the missed call. "It definitely takes the wind out of your sail. But when it's all said and done, you've gotta get back out there and keep grinding."
Rios extended his career-high and current MLB-high hitting streak to 18 games, while Paul Konerko chipped in three hits to raise his average to .236. Konerko's single gave the White Sox a 3-2 lead after six, but Miami (13-35) tied the game on Miguel Olivo's seventh-inning sacrifice fly.
Fortunately for the White Sox, the Marlins' bases-loaded situations in the seventh resulted in just that one run.
"We're getting our opportunities," Marlins manager Mike Redmond said. "We always get a couple opportunities a game, but we're just not able to get a run in. Every time we get guys into scoring position, we ground into a double play."
"They fought hard all night," Konerko said. "Obviously, we'd like it a little bit easier, but a win's a win and we'll move to tomorrow night."
So, Danks didn't win, at least according to the scoreboard or the final box score. Having a quality individual and quality pitcher such as Danks back in action serves as victory enough for the South Siders, even without the Keppinger walk-off hit.
"He's one of the best in the business," said White Sox starter Chris Sale of his friend and rotation mate. "You don't come across people like him very often, especially the situation he's in and kind of what he is, a very down-to-earth, great guy and one of my best friends."
"From where I was in Spring Training to here, it's night and day," Danks said. "My stuff's coming, but I feel like I have plenty of stuff to compete. I'm going to go out there and hopefully give us a chance to win."
Scott Merkin is a reporter for MLB.com. Read his blog, Merk's Works, and follow him on Twitter @scottmerkin. This story was not subject to the approval of Major League Baseball or its clubs.