Blue Jays bats come alive too late in Nolin's debut
Cabrera, Lawrie and Lind hit homers; rookie shelled in 1 1/3 frames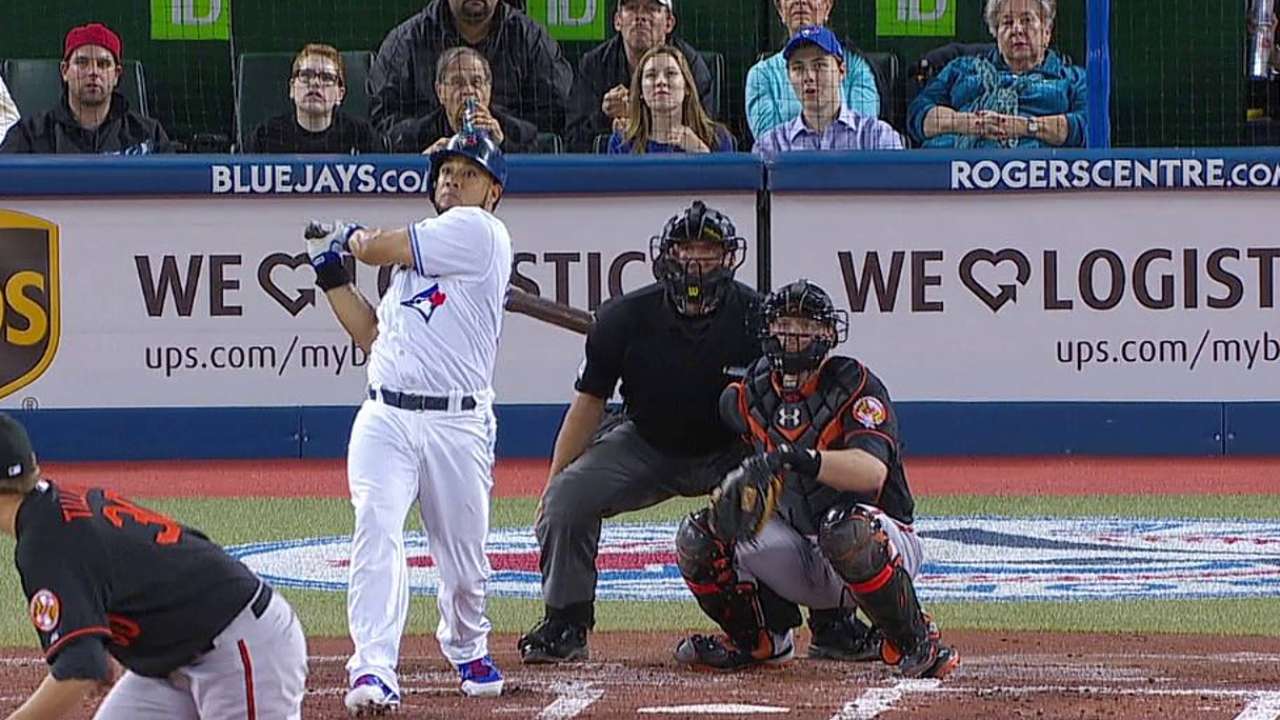 TORONTO -- It definitely wasn't the Major League debut that Sean Nolin dreamed about.
Nolin allowed three earned runs before retiring a batter, and he recorded only four outs in a brief outing as the Blue Jays fell, 10-6, to the Orioles on Friday at Rogers Centre.
"Definitely not the way I envisioned it," Nolin said. "I think I just had too much energy going. I felt like I had already threw a few innings and kind of wasted some gas without doing anything. That was a part of it, for sure."
Just standing on the mound before his first warmup pitch was enough to make him realize that his childhood dream was becoming a reality.
"I had chills going through the body," Nolin said. "Something I always wanted to do. Imagined it. It was exciting to be out there, for sure."
That dream, however, quickly turned into nightmare.
The 23-year-old began his big league career by giving up a seeing-eye single, a well-placed floater into the outfield and a three-run home run by J.J. Hardy. He managed to calm down and finish the inning without any further damage, but the second inning was his undoing.
Nolin gave up a double, a walk and a single to start off his final frame before giving up a bases-clearing double by Nick Markakis to extend the Baltimore lead to five. After retiring the next batter, manager John Gibbons sauntered to the mound to relieve his young hurler.
"It was a tough go for him, no question," Gibbons said. "I'm sure he wanted a great one. We wanted him to have a great one. But that doesn't always happen at this level."
The rookie gave up six earned runs on seven hits and a walk.
Unfortunately, Nolin's rough debut also meant a large deficit that the Blue Jays had to overcome, and his replacement didn't do the club any favors.
After the Blue Jays cut the deficit to three in the second, Ramon Ortiz immediately gave up home runs to Chris Davis -- his Major League-leading 16th -- and Danny Valencia in the following frame to make it 9-3. After that, the rout was officially on.
"When we got a ball over the plate, it seemed like we didn't miss it," said Orioles outfielder Nick Markakis, who finished 3-for-5 with three RBIs. "That's the main objective of hitting -- when you get your pitch, don't miss it."
Adam Jones pitched in with his eighth home run to left field in the sixth inning to finish off the Baltimore scoring.
His club's offensive efforts made it easier for a shaky Chris Tillman. Tillman threw 109 pitches through only five innings, surrendering three earned runs on 10 hits. It was a season high for the Orioles starter, but he got away with what could've been a more damaging start.
The Blue Jays continued to chip away at the large deficit once they got to the Baltimore bullpen, but they could only get within four after Adam Lind hit his fourth home run of the season.
Even with all the offense, it would be hard to forget the interesting exchange between home-plate umpire Dan Bellino and Brett Lawrie, which led to the ejection of both the third baseman and his manager.
Lawrie didn't agree with a third strike call on the inside corner in the third inning, with his club down six runs and two men on base and two out. The 23-year-old laid his helmet down in disgust and threw his gloves back toward it, leading to his ejection.
Gibbons was also tossed after arguing his third baseman's ejection.
After the game, Nolin was optioned back to Double-A New Hampshire to resume a more natural progression to the big leagues.
Before leaving, Gibbons had some words of encouragement for the tall lefty.
"I told him, 'I don't want you leaving here with any negative thoughts,'" Gibbons said. "'Someday you'll look back and laugh at this, because you're better than that. You never know how debuts are going to go. It's the way the game is sometimes at this level. Go down there and continue to work, work your way back up. You have a bright future, son.'"
Even Nolin held his head high after an outing that saw him allow more earned runs in 1 1/3 Major League innings than he had his entire Double-A career in six starts.
"I take everything as a learning experience, good and bad," Nolin said. "Definitely a learning experience."
"He'll be fine. He's a good kid," Gibbons said.
Evan Peaslee is an associate reporter for MLB.com. This story was not subject to the approval of Major League Baseball or its clubs.