Orioles unleash power with four homers in slugfest
Hardy, Davis, Valencia and Jones leave yard; Machado racks three hits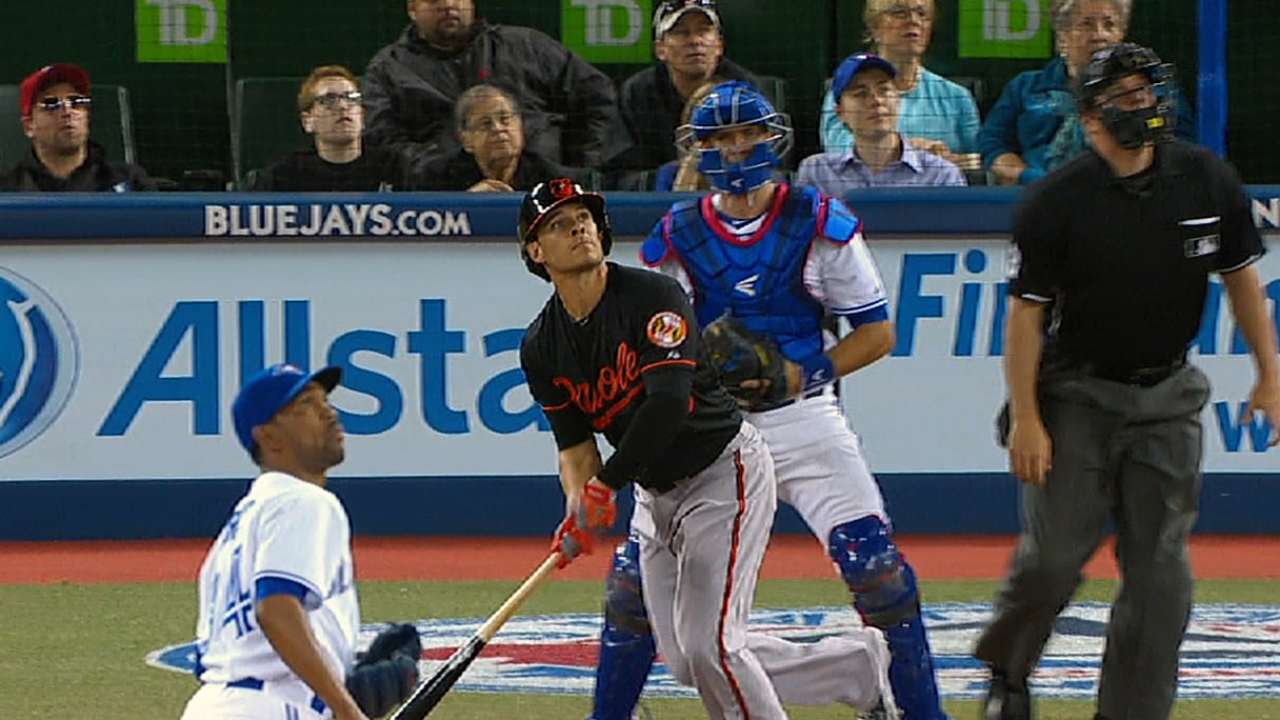 TORONTO -- The Orioles wasted no time spoiling the Major League debut of one of the Blue Jays' top pitching prospects, as Baltimore slugged its way to a victory and sent Toronto's Sean Nolin back to the Minor Leagues in one of the club's top offensive performances of the season.
J.J. Hardy, Chris Davis, Danny Valencia and Adam Jones all went deep as part of a 16-hit parade, in which six players recorded a multihit effort against the Blue Jays during a wild 10-6 win in front of 25,104 at Rogers Centre on Friday night.
"When we got a ball over the plate, it seemed like we didn't miss it," said Nick Markakis, who went 3-for-5 and reached base four times. "That's the main objective of hitting -- when you get your pitch, don't miss it.
"It's a good park to hit."
A night after O's prospect Kevin Gausman made his first career start, the Blue Jays sent Nolin -- a 2010 fourth-round Draft pick -- to the hill for his debut. The Orioles made sure it was a short one, as the club jumped all over him and gave Nolin no time to settle in.
After the first two batters of the game reached base, Hardy blasted a three-run homer, his ninth of the year, to give the Orioles a 3-0 lead. And by the time Nolin's outing was finished, Baltimore was up, 6-1, thanks to a bases-clearing double from Markakis in the second.
The 23-year-old Nolin, who was optioned back to Double-A New Hampshire after the contest, lasted just 1 1/3 innings, allowing six runs on seven hits while walking one.
"Definitely not the way I envisioned it," Nolin said. "I think I just had too much energy going. I kind of felt like I already threw a few innings, kind of wasted some gas without doing anything."
The Orioles, however, didn't stop the offensive eruption after chasing Toronto's young starter from the game.
Davis, who went 3-for-4, led off the third by driving a 3-2 pitch from Ramon Ortiz over the wall in right for his Major League-leading 16th home run before Danny Valencia added a two-run shot -- his first of the year -- to give Baltimore a 9-3 lead. It was the third consecutive game in which Davis has homered, and his 45 RBIs trail only Detroit's Miguel Cabrera in the Majors.
Jones hit Baltimore's fourth and final homer of the game, his second in as many nights, with a rocket to left in the sixth inning. It was Jones' eighth home run of the year and his seventh at Rogers Centre since the start of the 2012 season, which is more than any other visiting player.
It marked the fourth consecutive game the Orioles have hit at least three homers, the first time the club has achieved that feat since 1996. The home runs have been powering the club, as 19 of the Orioles' 25 runs over their past four games have come via the long ball.
While Baltimore's power was on full display, Manny Machado had another strong performance. Machado collected three hits, the fifth consecutive road game he has done that, which put him in some elite company. According to Elias, Machado joined Ty Cobb as the only players under the age of 21 in Major League history with a streak of five consecutive road games with at least three hits.
"Wow," said Machado, who raised his average to .335. "It's Ty Cobb, that's all you can say. To be mentioned in the same category as him, it's an honor.
"More games I play, more at-bats, the more comfort I get up there. This game is all about comfort and experience."
It wasn't Machado's bat, however, that had his teammates talking after the game, but rather his work on the defensive side. In the fifth inning, Machado turned a fantastic double play after fielding a grounder and touching third base for a force out before firing an off-balance throw to Davis at first.
"That play Manny made tonight was special," said Orioles starter Chris Tillman, who picked up the win to improve to 4-2. "He's a special kid. He has hands and the feet and the smarts to be able to put it to use."
Manager Buck Showalter was more direct about Machado's elite skill at the hot corner.
"He has been a difference maker for us and makes a lot of plays a lot of third basemen don't sniff," Showalter said.
The offense gave Tillman, who wasn't his sharpest, plenty of room to work with. Toronto hit the right-hander hard, but Tillman limited the damage to only three runs, two of which came on solo homers from Melky Cabrera and Brett Lawrie, whose night was cut short in the third inning.
Lawrie did not agree with a called third strike from home-plate umpire Dan Bellino and threw his batting equipment on the ground near the umpire, which got him ejected. Blue Jays manager John Gibbons came out to argue and was also ejected.
Tillman, who allowed a season-high 10 hits over five innings, said he felt good physically, but he was a little off with his mechanics. He still had swing-and-miss stuff, though, and he matched a season high by punching out seven, while not issuing any free passes for the first time this season.
"The key was Tillman not walking anybody," Showalter said.
Baltimore's 16 hits were two shy of the club's season high, and it improved to 12-11 against the American League East.
Chris Toman is a contributor to MLB.com. This story was not subject to the approval of Major League Baseball or its clubs.