Zimmermann tops Phils, first in NL to eight wins
Righty induces key DP before Nationals' bats supply four-run fifth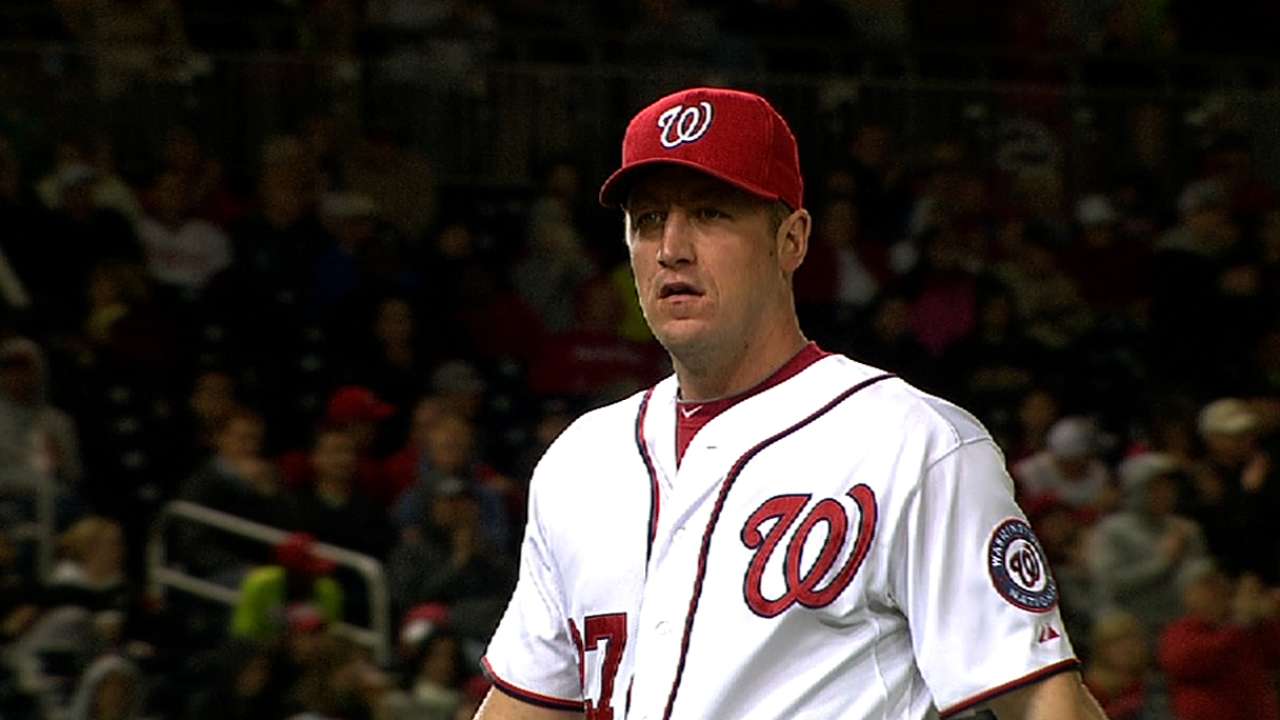 WASHINGTON -- It was a blustery 53 degrees at first pitch Friday night, but Nationals starter Jordan Zimmermann didn't mind. The Wisconsin native took the mound with a stiff neck and short sleeves and picked up his National League-leading eighth win of the season as the Nationals beat the Phillies, 5-2, at Nationals Park.
Zimmermann pitched efficiently to pick up his fifth win in six starts, allowing just two runs over seven innings on 92 pitches. He induced a pair of key double plays, struck out one batter and didn't allow a walk for the third straight game -- all despite pitching on a chilly night with a stiff neck.
"Zimm woke up kind of with a stiff neck today and kind of hid it from me, but I knew about it. Nothing's really hidden from the manager," said Davey Johnson. "I kind of cut him a little shorter than I normally would, but he still threw a heck of a ballgame."
Zimmermann picked up his fifth win in five home starts this season; he hasn't lost at Nationals Park since May 17, 2012. But he also had help Friday.
Hours after Johnson announced that second baseman Danny Espinosa would miss at least two or three games with a broken right wrist, Espinosa's replacement -- utility man Steve Lombardozzi -- proved to be the difference on offense. Lombardozzi went 3-for-4, including a two-out double to right-center field in a four-run fifth inning.
"Today was a big day, with Espinosa out, for Lombo to do what he did, and to score five runs, we've been kind of stuck on none or one or two," Johnson said. "So that was big. Big shot in the arm for the offense."
Added Lombardozzi: "It feels good [to get an opportunity]. You never want anybody to get injured, but when my name's called, I'm going to be ready. It's always good to get some consistent ABs."
The Nationals had quality scoring opportunities in the third and fourth innings, but failed to take advantage of them. Phillies starter Kyle Kendrick walked the bases loaded with one out in the third, but the Nationals scored just one run on a sacrifice fly by Ian Desmond.
"I threw a lot of balls and got behind in the count," Kendrick said. "It was another one of those nights where I was 2-0 [in the count] and having to throw a lot of pitches."
In the fourth, Tyler Moore reached base on a throwing error by Jimmy Rollins. Lombardozzi singled to shallow center field in the next at-bat, and Nationals third-base coach Trent Jewett waved Moore home from second. Moore tried to bulldoze catcher Erik Kratz at the plate to score, but Kratz absorbed the hit, held onto the ball and applied the tag.
In the fifth inning, however, the Nationals finally broke through. Five hits turned into four runs, beginning with an RBI triple by Adam LaRoche, his first of the season and just the 11th triple of his career. Kurt Suzuki swatted a single to left to bring LaRoche home, Moore also singled, and Lombardozzi cleared the bases with a two-out, two-run double.
"It's great to see any teammate have a big day," LaRoche said. "[But] you've got a guy that's in here watching film all game long trying to help out our lineup when he's not playing, and then to go out and have a big game, get a big hit, we love it for those guys, because they support us the nine out of 10 nights they're not playing, they're out there backing us up."
With injuries to Jayson Werth and Espinosa, Johnson said he will continue to lean on bench players like Moore and Lombardozzi. Both are looking forward to getting more at-bats, and think that the daily routine will help them get on track at the plate.
"That's awesome to get some at-bats," Moore said. "You come in the clubhouse and it's a different mentality when you know you're going to play. It kind of gets you settled in a little bit more and kind of takes the pressure off."
The Nationals hope that alleviating that pressure will help lift their struggling offense, which is among the worst in the Major Leagues in several statistical categories. That, in turn, will help starting pitchers like Zimmermann, who only need a little bit of run support to seal a win.
"They've been swinging the bat well and we've been getting some tough breaks and not scoring as much as we'd like," Zimmermann said. "It was definitely nice to get a five-run cushion tonight and kind of put it on cruise control."
Tom Schad is an associate reporter for MLB.com. This story was not subject to the approval of Major League Baseball or its clubs.