Santana's reunion with Halos marred by homers
Royals right-hander gives up four long balls in 7 2/3 innings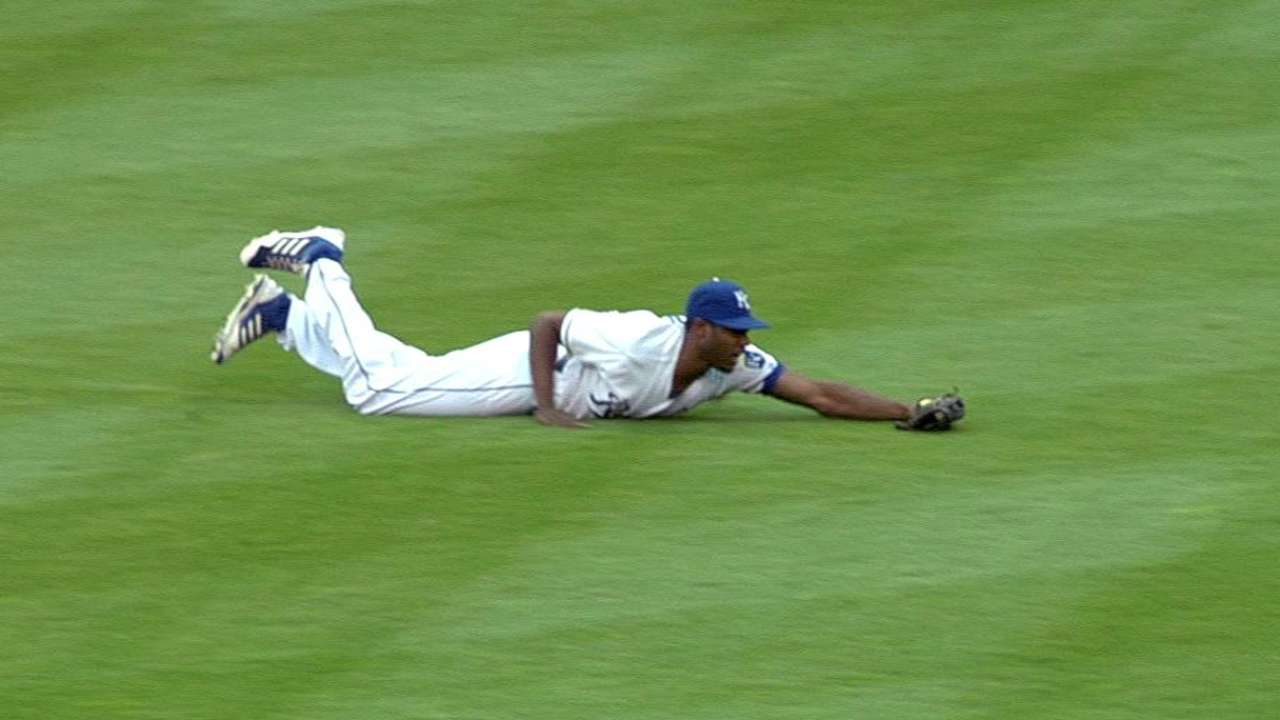 KANSAS CITY -- This was a natural. The Royals' Ervin Santana was going for his 100th career victory against his old club, the Angels. It was on the eighth anniversary of his first Major League victory, May 23, 2005.
Perfect scenario with an imperfect ending.
Santana gave up four home runs to Los Angeles, and the Angels won their fifth straight game, 5-4, on Thursday night at Kauffman Stadium. Since the Royals won two of three games against the Angels in Anaheim, they've lost six of seven.
This was the fourth time that Santana tried for victory No. 100. He probably needed to turn in what got him career win No. 1 against the White Sox, a shutout. But there was no scenario running in Santana's mind.
"I wasn't thinking about that," Santana said. "I just go up there and do my best. If it's going to happen, it's going to happen. If it's not, it's not."
The home runs were solo shots by Mike Trout, Albert Pujols and Chris Iannetta and then the killer, a two-run blast by Mark Trumbo.
"[Santana] throws a lot of strikes, and he's around the plate. He had his fastball up to 95 tonight, and these guys got a lot of power," manager Ned Yost said. "I thought Trout's home run was extremely impressive, for him to take a pitch down and drive it that far over the center-field fence as he did. And, of course, we all know what Albert Pujols could do with a pitch."
The first two blasts came from guys who have been especially troublesome for the Royals.
Trout, the young star who blasted two home runs against the Royals in Anaheim, connected again in the first inning -- and he went deep, deep to center field.
The Royals announced the ball traveled an estimated 433 feet when he hit the barrier under the scoreboard. ESPN later said its calculator estimated it to have gone 463 feet.
"Did they run out of tape to measure it? That ball was more than 430 feet," Angels manager Mike Scioscia said. "That thing was killed."
Pujols, whose long-term punishment of the Royals included 17 home runs, made it 18 when he led off the third inning. His shot into the left-field seats also was his 14th homer in 37 games at Kauffman Stadium, mostly with the Cardinals.
Perhaps it's Pujols' way of reminding folks that he grew up in Kansas City and played high school and college ball here.
Anyway, both homers came on fastballs.
"We had a plan coming in," Trout said. "We wanted to avoid chasing the sliders away and we stuck with the plan. We've been swinging it the past few days and you see what this offense can do."
Then, you know how it is, everybody wants to get into the act. Iannetta led off the Angels' fifth inning with a drive into the left-field bullpen.
Right-hander Joe Blanton, knocked around by the Royals in Anaheim, sailed through the first three innings and eventually got his first victory after seven defeats.
The Royals got single runs in the fourth and fifth innings, each started by a double (by Chris Getz and Lorenzo Cain, respectively) and scored on ground-ball outs.
But the Angels' lead ballooned to 5-2 in the eighth when Trumbo, on a 3-0 pitch from Santana, smashed a two-out, two-run homer. Afterward, Yost lamented not ordering ball four to Trumbo with first base open.
"Absolutely, that was a bad decision on my part," Yost said. "I'd tell you my thinking but it was a bad decision; yeah, that one was on me."
Santana dismissed the chance to throw ball four to Trumbo.
"I was just going to throw it right there," he said. "If he's going to swing, he's going to swing and we'll see what happens."
With Blanton out of the game and a parade of Angels relievers on display, the Royals made a game of it in the ninth inning.
"We definitely battled," Cain said. "We tried to pick up Santana. He definitely pitched a heck of a game today and we just tried to pick him up. Came together, came up a little short. That's how the ball bounces sometimes."
The way it bounced in the ninth inning against Angels closer Ernesto Frieri was Cain singled with one out, took second and scored on Salvador Perez's single, his third of the game. After a second out, pinch-hitter George Kottaras singled home pinch-runner David Lough. And when Frieri walked Getz, the Angels opted for rookie reliever Robert Coello.
Coello got Alcides Escobar to fly out and end the game.
"I thought we showed life at the end of the game," Yost said. "We've got a four-game set and the closer came in and had to throw close to 40 pitches in the first game so I thought we had a good approach. Anytime you can put the tying run at second base and the winning run at first base in the ninth inning, you've done something especially when you've been down three."
Even so, the Royals sustained their 12th loss by one run this season. And the fifth one-run loss in their last six.
Dick Kaegel is a reporter for MLB.com. This story was not subject to the approval of Major League Baseball or its clubs.