Angels ride four homers to fifth straight win
Trout, Pujols, Iannetta, Trumbo leave yard in Kansas City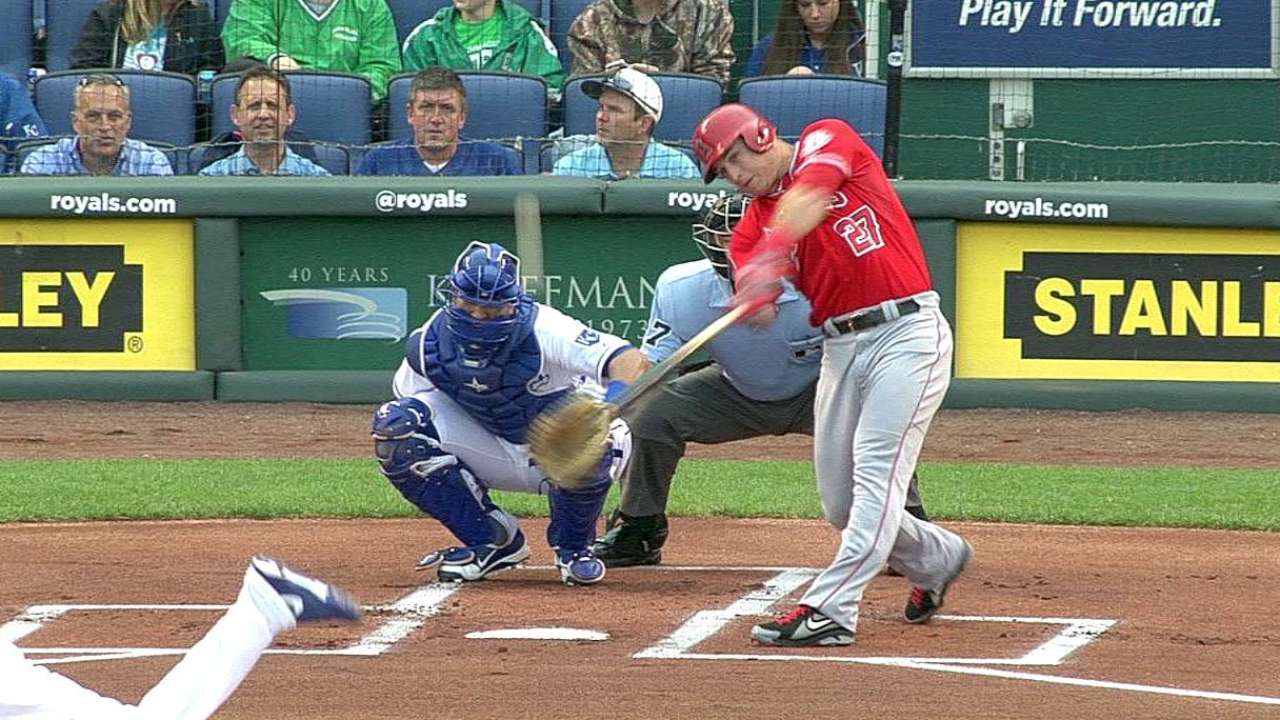 KANSAS CITY -- All of a sudden, things are looking rosy for the Angels. Joe Blanton is finally in the win column, the offense is in power mode and the bullpen performers are making critical pitches at critical times.
By pounding four homers off former teammate Ervin Santana, the Angels had just enough ammunition to hold off the Royals, 5-4, on Thursday while running their winning streak to five games. Even on a night when closer Ernesto Frieri couldn't seal the deal and had to be lifted in the ninth, it all ended well for manager Mike Scioscia's club. Robert Coello bailed out Frieri by retiring Alcides Escobar with the tying run in scoring position as the Angels held off a furious push by the Royals.
Frieri entered with a 5-2 lead after Mark Trumbo's two-run homer on a 3-0 pitch in the eighth had provided the Angels with some breathing room. But after Frieri labored through 35 pitches, the Royals were within a run and had men at first and second. Scioscia, who used seven pitchers, trusted that Coello could get the final out and Coello came through by getting Escobar on a fly to right, giving the rookie his first career save.
"When Ernie takes the field, you want to win or lose the game while he's out there," Scioscia said. "But he was at 35 pitches and there's no doubt he was getting a little tired. I just felt better with a fresh arm to come in and give Escobar a different look."
By hanging on with their closer watching from the dugout, the Angels were able to celebrate Blanton's first win after an 0-7 start with the club. Blanton worked 6 1/3 innings, allowing two earned runs on seven hits.
"Joe has pitched some strong games and maybe hasn't benefitted from run support," Scioscia said. "Tonight, he really pitched with his back to the wall for much of the game. There's no doubt that getting him pitching to his capabilities is important to us. It's good for him to get the first win."
Reinforcements are on the way to help the Angels' rotation, but Blanton insisted he felt no added urgency to turn it around.
"I've been doing it a long time," Blanton said. "Why should I feel urgency now? All you can do is keep making pitches, regardless of what happens."
The Angels played from in front thanks to the long ball. Mike Trout, Albert Pujols and Chris Iannetta had solo homers before Trumbo's two-run homer in the eighth. It marked the second time in his career that Santana surrendered four homers in a game.
The homer to straightaway center by Trout in the first was a monster shot that was measured at 433 feet. But Scioscia insisted that distance figure was extremely conservative.
"Did they run out of tape to measure it?" Scioscia said. "That ball was more than 430 feet. That thing was killed."
The Angels knew that Santana would challenge them in the strike zone with his fastball and they were ready.
"We had a plan coming in," Trout said. "We wanted to avoid chasing the sliders away and we stuck with the plan. We've been swinging it the past few days and you see what this offense can do."
The Royals were within 3-2 in the seventh and had runners at first and third when Blanton departed. Sean Burnett preserved the lead by inducing a double-play grounder from pinch-hitter Miguel Tejada.
Trumbo temporarily eased the pressure with his homer, but back came the Royals to turn up the heat in the ninth.
"I was a little bit wild -- maybe a lot wild," Frieri said. "My mechanics were a little too slow at the beginning and too quick at the end. Things happen, but we won, and that's all that matters."
The Angels (20-27) and the Royals (21-23) have been going in different directions. While the Angels are attempting to climb out of a big hole with their five-game winning streak, the Royals have dropped 13 of 17 after a 17-10 start.
If he had it to do over, Royals manager Ned Yost indicated he would have instructed Santana to intentionally walk Trumbo when the count reached 3-0.
"Absolutely, that was a bad decision on my part," Yost said. "That one was on me."
Robert Falkoff is a contributor to MLB.com. This story was not subject to the approval of Major League Baseball or its clubs.