Prince takes care of business in Tigers' comeback win
First baseman rips RBI singles after two walks to Cabrera late in game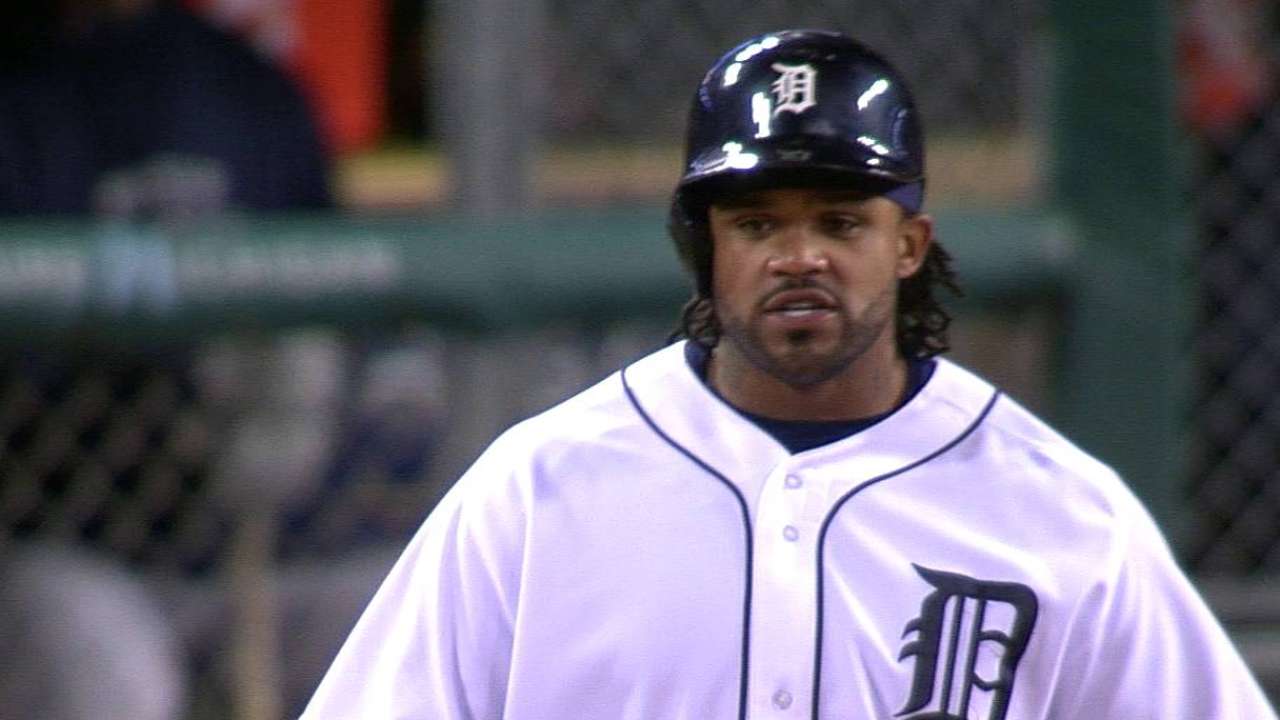 DETROIT -- The home run streak Miguel Cabrera is on has teams wanting nothing to do with him with first base open.
The hit streak Prince Fielder is on after teams walk Cabrera had him rewarding Tigers manager Jim Leyland for actually setting up the opportunity Thursday.
"I just feel like that means they want to pitch to me. They want to give me a strike," Fielder said after his go-ahead RBI single completed a four-run Tigers comeback for a 7-6 win over the Twins at Comerica Park. "That's good."
The Tigers' third straight win kept them a half-game behind Cleveland in the American League Central. The Indians recovered from their two-game sweep to the Tigers to rout the Red Sox at Fenway Park.
It won't always work out so easily, and it arguably came within inches of backfiring on Thursday. But on a night when Cabrera homered for the fourth consecutive game, it was a deflected RBI single by Fielder that decided it.
It wasn't pretty, but for Fielder, it's becoming beauty in consistency.
"That's what I told him after the game. I said, 'Just keep doing what you're doing,'" Leyland said. "And that's the reason I felt comfortable."
Five times, teams have walked Cabrera over the course of his home run streak, intentionally or otherwise. Five times, Fielder has followed with a hit to drive in a run. It happened in back-to-back innings on Thursday.
The seventh-inning chance was technically unintentional. With four pitches up and out of the strike zone, it was still clear the Twins wanted no part of Cabrera, even though it meant bringing the tying run to the plate in a 6-3 game the Twins had commanded for much of the cold, damp Detroit evening.
Cabrera's two-run homer in the opening inning put the Tigers ahead before the Twins put up five runs on Rick Porcello. Fielder hasn't homered in nearly two weeks, and Twins manager Ron Gardenhire had left-hander Brian Duensing to pitch against him. Fielder was 3-for-10 against him, but with no home runs and three strikeouts.
Cabrera's walk moved Omar Infante into scoring position with one out. A 2-1 count and a Duensing sinker over the plate allowed Fielder to move Infante home, sending a ground ball through the middle.
After a Victor Martinez blooper just out of Aaron Hicks' reach in right-center field, then a Jhonny Peralta double into the left-field corner off Jared Burton, the Tigers had the game tied. Burton left the bases loaded with back-to-back foul popouts to keep it that way, but another Infante single leading off the eighth sent the same process in motion.
This time, Leyland set it up himself, using Torii Hunter to bunt Infante over to second base.
"You have a tough call," Leyland said, "because you know you're taking the bat out of Miguel's hands. To be honest with you, in that situation, if there was a tough left-hander sitting behind him, you probably wouldn't bunt. But you have a guy behind Miguel with 40 RBIs.
"You have to get him in scoring position with Prince hitting there, and if you have a real nasty lefty, you don't do it. But who knows? If they have a nasty lefty, they might walk him anyway."
The one left-hander remaining for Leyland to worry about was Glen Perkins. With the game tied and the Twins on the road, he wouldn't be pitching in the eighth. The other lefty, rookie Caleb Thielbar, had pitched a pair of two-inning appearances over the previous three days.
Down went the bunt toward first base, over went Infante to second and on went Cabrera to first with his fifth intentional walk of the year, like a mechanism.
Burton stayed on to face Fielder, 3-for-9 against him in his career. Fielder drew another 2-1 count and centered another ball back toward the mound.
The liner looked like it was headed through the middle until Burton made a stab at it. Had he snared it, he would've ended the inning.
"It looked like it was probably a double-play ball," Twins manager Ron Gardenhire said. "Stuff happens. When you're good, it goes right to him, and when you're scuffling and trying to find ways to win, it bounces the other way. And tonight, it bounced the other way for us."
The deflection sent the ball to the right side, right where second baseman Brian Dozier had been before he scrambled toward the middle to try to snare the liner initially. All he could do was reverse course to try to stop it.
"I knew he wasn't going to be able to throw me out, because he had to dive," Fielder said. "I just wanted it to get by so Omar could score. That guy's tough. You always want to make sure you can score off him if you can."
Dozier was left on the ground clutching for the ball as Infante rounded third.
"I took my shot," Leyland summarized, "and it worked out."
No matter how the division race unfolds heading into the summer, the debate over how to pitch the middle of the Tigers' lineup -- and how Leyland sets up run-scoring opportunities late in close games -- is going to continue.
For now, Detroit's big two hitters are driving in runs in bunches. Cabrera's three RBIs, including a bases-loaded infield single in the fifth, pushed him to 55 through 45 games, something no Major League hitter had done since Manny Ramirez in 2001. Thirteen of those RBIs have come in the last four games.
Fielder is closing in on an RBI-a-game pace, now with 41 on the year. The way pitchers are having to deal with Cabrera, he'll have plenty of opportunities for more.
"I think it's a tough decision," Cabrera said. "I always try to be ready, take nothing for granted. I'll always be ready to hit over there."
Jason Beck is a reporter for MLB.com. Read Beck's Blog and follow him on Twitter @beckjason. This story was not subject to the approval of Major League Baseball or its clubs.